« Back
Silfor Premium - Europejski
Piłsudskiego 88, 50-017 Wrocław, Poland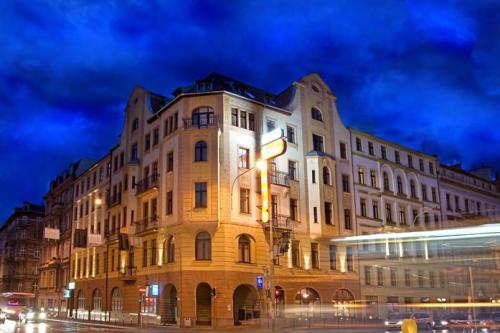 Silfor Premium - Europejski - Description
Hotel Premium Silfor Europejski. 3-star "Hotel Premium Silfor Europejski" is situated in Wrocław. This hotel has 93 bedrooms in total. Thanks to the relieving air conditioning, the room temperature is never too hot. Guests have the opportunity to relax in the onsite spa. There is no need to leave the accommodation for dinner as there is an onsite restaurant. Of course, access to the Internet is available at no extra charge.

Discover all that Wroclaw has to offer with Silfor Premium Europejski Hotel as a base.The Silfor Premium Europejski Hotel boasts a convenient location with modern amenities in every guestroom and superb service.Room amenities include non smoking rooms, desk, hair dryer, television, shower, separa...
Silfor Premium – Europejski Hotel is located in the heart of Wroc?aw, very close to the Main Railway Station. It offers rooms with LCD TV and free internet.
Read more on the website
This 3 star hotel is located in the city centre of Wroclaw and was established in 1992. It is close to the Market Square and the nearest station is Bus/Tram. The Hotel has a restaurant. All 98 rooms are equipped with hairdryer, safe and air conditioning.
Silfor Premium - Europejski facilities and services
Parking:
Pay Parking(find others hotels with Parking in Wrocław)
Dog / Cat friendly:
Pets Welcomed(find others hotels with Dog / Cat friendly in Wrocław)
Internet Access:
Free WiFi , Internet Access , Wireless internet access(find others hotels with Internet Access in Wrocław)
General
Television
Radio
Lift/elevator
ATM
Business services
Disabled rooms
Elevator
Safe
Non smoking
Pets allowed
Front Desk 24hr
Non-refundable surcharge for pets
Services
Hairdryer
Breakfast Room Service
Packed Lunches
Fax / Photocopying
Room Service
Activities nearby
Theatre and opera

Spa and swimming pools

612 yd

Wroclawskie Centrum SPA Sp. z o.o.:

Stadium

1.7 mi

KS ?l?sk Wroc?aw:

1.1 mi

Boisko pi?karskie Miejskiego O?rodka Sportu i Rekreacji Wroc?aw Po?udnie:

School and university

1,353 yd

Wroclaw University of Economics:

1.3 mi

Wroclaw University of Technology:

1,648 yd

University of Wroclaw:

1,513 yd

Academy of Fine Arts in Wroclaw:

1,013 yd

Wroclaw College of Management and Finance:

1,688 yd

Academy of Music in Wroclaw:

964 yd

Wroclaw University of Environmental and Life Sciences:

1.6 mi

Piastów Slaskich Medical University:

Museum

1,410 yd

Panorama Racławicka:

1,648 yd

Muzeum Uniwersytetu Wrocławskiego:

Casino

72 yd

Golden Play Casino:

605 yd

Casino Polonia - Wroclaw:

1.2 mi

Park Plaza Hotel & Casino - Wroclaw:

Golf and other sports

Library

1.3 mi

klubu śląskiego okręgu wojskowego im. c.k. norwida:

1.2 mi

publiczna - filia nr 35:

1,411 yd

brytyjska:

1.3 mi

miejska biblioteka publiczna - filia:

1,476 yd

im. j. czekanowskiego:

1.3 mi

politechnika wrocławska:

963 yd

dolnośląska biblioteka pedagogiczna:

1.6 mi

publiczna - filia nr 25:

970 yd

dolnośląska biblioteka publiczna:

1.3 mi

polskiego towarzystwa entomologicznego:

1,311 yd

im. t. mikulskiego:

1,091 yd

uniwersytetu wrocławskiego: