« Back
Hotel-Burghagen
Burghagenstr. 14, 38685 Wolfshagen, Germany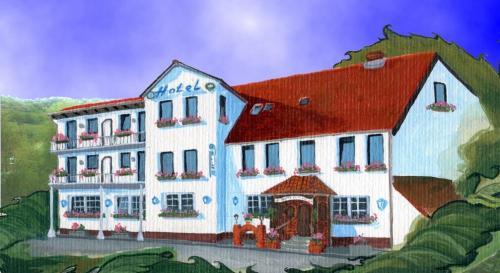 Hotel-Burghagen - Description
Hotel-Burghagen. "Hotel-Burghagen" is located in Wolfshagen. By practicing soccer you have the opportunity to make your stay more active. The onsite restaurant serves a tasty dinner. To add to your stay, there is breakfast available. If you like to keep an eye on your work, there is Internet access available.

Discover all that Wolfshagen has to offer with HotelBurghagen as a base.All hotel's guestrooms have all the conveniences expected in a hotel in its class to suit guests' utmost comforts.Each guestroom features amenities such as non smoking rooms, desk, hair dryer, ironing board, television.Guests...
This cosy, family-run hotel lies in the small rural town of Wolfshagen im Harz, in the Harz national park, between the Innerste-Stausee and Granestausee reservoirs.
Read more on the website
Hotel-Burghagen type(s): Budget
Hotel-Burghagen facilities and services
Parking:
Free Parking(find others hotels with Parking in Wolfshagen)
Internet Access:
Wireless internet access(find others hotels with Internet Access in Wolfshagen)
General
Garden
Terrace
Childrens play
Fast Check-in/out
Safe
Non smoking
Non-refundable surcharge for pets
Heating
Restaurant
On-site parking
Services
Meeting amenities
Currency Exchange
Bicycle Rental
Packed Lunches
Fax / Photocopying
Activities nearby
School and university

7.3 mi

Clausthal University of Technology:

UNESCO World Heritage site

4.6 mi

Mines of Rammelsberg and Historic Town of Goslar:

Spa and swimming pools

6.9 mi

Hallenbad - Clausthal - Zellerfeld:

5.5 mi

AQUANTIC Schwimmpark am Osterfeld:

13.2 mi

ALOHA Aqua-Land Osterode am Harz:

6.9 mi

Sehusa Therme:

4.5 mi

Hallenbad Wachtelpforte:

Railroad station

12.8 mi

Osterode am Harz Mitte Bahnhof:

13 mi

Bad Gandersheim Bahnhof:

1.7 mi

Langelsheim Bahnhof:

10 mi

Bad Harzburg Bahnhof:

6.8 mi

Münchehof (Harz) Bahnhof:

9.7 mi

Gittelde Bahnhof:

7 mi

Oker Bahnhof:

13.3 mi

Osterode am Harz Leege Bahnhof:

4.4 mi

Goslar Bahnhof:

10.9 mi

Vienenburg Bahnhof:

6.4 mi

Seesen Bahnhof:

9.9 mi

Salzgitter Bad Bahnhof:

12.5 mi

Schladen (Harz) Bahnhof:

14.9 mi

Börßum Bahnhof:

9 mi

Salzgitter-Ringelheim Bahnhof:

13 mi

Baddeckenstedt Bahnhof:

Casino

10.7 mi

Spielbank Bad Harzburg:

Golf and other sports

10 mi

The Blue Deep :

10 mi

Golfclub Harz:

7.7 mi

Tauchertreff-Harz :

13 mi

Harzer Tauchgemeinschaft e. V. :

7.7 mi

Tauchclub Manati e.V. :

9.8 mi

Golf Club Salzgitter: