« Back
Holiday Inn Wilsonville Hotel
30800 SW PARKWAY AVE, 97070 ,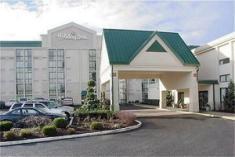 Holiday Inn Wilsonville Hotel - Description
Quality Inn Wilsonville. Hotel "Quality Inn Wilsonville" has acquired 2 stars. The hotel can be found in Wilsonville. The nearby airport makes the accommodation easy to access. The property has recently benefited from a renovation. This residence has 63 bedrooms in total. Thanks to the relieving air conditioning, you will always find a pleasant room temperature inside. The patio and garden are excellent for a little stroll in the morning. There is an outdoor swimming pool available. There's no way you'll get bored as the accommodation offers the opportunity of participating in mini-golf, Eco Tours, fishing, birdwatching, helicopter/airplane tours and hunting, as well as yoga, waterskiing, horse riding, aerobics, volleyball, tennis, sailing and golf. Furthermore, there is a gym, a walking trail, a running track and motorboats. After a busy day, guests have the opportunity to relax in the jacuzzi. For dinner there is no need to leave the comfort of the accommodation as there is an onsite restaurant. After a good night's sleep, you have the opportunity to have breakfast, which is included in the price. Access to the Internet is available at no extra charge and there is a shuttle bus which can pick you up and drop you off at the airport.

The Holiday Inn Wilsonville Hotel is perfectly located for both business and leisure guests to Wilsonville (OR).The Holiday Inn Wilsonville Hotel boasts a convenient location with modern amenities in every guestroom and superb service.The guestrooms are equipped with desk, internet access (wirele...
From: Interstate 5. Take Exit 283 and head East on Wilsonville Road. Turn right onto Parkway Avenue, follow about half a mile. The Best Western Willamette Inn is on the left where Parkway Avenue intersects Memorial Drive.
Discover this full-service Wilsonville, Oregon hotel which provides convenient access to local attractions including the Oregon Korean War Memorial and Champoeg State Park. Situated 20 miles from downtown Portland, Oregon, the Best Western Willamette Inn offers the convenience of the city while...
The Holiday Inn Wilsonville Hotel is located in Wilsonville (OR) making it one of the best hotels to stay at while in town. All hotel's guestrooms have all the conveniences expected in a hotel in its class to suit guests' utmost comforts. Modern comfort and convenience are seamlessly combined to ...
Creating an ideal atmosphere for a relaxing stay, this property is the right choice of accommodation, while visiting Wilsonville. Location Situated a kilometre from the beautiful Memorial Park, the Best Western Willamette Inn is 8 kilometres from the Aurora Airport and 32 kilometres from the Amt...
Holiday Inn Wilsonville Hotel type(s): Budget
This hotel belongs to: BW™
Holiday Inn Wilsonville Hotel facilities and services
Parking:
Parking , Free Parking(find others hotels with Parking in Wilsonville)
Internet Access:
Free WiFi , High speed Internet , Internet Access , Wireless internet access(find others hotels with Internet Access in Wilsonville)
General
Meals for groups
Continental Breakfast
Conference Facilities
Accessible Facilities
Meal plan available
Breakfast served in restaurant
Business services
Ironing board
Dataport
Interior corridors
Safe
Non smoking
Activities
Fitness Center in the hotel
Whirlpool
Sport facilities
Gym / Fitness center
Jacuzzi
Services
Tea and Coffee facilities
Hairdryer
Kitchenette
Desk
Microwave
Banqueting service
Local free calls
Meeting rooms
Car Rentals
Fax / Photocopying
Business Center