« Back
Days Inn Wildwood
551 East State Rt 44/I-75 I-75 & State Route 44, 34785 ,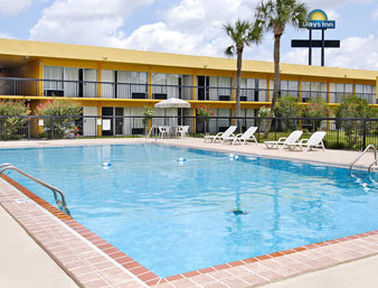 Days Inn Wildwood - Description
The hotel isRead more located in the west section of Wildwood, at 551 East State Rt 44/I-75 I-75 & State Route 44, only 11 minutes by car from the city center.The Days Inn Wildwood has all the services one would expect of a two star hotel in Wildwood: Restaurant, Front Desk 24hr, Non Smoking Rooms, Laundry services, Free Parking, Air conditioning. This establishment is more of a Beach hotel .This hotel offers a unique service : near golf course.Take advantage of the gym / fitness center which is available at the hotel.This hotel offers high speed internet.This hotel is part of the Days Inn chain.Practical information:This hotel has a parking.

A perfect place in the city of Wildwood, the Days Inn offers excellent services and convenient facilities for a relaxing stay. Location Located in the beautiful Sumter County Florida, this inn is just minutes from the Villages of Sumter County, Spanish Springs and Lake Sumter Landings. Rooms ...
The Days Inn Wildwood, Fla., is located off of Interstate 75, less than eight miles from Airboat Tours and 18 miles from the Dade Battlefield State Historic Park. The hotel serves complimentary breakfasts daily. There is also an outdoor pool and fitness center on site. Additional hotel amenities ...
A half mile north of the Florida Turnpike, the Days Inn Wildwood is located within a one hour drive of all major attractions in Orlando and Tampa. The hotel offers easy access to the Villages of Lake and Sumter Counties. Amenities include complimentary continental breakfast, complimentary USA Tod...
Days Inn Wildwood type(s): Beach
This hotel belongs to: Days Inn™
Days Inn Wildwood facilities and services
Parking:
Parking , Free Parking(find others hotels with Parking in Wildwood)
Internet Access:
Internet Access(find others hotels with Internet Access in Wildwood)
General
Breakfast Buffet
Continental Breakfast
Adjoining rooms
Bookstore
Courtyard
Accessible Facilities
Ice Machine
Recreational Vehicle Parking
Security
Truck Parking
Vending Services
Breakfast served in restaurant
Activities
Near Golf Course
Fishing
Canoeing
Sport facilities
Gym / Fitness center
Outdoor Pool
Services
Tea and Coffee facilities
Hairdryer
Wake-Up
Ironing Facilities
Microwave
Washing Machine
Laundry services
Shuttle service
Car Rentals
Fax / Photocopying
Activities nearby
Spa and swimming pools

15.6 mi

Whispering Pines Park Pool:

16.3 mi

Ranch Fitness Center & Spa, The:

Museum

13 mi

Don Garlits Museum of Drag Racing:

Golf and other sports

10.5 mi

Orange Blossom Hills Golf Country Club:

15.4 mi

Royal Oaks Golf Club:

12.5 mi

Inverness Golf Country Club:

15.5 mi

Valleybrook Golf Club:

11.3 mi

Water Oak Country Club:

8.4 mi

Tierra Oaks Golf Country Club:

9 mi

Hamlet Golf:

9 mi

Summer Glen:

10.7 mi

Stonecrest:

15 mi

Baseline Golf Course:

7.3 mi

Continental Country Club:

8.4 mi

Tierra Del Sol:

11.1 mi

Water Oak Country Club Estates:

9.8 mi

Marion Oaks Country Club:

10.9 mi

Point O Woods Golf Club:

9.7 mi

Chula Vista Course:

10.6 mi

Orange Blossom Hills Golf And Country Club:

13.9 mi

Pennbrooke Fairways:

9.8 mi

Mira Mesa Course:

10.4 mi

Stonecrest Country Club:

8.3 mi

El Santiago:

15.5 mi

Royal Oaks At Oak Run Country Club:

5.1 mi

Miona Lake Golf Club:

9.3 mi

Hacienda Hills Golf Country Club:

9.9 mi

Huntington Golf Club:

10.2 mi

Hill Top Course:

16.4 mi

Country Club Of Ocala: