« Back
Radisson BLU Centre Hotel
ul. Grzybowska 24, 00-132 Warsaw, Poland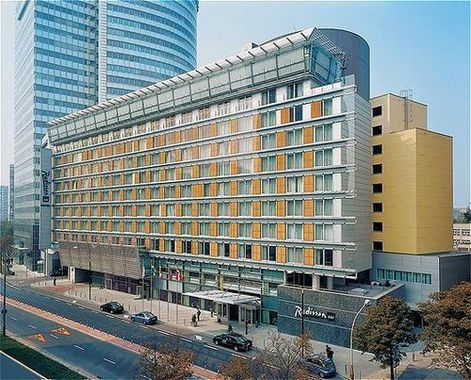 Radisson BLU Centre Hotel - Description
Radisson Blu Centrum Hotel, Warsaw. The 5-star hotel "Radisson Blu Centrum Hotel, Warsaw" is an ideal base from which to discover Varsovie as it is located in its downtown district. The hotel can be accessed easily from the train station. The luxurious accommodation has 311 rooms. Each room in the hotel is spacious and modern. The soundproof rooms enable you to get some peaceful rest without being awakened by external noises. Thanks to the relieving air conditioning, the room temperature is never uncomfortable. Begin your day with a little stroll in the private garden followed by a nice dip in the covered, indoor swimming pool. At this hotel, you can take part in mini-golf. There are also multiple sports for visitors, such as aerobics, tennis, yoga, volleyball and golf. Furthermore, this accommodation boasts a running track and a gymnasium where visitors have the opportunity to train, as well as a bike rental service. After your busy activities, a visit to the spa will help you feel reborn. Go bathing in the jacuzzi or the real Turkish bath and reap the benefits of a visit to the sauna. Visitors also have the option to book a massage treatment. Don't forget to try the international and Polish specialties of the onsite restaurant. For a drink in company, you will find the lounge bar most welcoming. Breakfast is served every morning to provide visitors with a good start to a new day. Access to the Internet is available at no extra charge and there is a shuttle bus service to facilitate your travel.

The 5-star Radisson Blu Centre Hotel offers comfort and convinience whether you're on business or holiday in Warsaw. The hotel offers a wide range of amenities and perks to ensure you have a great time. Facilities like business center, room service, airport transfer, babysitting, restaurant are r...
The Radisson SAS Centrum Warsaw is housed in a glass ronted high rise building in the business district of Warsaw, within a kilometre of the Contemporary Art Museum and the Palace of Culture and Science. The 311 guestrooms feature Italian, Scandinavian or Maritime themed decor and are equipped w...
Downtown - This hotel is located near downtown.
Location: The Radisson SAS Centrum Hotel is located in the centre of the business district of central Warsaw. Warsaw Central Station and the Palace of Science and Culture are both about 500 meters from the hotel. The distance to the airport is 10 km; it takes just 20 minutes to drive. Rooms: ...
Radisson Blu Centrum Hotel is a 5 star modern hotel located in the centre of the business, cultural and tourist area of Warsaw and offers 311 air-conditioned rooms designed in Italian, Maritime and Scandinavian styles including Business Class rooms, suites and accessible rooms. The hotel's recrea...
Radisson BLU Centre Hotel type(s): Family ,Luxury
This hotel belongs to: Radisson Blu™
Radisson BLU Centre Hotel facilities and services
Parking:
Pay Parking , Private parking , Parking(find others hotels with Parking in Warsaw)
Dog / Cat friendly:
Pets Welcomed(find others hotels with Dog / Cat friendly in Warsaw)
Internet Access:
Free WiFi , High speed Internet , Internet Access , Wireless internet access(find others hotels with Internet Access in Warsaw)
General
Breakfast Buffet
Minibar
Shower
Television
Satellite Television
Lift/elevator
Bookstore
Family Rooms
Accessible Facilities
Health Club
Public Address System
Security
Activities
Near Golf Course
Solarium
Massage
Canoeing
Tennis Court
Sport facilities
Sauna
Gym / Fitness center
Indoor Pool
Heated pool
Jacuzzi
Spa & Health Center
Services
Tea and Coffee facilities
Hairdryer
Desk
Ironing Facilities
Banqueting service
Concierge
Hairdresser
Child Minding Services
Laundry services
Dry Cleaning
Pay Movies
Breakfast Room Service
Location
Dining Area
Shopping mall
Activities nearby
Golf and other sports

Building and administration

1,515 yd

WLOSKO-POLSKA IZBA HANDLOWO-PRZEMYLOWA:

1.3 mi

Trade Representative Office:

955 yd

Cypryjska Organizacja Turystyczna:

Stadium

1.3 mi

Stadion Polonii Warszawa - Stadion Polonii Warszawa imienia generała Kazimierza Sosnkowskiego:

1.3 mi

Stadion Polonii Warszawa:

Casino

1 mi

Grand Hotel & Casino - Warsaw:

1,174 yd

Sofitel Victoria Hotel & Casino - Warsaw:

1,226 yd

Amusement Casino - Polonia Hotel:

1,142 yd

Marriott Hotel & Casino Warsaw:

Theatre and opera

1,235 yd

Teatr Wielki - Opera Narodowa / Polish National Opera:

884 yd

Warszawska Opera Kameralna / Warsaw Chamber Opera:

Library

1,446 yd

buw:

1,635 yd

centralna biblioteka rolnicza:

1 mi

biblioteka publiczna w dzielnicy śródmieście:

1.6 mi

narodowa:

1.3 mi

biblioteka główna województwa mazowieckiego:

1,446 yd

stara biblioteka uniwersyteu warszawskiego:

986 yd

dzielnicy wola:

1.6 mi

biblioteka narodowa:

1.2 mi

biblioteka uniwersytetu warszawskiego:

School and university

1,210 yd

Skarbek Graduate School of Business Economics:

1.2 mi

Warsaw University of Technology:

1,513 yd

Christian Theological Academy:

1 mi

Fryderyk Chopin Music Academy:

1,279 yd

Academy of Fine Arts in Warsaw:

1,579 yd

Polish-Japanese Institute of Information Technology:

Spa and swimming pools

1,652 yd

Plywalnia «Foka»:

1.3 mi

Klub Sportowy «Polonia»:

1.6 mi

OSiR «Polna»: