« Back
Hotel Duchess
Primorski Park, Saltanat 64, 9010 Varna, Bulgaria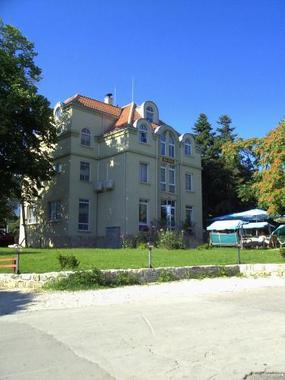 Hotel Duchess - Description
Villa Duchess. Hotel "Villa Duchess" has received 3 stars. The residence is a perfect base point from which guests can explore Varna. This hotel boasts a total of 8 bedrooms. The bedrooms are soundproof, ensuring nights without being disturbed by external noises. Warm weather is kept outside thanks to the relieving air conditioning. The bedrooms offer a view of the sea. Visitors have the opportunity to observe nature in the private garden. At this hotel, you can participate in various activities, such as table tennis and tennis. Bicycles can be rented so that you can explore the neighbourhood. Enjoy a visit to the spa to recover from your activities. After dinner, you can have a drink at the lounge bar. Internet access is offered at no extra charge and there is a shuttle bus service to bring guests to and from the airport.

The Hotel Duchess is located in Varna making it one of the best hotels to stay at while in town.All hotel's guestrooms have all the conveniences expected in a hotel in its class to suit guests' utmost comforts.The guestrooms are equipped with satellite/cable TV, shower, television, non smoking ro...
Hotel Duchess is situated in Varna, Bulgaria's third-largest city and the country's main port. The city holds an annual international music festival from mid June to mid July. The villa has been completely refurbished and converted into a hotel with conference facilities. From the hotel you can m...
Villa Duchess is situated in the beautiful Sea Park in Varna, opposite the Dolphinarium, a 5-minute walk from the beach. The centre is easily reachable by public transport or by foot.
Read more on the website
Hotel Duchess type(s): Beach ,Budget ,Luxury
Hotel Duchess facilities and services
Parking:
Pay Parking , Private parking , Free Parking(find others hotels with Parking in Varna)
Dog / Cat friendly:
Pets Welcomed(find others hotels with Dog / Cat friendly in Varna)
Internet Access:
Free WiFi , Internet Access , Wireless internet access(find others hotels with Internet Access in Varna)
General
Breakfast Buffet
Minibar
Shower
Television
Telephone
Fax
Garden
Satellite Television
Additional beds
Cot available upon request
Credit card accepted
Dogs allowed
Activities
Near Golf Course
Hiking trail
City tours
Table Tennis
Darts
Library
Cycling
Walking
Tennis Court
Services
Hairdryer
Ironing
Desk
City maps
Laundry services
Dry Cleaning
Ironing Services
Meeting amenities
Currency Exchange
Fully equipped business center
Souvenirs
Meeting center
Location
Beach
Park
Outstanding views
Customer reviews
Marion
+ the cosy home from home feel
-
Traveler's rating :
Anonymous
+ The location of the hotel, as it's in the park.
-
Traveler's rating :
Robert
+ Small friendly hotel.
-
Traveler's rating :
Trevor
+ I enjoyed ever think about the hotel
-
Traveler's rating :
Ray
+ excellent location,friendly staff,spotlessly clean,nice breakfast
- finding it was a bit of a problem could be signed better
Traveler's rating :
Matthew
+ the location to central varna is a nice walk,the staff are help full
-
Traveler's rating :
Anonymous
+ family hotel, not crowded, friendly people
-
Traveler's rating :
Alexznder
+ Verry friendly staf, the bed was king's size, soft and comfortable. It is the cozyest hotel I know.
-
Traveler's rating :
Kerry
+ Hotel in good location - nearby restaurant and easy walk to city centre. Helpful and friendly staff. Had cosy lounge area with log fire and lots of books, magazines and maps.
- Could have done with teaRead more and coffee making facilites in the roomHide
Traveler's rating :
geert van der schoot
I definitely recommend this hotel. The rooms were big and clean. The owner and personnel were very friendly and helpful. The price-quality ratio was excellent.
Traveler's rating :
Activities nearby
Market and shopping area

School and university

24.4 mi

International University College:

Theatre and opera

55 mi

Opera Bourgas:

1.6 mi

Opera Varna:

UNESCO World Heritage site

40.4 mi

Madara Rider:

40 mi

Ancient City of Nessebar:

Golf and other sports

6 mi

Harry's Dive Center :

25.6 mi

Black Sea Scuba :

25.2 mi

Black Aqua :

Beach and coastal area

56.8 mi

Gradina or Camp Gradina :

48.6 mi

Vama Veche :

56.9 mi

Sozopol :

68.5 mi

Arapia :

69.7 mi

Lozenets Beach :

55.9 mi

Vromos :

24.5 mi

Kranevo :

38.1 mi

Sunny Beach or Slanchev Bryag :

53.2 mi

Burgas Bay or Solnitzite :

56.8 mi

Chernomorec :

17.7 mi

Shkorpilovtsi :

47.1 mi

Pomorie :

69.1 mi

Koral Beach or Kumkashla :

50 mi

Sarafovo :

Stadium

1,082 yd

Ticha Stadium:

54.1 mi

Lazur Stadium:

55.8 mi

Chernomorets Stadium:

1,097 yd

Palace of Culture and Sports:

24.5 mi

Kavarna Stadium:

15.5 mi

Druzhba:

877 yd

Varna Stadium: