« Back
Econo Lodge Tucson
1136 N STONE AVE, 85705 ,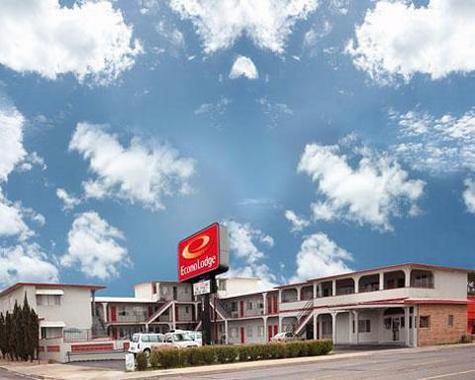 Econo Lodge Tucson - Description
Econo Lodge Tucson. "Econo Lodge Tucson" has obtained 2 stars. This residence is an excellent base for exploring Tucson. This residence has a total of 48 bedrooms. The air conditioning keeps the heat outside, always ensuring a pleasant temperature. Dinner can be enjoyed at the onsite restaurant. After a good night's sleep, breakfast is available, which is included in your stay. Of course, you can go online free of charge.

The Econo Lodge Tucson is perfectly located for both business and leisure guests to Tucson (AZ). All hotel's guestrooms have all the conveniences expected in a hotel in its class to suit guests' utmost comforts. This hotel is characterized by a combination of modern comfort and traditional elemen...
Econo Lodge Tucson is located in Tucson, Ariz. 1.5 miles from University of Arizona 2 miles from Tucson Convention Center Hotel Features. Business center Outdoor heated pool Complimentary continental breakfast Cable/satellite television Air conditioning Complimentary local calls
The Econo Lodge hotel provides a great location near the University of Arizona and the Tucson Convention Center. This Tucson hotel is close to area attractions including Old Tucson Studios, Davis Monthan Air Force Base, and the Arizona Sonora Desert Museum. Full-service amenities and hotel featur...
THE ECONO LODGE HOTEL PROVIDES A GREAT LOCATION NEAR THEUNIVERSITY OF ARIZONA AND THE TUCSON CONVENTION CENTER. THISTUCSON HOTEL IS CLOSE TO AREA ATTRACTIONS INCLUDING OLD TUCSONSTUDIOS, DAVIS MONTHAN AIR FORCE BASE, AND THE ARIZONA SONORADESERT MUSEUM. FULL SERVICE AMENITIES AND HOTEL FEATURESIN...
The Econo Lodge's inviting ambience finds its fullest expression in it's accommodations, each with fusing style, space and comfort that are carefully thought out ways of satisfying all the guests needs and to provide a ultimate home away from home. Location Providing a great location near the Un...
Econo Lodge Tucson type(s): Family ,Budget
This hotel belongs to: EO™
Econo Lodge Tucson facilities and services
Parking:
Parking , Free Parking(find others hotels with Parking in Tucson)
Dog / Cat friendly:
Pets Welcomed(find others hotels with Dog / Cat friendly in Tucson)
Internet Access:
Internet Access(find others hotels with Internet Access in Tucson)
General
Telephone
Fax
Meals for groups
Continental Breakfast
Family Rooms
Accessible Facilities
Ice Machine
Meal plan available
Disabled rooms
Non smoking
Refrigerator
Smoke detector
Services
Tea and Coffee facilities
Hairdryer
Microwave
Laundry services
Local free calls
Car Rentals
Fax / Photocopying
Business Center
Room Service
Activities nearby
Theatre and opera

Amusement park

2.8 mi

Funtasticks Family Fun Park :

Market and shopping area

3.4 mi

El Con Mall:

3.6 mi

Tucson Mall:

Spa and swimming pools

3.3 mi

Archer Pool:

1.1 mi

Metro Fitness:

1,519 yd

Lohse YMCA:

3.3 mi

Quincie-Douglas Recreation Center:

3.5 mi

Williams Aquatic Center:

Stadium

1.5 mi

Rita Hillenbrand Memorial Stadium:

1.6 mi

Jerry Kindall Field at Frank Sancet Stadium:

3.5 mi

Hi Corbett Field:

1.3 mi

Bear Down Gym:

1.5 mi

Arizona Stadium:

Golf and other sports

1.5 mi

Trini Alvarez Municipal Golf Course:

1.5 mi

El Rio Trini Alvarez Municipal Golf Course:

1.5 mi

El Rio Municipal Golf Club:

Zoo

Museum

1.3 mi

University of Arizona Museum of Art:

1.4 mi

Flandrau Science Center and Planetarium:

2.9 mi

Old Pueblo Trolley:

3.7 mi

Reid Park Zoo, Tucson Zoological Society:

1,586 yd

Tucson Museum of Art:

1,180 yd

Postal History Foundation:

1,558 yd

Arizona Historical Society, Southern:

1.2 mi

Tucson Children's Museum:

1.6 mi

History of Pharmacy Museum:

1,744 yd

Arizona State Museum:

2.6 mi

Center for Creative Photography:

2.5 mi

Otis Chidester Scout Museum: