« Back
Park Villa Vicini Hotel Treviso
Via Terraglio, 447, 31022 Preganziol TV, Italy, 31022 Treviso, Italy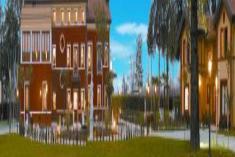 Park Villa Vicini Hotel Treviso - Description
The Park VillaRead more Vicini Hotel Treviso has 39 offering a wide range from the Room Only to the Superior Room (Cold Buffet Breakfast Included) rooms, and is available starting from 94 US Dollars.18 minutes by car distance from the center, this hotel is located at Via Terraglio, 447, 31022 Preganziol TV, Italy, in the south section of Treviso, which is ideal to discover the city.More of a Luxury establishment, this four star hotel is located in Treviso. Several amenities, notably Room Service, Bar, Newspapers, Non Smoking Rooms, Laundry, Television, AirCon are available at the hotel.For those going to the airport, Sant'Angelo is 4 miles from the hotel which is about 14 minutes by car.This hotel offers a unique service : garden.Relax yourself in the hotel's jacuzzi/whirlpool.Note:This hotel has a parking.

Discover all that Treviso has to offer with Park Villa Vicini Hotel as a base. All hotel's guestrooms have all the conveniences expected in a hotel in its class to suit guests' utmost comforts. This hotel is characterized by a combination of modern comfort and traditional element of Treviso, maki...
This property is one of the most beautiful Villas of Veneto, which offers visitors a chance for a relaxing pause from the daily stress, with an atmosphere that remains unchanged with pace of nature. Location The Park Villa Vicini Hotel is located at 10 kilometres from the S Giuseppe Airport Trev...
Park Villa Vicini Hotel Treviso type(s): Luxury
Park Villa Vicini Hotel Treviso facilities and services
Parking:
Parking(find others hotels with Parking in Treviso)
General
Minibar
Shower
Bathtub
Television
Garden
Conference Facilities
Executive Floor
Accessible Facilities
Breakfast served in restaurant
Elevator
Air conditioning
Newspapers
Services
Hairdryer
Desk
Child Minding Services
Laundry services
Fully equipped business center
Room Service
Customer reviews
Daan Horstman
Pretty hotel, well kept. Breakfast buffet is expansive. Rooms aren't spacious, but clean. Too bad it is situated along a busy road. Try to get a room in the annex, not in the main building.
Traveler's rating :
Activities nearby
Casino

8.5 mi

Casino Municipale di Venezia (Summer Casino):

Stadium

5.6 mi

Stadio Omobono Tenni:

Airport

8.1 mi

Aéroport de Venise Marco Polo:

Golf and other sports

1.9 mi

Villa Condulmer Golf Club:

Museum

5.3 mi

Museum Bailo Treviso :

8.6 mi

Museum di Altino Altino :

Landmark

5.8 mi

San Francesco del Deserto:

Spa and swimming pools

7 mi

Piscina Via Calabria:

6.5 mi

Piscina Mestre Centro:

6.5 mi

Piscina Marco Polo:

6.5 mi

Natatorium Treviso:

2.7 mi

Piscine e Palestre viaTorni 51:

4.4 mi

Piscina Via Penello:

7.9 mi

A.S. Aquafitness Sporting Club Noale:

2.2 mi

Piscina Via Barbiero:

nightlife

6.6 mi

Macao:

6.4 mi

Zen Cafe:

6 mi

Vittoria Nike:

8.4 mi

Molocinque:

Railroad station

7.5 mi

Stazione di Venezia Mestre:

7.5 mi

Stazione di Spinea:

6.5 mi

Stazione di Maerne di Martellago:

5.8 mi

Stazione di Venezia Carpenedo:

8.1 mi

Stazione di Noale-Scorzè:

7.1 mi

Stazione di Salzano-Robegano:

4.9 mi

Stazione di Treviso Centrale:

5.2 mi

Stazione di Venezia Porto Marghera:

Religious site

5.8 mi

Chiesa San Pietro di Castello:

Building and administration

6.8 mi

Consulat de Grande-Bretagne:

7.7 mi

Consulat des Etats-Unis: