« Back
Metropolitan Hotel Toronto
108 Chestnut Street, M5G 1R3 Toronto, [Ontario] Canada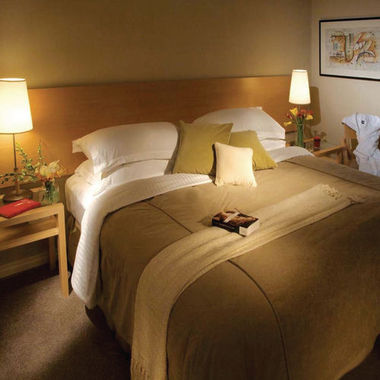 Metropolitan Hotel Toronto - Description
Metropolitan Hotel. 3-star "Metropolitan Hotel" is an ideal base from which visitors can explore Toronto. Only one step out the door and visitors will find themselves downtown. The hotel has 428 rooms in total. The temperature is never too high thanks to the air conditioning. Don't forget to bring your swimwear since this hotel presents its guests with an indoor, covered swimming pool. You are presented the option of taking part in helicopter/airplane tours as well as squash, cross-country skiing, golf, pilates, tennis, volleyball, ice skating and sailing. The facilities include a gym, a running track and a walking trail as well as a bike rental service. The onsite spa invites you to the jacuzzi and sauna, ideal for recovering from your daily activities. Treat yourself to, for instance, a massage. The onsite restaurant will serve you dinner and breakfast. For a drink before or after dinner, feel free to visit the lounge bar. Staying in touch with the rest of the world is made easy by the free Internet access that is provided.

Located in Downtown Toronto, Metropolitan Toronto Hotel is a perfect starting point from which to explore Toronto (ON). The hotel offers guests a range of services and amenities designed to provide comfort and convenience. Take advantage of the hotel's room service, airport transfer, 24hr room se...
108 CHESTNUT STREET, TORONTO, ON, M5G 1R3, CA
Being a stylish and elegant hotel in the city of Toronto, this property emphasises on offering the very best modern facilities along with old fashioned hospitality as well as an uncompromised level of service to provide you an unforgettable experience. Location Situated at the crossroads of the ...
Located in the heart of Toronto's throbbing downtown scene, the newly-renovated Metropolitan Hotel is steps away from the CN Tower (the world's tallest free-standing structure at over 1,800 feet), the Royal Ontario Museum and the Art Gallery of Ontario. Toronto's best theatres, the Skydome and ot...
Located in the center of downtown Toronto, this hotel is just one km from Toronto Eaton Centre and the University of Toronto. It features 2 on-site restaurants. Cable TV is available in each modernly
Read more on the website
Metropolitan Hotel Toronto type(s): Family ,Luxury
Metropolitan Hotel Toronto facilities and services
Parking:
Pay Parking , Private parking , Parking , Valet Parking(find others hotels with Parking in Toronto)
Dog / Cat friendly:
Pets Welcomed(find others hotels with Dog / Cat friendly in Toronto)
Internet Access:
High speed Internet , Internet Access , Wireless internet access(find others hotels with Internet Access in Toronto)
General
Breakfast Buffet
Television
Satellite Television
Groups welcome
Lift/elevator
Continental Breakfast
Conference Facilities
Family Rooms
Accessible Facilities
Health Club
Vending Services
Lounges and bars
Activities
Fitness Center in the hotel
Whirlpool
Massage
Sport facilities
Sauna
Gym / Fitness center
Indoor Pool
Jacuzzi
Services
Banqueting service
Concierge
Child Minding Services
Laundry services
Dry Cleaning
Breakfast Room Service
Meeting amenities
Currency Exchange
Meeting rooms
Meeting center
Shoe Shine
Car Rentals
Activities nearby
Park and square or garden

383 yd

Nathan Phillips Square:

Landmark

Spa and swimming pools

904 yd

Men's PowerSpa, The:

152 yd

La Perla Salon-Spa:

Market and shopping area

495 yd

10 Dundas East:

510 yd

Toronto Eaton Centre:

School and university

489 yd

Ontario College of Art & Design:

626 yd

Ryerson University:

Religious site

712 yd

St. Michael's Cathedral:

Theatre and opera

790 yd

Massey Hall:

790 yd

Sony Centre for the Performing Arts:

697 yd

Four Seasons Centre:

809 yd

Canon Theatre:

790 yd

Elgin and Winter Garden Theatres:

790 yd

St. Lawrence Centre for the Arts:

Convention and exhibition center

878 yd

Business center of Ritz-Carlton, Toronto:

670 yd

Business center of Bond Place Hotel Toronto:

874 yd

St. Andrew's Club & Conference Centre:

Building and administration

186 yd

Grenada Board of Tourism:

451 yd

Toronto Old City Hall:

232 yd

Toronto City Hall:

748 yd

Japan National Tourist Organization:

844 yd

Bank Of Montreal:

987 yd

Saint Lucia Tourist Board:

837 yd

Cuba Tourist Board:

270 yd

German National Tourist Office:

559 yd

Tourisme Québec: