« Back
Howard Johnson Hotel Yorkville
89 Avenue Road, M5R2G3 Toronto, [Ontario] Canada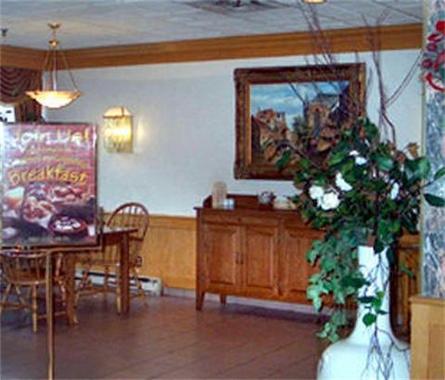 Howard Johnson Hotel Yorkville - Description
Howard Johnson Hotel Toronto Yorkville. Hotel "Howard Johnson Hotel Toronto Yorkville" has 2 stars. Situated downtown, this residence is an ideal base point for discovering Toronto and its surrounding area. The hotel consists of 59 rooms in total. The temperature is never unpleasant thanks to the relieving air conditioning. There is a gymnasium where guests have the option to train. This hotel includes a restaurant for your gustatory enjoyment. After a good night's rest, visitors have the option to have a continental breakfast, which is included in the price. There is free of charge Internet access available.

With its central location, Howard Johnson Downtown Toronto Hotel is within easy reach of most tourist attractions and business addresses in Toronto (ON).All 69 rooms at the hotel are well-appointed with necessary amenities to ensure that each guest's satisfaction.In-room facilities include intern...
Financial district, Theatre district, Expressway
Located in the heart Of Yorkville, Toronto's Fashionable Shopping, Dining And Entertainment district, Close to University of Toronto and ROM and near Business District. Ideal for the business and leisure traveler, being in close proximity of some of the finest attractions. The hotel is thre...
Whether you are in Toronto on business or for fun, Howard Johnson Hotel offers luxurious accommodation along with excellent services to make your stay as relaxed and enjoyable as possible. Location Howard Johnson Hotel is centrally located in the heart of Yorkville. This property offers guests p...
This Howard Johnson is located approximately four miles from Eaton Center and 18 miles from Lester B Pearson International Airport. Every morning, a complimentary continental breakfast is served, along with a morning newspaper. This Howard Johnson also offers 24-hour coffee and tea, laundry serv...
Howard Johnson Hotel Yorkville type(s): Family ,Budget
This hotel belongs to: Howard Johnson™
Howard Johnson Hotel Yorkville facilities and services
Parking:
Pay Parking , Private parking , Parking(find others hotels with Parking in Toronto)
Internet Access:
Free WiFi , Internet Access , Wireless internet access(find others hotels with Internet Access in Toronto)
General
Fax
Satellite Television
Lift/elevator
Meals for groups
Conference Facilities
Family Rooms
Meal plan available
Children welcome
Business services
Dataport
Interior corridors
Elevator
Activities
Fitness Center in the hotel
Sport facilities
Gym / Fitness center
Services
Banqueting service
Laundry services
Ironing Services
Meeting amenities
Meeting rooms
Car Rentals
Fax / Photocopying
Customer reviews
Anonymous
access to great shopping and restaurants.
Traveler's rating :
Anonymous
The room was large and comfortable. Good location, convenient for city centre & subway.
Traveler's rating :
Anonymous
Basic continental breakfast, coffee available all day in comfortable lobby but no hot drinks facilities in the room. Good access for baby's pushchair.
Traveler's rating :
Anonymous
Very helpful staff at the desk.Especially Mr Ali
Traveler's rating :
Anonymous
The rooms look like they need decorating and the staff could be a lot more helpful.
Traveler's rating :
Activities nearby
Building and administration

750 yd

Singapore Tourism Board:

420 yd

Hellenic Tourism Organisation:

Golf and other sports

791 yd

Oakdale 3 1:

807 yd

Tam O Shanter Golf Course:

756 yd

Oakdale 2 3:

766 yd

Humber Valley Golf Course:

795 yd

Oakdale 1 2:

School and university

1,345 yd

University of Toronto:

1,211 yd

University of Toronto:

Stadium

Convention and exhibition center

141 yd

Business center of Howard Johnson Hotel - Downtown Toronto-Yorkville:

Spa and swimming pools

439 yd

Pure + simple (Yorkville):

1,688 yd

Chi Spa:

560 yd

Spa at Windsor Arms:

1,561 yd

Divine Scents Spa & Wellness Shop:

1,093 yd

Promised Care Centre:

1,083 yd

Spa at Yonge, The:

96 yd

Novo Spa:

345 yd

Clarins Skin Spa:

Monument

Museum

531 yd

George R. Gardiner Museum of Ceramic Art:

691 yd

Bata Shoe Museum:

470 yd

Royal Ontario Museum:

571 yd

The Royal Ontario Museum:

Theatre and opera

1,597 yd

Tarragon Theatre:

1.1 mi

Bathurst Street Theatre: