« Back
Grosvenor Hotel
High Street, SO20 6EU Stockbridge, England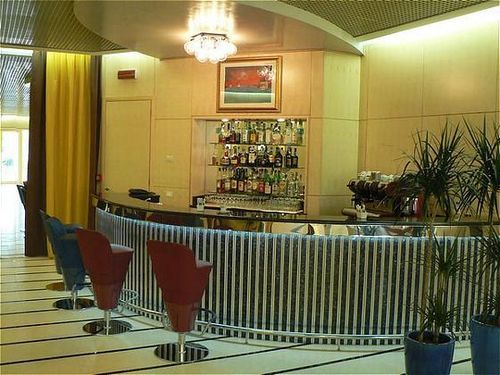 Grosvenor Hotel - Description
Grosvenor Hotel. "Grosvenor Hotel" is a hotel that has received 3 stars. Conveniently situated right in the downtown area, this hotel is a perfect pied-a-terre for exploring Stockbridge and the surrounding area. This accommodation boasts a total of 25 elegant rooms. Small children can play safely in the intimacy of the garden. For dinner there is no need to leave the comfort of the residence as there is a traditional onsite restaurant. The restaurant's specialty is a regional dish. You can end your day with a drink at the lounge bar. Of course, Internet access is available at no extra charge.

The 3-star Grosvenor Hotel offers comfort and convinience whether you're on business or holiday in Stockbridge. The hotel offers guests a range of services and amenities designed to provide comfort and convenience. Shops, business center, disabled facilities, bar/pub, meeting facilities are just ...
THE GROSVENOR IS A GRAND OLD COACHING INN OFABOUT 250 YEARS OF AGE, WHICH HAS RECENTLY BEENREFURBISHED. SET IN THE HEART OF THE TEST VALLEY,FAMOUS FOR ITS TROUT FISHING. THE BANK SIDE BARSERVES TRADITIONAL COUNTRY PUB FAYRE THE RIVERROOM RESTAURANT IS LOCALLY ACCLAIMED FOR ITSANGLO EUROPEAN CUISINE.
The Grosvenor Hotel is situated in the centre of Stockbridge, on the banks of the River Test. It has classic Georgian features, a traditional restaurant and a cosy real ale bar. The elegant rooms at
Read more on the website
Grosvenor Hotel type(s): Budget
This hotel belongs to: Old English Inns™
Grosvenor Hotel facilities and services
Parking:
Pay Parking , Private parking , Free Parking(find others hotels with Parking in Stockbridge)
Dog / Cat friendly:
Pets Welcomed(find others hotels with Dog / Cat friendly in Stockbridge)
Internet Access:
Free WiFi , Internet Access , Wireless internet access(find others hotels with Internet Access in Stockbridge)
General
Breakfast Buffet
Shower
Bathtub
Television
Garden
Continental Breakfast
ATM
Ironing board
Disabled rooms
Non smoking
Pets allowed
Non-refundable surcharge for pets
Activities
Near Golf Course
Fishing
Hiking trail
Cycling
Walking
BBQ Available
Horseback Riding
Services
Tea and Coffee facilities
Hairdryer
Desk
Bridal Suite
Meeting amenities
Fully equipped business center
Rental of a VCR / DVD player
Bicycle Rental
Packed Lunches
Car Rentals
Fax / Photocopying
Location
Old Town
River
Countryside
Outstanding views
Customer reviews
Hazel
+ Position of hotel and the attitude of the staff
-
Traveler's rating :
David
+
- in the breakfast room at 7.30 left at 8.30 to late only served tea & toast main breakfast not cooked in time
Traveler's rating :
Aileen
+
- Food could have done with a few vegetables
Traveler's rating :
Joerg
+
- the noise of high street you can hear very clear in the rooms facing the street
Traveler's rating :
Nigel
+ Easy to find, quiet location and local village amenities i.e. restaraunts, shop etc.
-
Traveler's rating :
Graham
+ The hotel was great for the business traveler. Warm and local feel not plastic and corporate.
-
Traveler's rating :
Ian
+ We only stayed one night but the staff were very welcoming, our room was clean and very comfortable, the staff were very helpful and the meal we had was very good
-
Traveler's rating :
David
+ cost
-
Traveler's rating :
Anonymous
+ This is a great hotel, in a charming town, with excellent facilities.
-
Traveler's rating :
Activities nearby
Convention and exhibition center

8.7 mi

The Wessex Conference Centre:

Golf and other sports

8.1 mi

Dunwood Manor:

8.6 mi

Romsey G C:

School and university

7.3 mi

The University of Winchester:

Library

Industrial or rural zone

Spa and swimming pools

6.6 mi

Andover Leisure Centre:

8.8 mi

Romsey Rapids:

Hospital

7 mi

Andover Birth Centre:

7.5 mi

Sarum Road Hospital:

8.4 mi

Romsey Hospital:

Airport

4.1 mi

Middle Wallop:

6.7 mi

Andover Airfield:

8.1 mi

Thruxton Aerodrome:

Monument

7.2 mi

South Wonston:

4.4 mi

Withering Corner:

8.2 mi

Oram's Arbour:

8.5 mi

Winchester City Museum:

6.7 mi

Lockerley Camp:

Railroad station

6 mi

Mottisfont & Dunbridge Railway Station:

7.6 mi

Worthy Down Halt:

8.4 mi

Romsey Railway Station: