« Back
Carlton Oasis
Curieweg 1, 3208 KJ Spijkenisse, Netherlands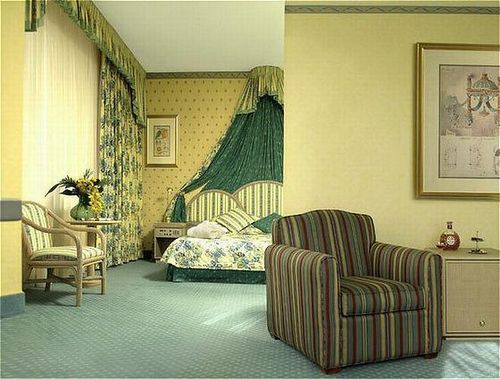 Carlton Oasis - Description
Carlton Oasis Hotel. "Carlton Oasis Hotel" has 4 stars. It is a perfect pied-a-terre for discovering Spijkenisse. The residence has 139 rooms in total. Inside, it is never too hot thanks to the relieving air conditioning. "Carlton Oasis Hotel" offers its visitors the luxury of an indoor, covered swimming pool, allowing you to enjoy a pleasant swim even with bad weather. Guests are offered the option of taking part in mini-golf as well as squash, golf, bowling, horse riding, pool and tennis. Furthermore, there is a gym, a pool table, a walking trail and a running track as well as a bike rental service. After a long day, guests have the opportunity to unwind from their day's activities in the onsite spa. To bring you even more chances to relax, the residence has a sauna and hamam as well. You can also book a relaxing massage. The hotel includes a restaurant for your gustatory enjoyment. For a drink after a long day, you will find the lounge bar most welcoming. Breakfast is served in the morning and provides visitors with a good start to the day. Business travelers will appreciate the free Internet access.

The Carlton Oasis Hotel is located in Spijkenisse making it one of the best hotels to stay at while in town.All hotel's guestrooms have all the conveniences expected in a hotel in its class to suit guests' utmost comforts.All of the guestrooms are replete with non smoking rooms, air conditioning,...
CURIEWEG 1, SPIJKENISSE, NL, 3208 KJ
HOTEL TAXES ARE INCLUDED IN RATES HOTEL SERVICE CHARGE IS INCLUDED IN RATES MINIMUM NIGHT STAY MAY APPLY TRAVEL AGENT COMMISSIONS ARE- 10.00 PERCENT THERE IS NO ROOM CHARGE FOR ONE CHILD 11 YEARS OR UNDER WHEN SHARING ...
Carlton Oasis is located in Spijkenisse,the largest village on the island of Voorne-Putten in South Holland. Get free access to the health centre. All rooms have coffee and tea facilities and Wi-Fi (charges applicable).
Read more on the website
AIR CONDITION - PBL RMS ELEVATOR - LIFT BALLROOM FACSIMILE - FAX BANQUET FACILITIES FIREPLACE BAR LUGGAGE STORAGE BARBECUE MICROWAVE IN ROOM BUSINESS CENTRE NEWSSTAND ...
Carlton Oasis type(s): Budget ,Luxury
This hotel belongs to: UI™
Carlton Oasis facilities and services
Parking:
Pay Parking , Free Parking(find others hotels with Parking in Spijkenisse)
Dog / Cat friendly:
Pets Welcomed(find others hotels with Dog / Cat friendly in Spijkenisse)
Internet Access:
Internet Access , Wireless internet access(find others hotels with Internet Access in Spijkenisse)
General
Minibar
Shower
Bathtub
Television
Terrace
Ironing board
Elevator
Safe
Non smoking
Pets allowed
Front Desk 24hr
Non-refundable surcharge for pets
Activities
Fitness Center in the hotel
Darts
Cycling
Sport facilities
Sauna
Gym / Fitness center
Indoor Pool
Turkish/Steam Bath
Services
Tea and Coffee facilities
Hairdryer
Bathrobe
Desk
Laundry services
Dry Cleaning
Pay Movies
Breakfast Room Service
Bridal Suite
Meeting amenities
Currency Exchange
Fully equipped business center
Customer reviews
Lindy
+ Its location
-
Traveler's rating :
John
+ good service
-
Traveler's rating :
Bruno
+ convenience for my business
- very old fashioned decor.
Traveler's rating :
Anonymous
+ beds were OK
- outdated interior of the hotel, unattractive breakfast table and room in combination with too high price.
Traveler's rating :
Robert
+ The location
- The gym and pool area has not been updated for a number of years now and is becoming quite dated and shabby. It badly need cooling, as the fans are not adequate.
Traveler's rating :
Anonymous
+ The atmosphere was very relaxed
-
Traveler's rating :
Activities nearby
Casino

5.1 mi

Fair Play Center - Rozenburg:

Spa and swimming pools

5 mi

Sport- en Recreatiebad «DOL-FIJN»:

4.4 mi

Zwembad de Zeehond:

5.8 mi

Zwembad Holy:

5.4 mi

Vrijetijdscentrum De Boogerd:

2.2 mi

Sportcomplex De Papegaai:

1,096 yd

Rivièrabad Spijkenisse:

4.7 mi

Zwem- en recreatiebad De Kulk:

Museum

4.8 mi

Museum Het Oude Raadhuis:

5.8 mi

Nationaal Coaperatie Museum:

5 mi

Museum Streekmuseum Jan Anderson:

2.3 mi

Museum Oudheidkamer Geervliet:

5 mi

Museum Jan Anderson:

4.2 mi

Museum Stadhuis-Collectie Rederijkersblaz:

5.8 mi

Museum Nat Coap:

4.7 mi

Arch Historisch Museum Hoogstad:

5.4 mi

Museum Nationaal Sleepvaartmuseum:

5.3 mi

Museum Gemeentemuseum:

4.5 mi

Museum Oudheidkamer Rozenburg:

4.1 mi

Museum Muziekinformatie-En Documentatiecen:

5.9 mi

Stedelijk Museum:

4.1 mi

Museum Visserijmuseum Vlaardingen:

4.6 mi

Archeologisch-Historisch Museum:

5.8 mi

Het Gedistilleerd Museum:

Harbor and marina

2.9 mi

Nieuw-Beijerland Watersport Marina:

4.2 mi

Vlaardingen Yacht Harbour:

5.2 mi

Rotterdam Spuihaven Marina:

4.7 mi

The Spui Watersport:

3.8 mi

Blinckvliet Yacht Haven:

4.1 mi

Goudswaard Watersport Marina: