« Back
Hotel Marthe
Krinz 1, 6100 Seefeld in Tirol, [Tyrol] Austria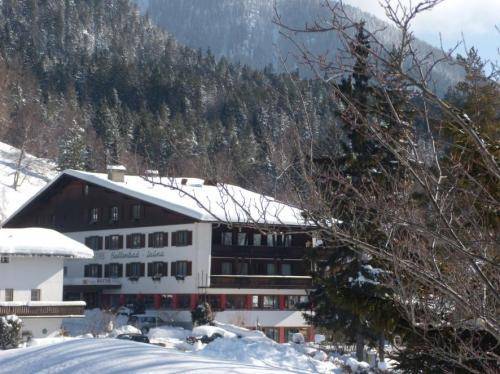 Hotel Marthe - Description
Hotel Marthe. "Hotel Marthe" has 3 stars. The hotel is located in Seefeld in Tirol. There are numerous sporting activities for guests to practice, such as skiing, cross-country skiing and hiking. Breakfast is served each morning to provide you with a good start to the day.

With its central location, Hotel Marthe is within easy reach of most tourist attractions and business addresses in Seefeld (Tirol).The Hotel Marthe boasts a convenient location with modern amenities in every guestroom and superb service.The guestrooms are equipped with non smoking rooms, bathrobe...
This cosy, family-run hotel is located at the edge of the forest on the sunny east side of Seefeld, only a few minutes' walk away from the centre and the train station.
Read more on the website
Hotel Marthe type(s): Budget
Hotel Marthe facilities and services
Parking:
Pay Parking , Free Parking(find others hotels with Parking in Seefeld in Tirol)
Dog / Cat friendly:
Pets Welcomed(find others hotels with Dog / Cat friendly in Seefeld in Tirol)
Internet Access:
Internet Access , Wireless internet access(find others hotels with Internet Access in Seefeld in Tirol)
General
Garden
Terrace
Childrens play
Disabled rooms
Elevator
Fast Check-in/out
Safe
Non smoking
Non-refundable surcharge for pets
Heating
Gay Friendly
Ski Room
Activities
Near Golf Course
Fishing
Skiing
Casino
Hiking trail
Billiards
Solarium
Massage
Playground
Snooker Table
Table Tennis
Darts
Library
Cycling
Canoeing
Walking
BBQ Available
Bowling
Tennis Court
Steam Room
Sport facilities
Horseback Riding
Sauna
Mini-Golf
Ski School
Gym / Fitness center
Indoor Pool
Spa & Health Center
Services
Laundry services
Bicycle Rental
Shoe Shine
Packed Lunches
Tourism Desk
Airport Connection
Room Service
Activities nearby
Theatre and opera

10 mi

Tiroler Landestheater:

9.9 mi

Festwochen der Alten Musik:

Casino

10.2 mi

Casino Innsbruck:

Stadium

10.9 mi

OlympiaWorld Innsbruck:

11 mi

Tivoli Neu:

School and university

10.2 mi

MCI Management Center Innsbruck:

10.5 mi

Pädagogische Hochschule Tirol:

10.1 mi

Innsbruck Medical University:

9.7 mi

Universität Innsbruck:

Railroad station

8.4 mi

Mittenwald Bahnhof:

10.7 mi

Klais Bahnhof:

Spa and swimming pools

6.4 mi

Telfer Bad:

12.1 mi

Alpspitz Wellenbad:

3.8 mi

Alpenbad Leutasch:

9.5 mi

Sport-Oase Höttinger Au:

10.5 mi

Hallenbad Amraser-Straße:

Golf and other sports

9.4 mi

Gries im Sellrain:

11.5 mi

Kuhtai:

1,464 yd

Seefeld:

10.2 mi

Innsbruck:

7.6 mi

Axams:

10.2 mi

Ehrwalder-almbahn:

10.2 mi

Axamer Lizum:

11.8 mi

Tauchen In Tirol :

8.6 mi

Karwendel/Mittenwald:

8.5 mi

Mittenwald/Kranzberg:

9.6 mi

Tauchschule spezial :

4 mi

Leutasch:

9.1 mi

Mutters:

12.1 mi

Igls: