« Back
Golden Tulip Park Plaza
Alameda Lorena, 360, 01424-000 São Paulo, [Estado de São Paulo] Brazil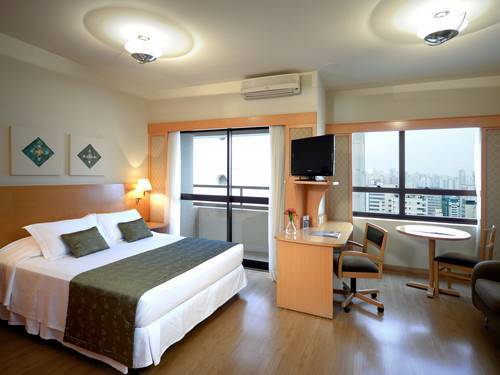 Golden Tulip Park Plaza - Description
Golden Tulip Park Plaza. Hotel "Golden Tulip Park Plaza" has 3 stars. This accommodation is an excellent base from which to discover São Paulo. To facilitate your travel in the surrounding area there is a shuttle bus service available. Because "Golden Tulip Park Plaza" offers a calm setting, visitors have the opportunity to de-stress. The total number of rooms is 216. All the rooms are roomy. Thanks to the air conditioning, you will always find a comfortable room temperature inside. Small children can play safely in the private garden. Feel free to take a swim in the pool. There are some sports for you, such as tennis and volleyball. The facilities also include a gymnasium and a bicycle rental service. After a long or busy day, guests have the opportunity to relax in the onsite spa, sauna or Turkish bath. The hotel also offers massages. This residence includes a restaurant. A lounge bar is available for you to have a drink after dinner. After a good night's rest, visitors can enjoy the accommodation's breakfast. The hotel provides you with Internet access.

Ideally located in the prime touristic area of West, Golden Tulip Park Plaza Hotel promises a relaxing and wonderful visit. The hotel has everything you need for a comfortable stay. Salon, restaurant, shops, room service, meeting facilities are on the list of things guests can enjoy. Guestrooms a...
The Golden Tulip Park Plaza hotel is located in Sao Paolo, Brazil. Near Oscar Freire Street Near Paulista Avenue Near Ibirapuera Park Hotel Features. International style restaurant and bar Health spa and outdoor pool Business center Complimentary high speed Internet access Cable television In r...
Located in the elegant area Jardins. Close to main highway access, 40 min. from Guarulhos International Airport, 5 minutes Ibirapuera Park, 2 blocks from 9 de Julho Avenue, withhin walking distance of the Oscar Freire Street, a fashionable shopping center where you can find the most famous boutiq...
Perfectly placed to take advantage of the tourist attractions in Sao Paulo, the Golden Tulip Park Plaza Hotel is also ideal for those travelling on business. Location Situated in a quiet and fashionable district, this elegant property is within walking distance from Oscar Freire Street. Surround...
Surrounded by modern boutiques, Golden Tulip Park Plaza is a 10-minute walk from the main financial/economic district (Paulista Avenue) and 19 miles from Guarulhos International Airport. This location is also one mile from Ibirapuera Park and the Sao Paulo Museum of Art, two miles from Faria Lima...
Golden Tulip Park Plaza type(s): Family ,Design ,Romantic ,Budget ,Luxury
This hotel belongs to: Golden Tulip Hotels™
Golden Tulip Park Plaza facilities and services
Parking:
Private parking , Parking , Free Parking , Valet Parking(find others hotels with Parking in São Paulo)
Internet Access:
High speed Internet , Internet Access , Wireless internet access(find others hotels with Internet Access in São Paulo)
General
Minibar
Shower
Television
Telephone
Balcony
Terrace
Satellite Television
Lift/elevator
Meals for groups
Multilingual staff
Climate control
Family Rooms
Activities
Fitness Center in the hotel
Whirlpool
Massage
Steam Room
Sport facilities
Sauna
Indoor Pool
Outdoor Pool
Jacuzzi
Spa & Health Center
Services
Hairdryer
Wake-Up
Kitchen
Banqueting service
Laundry services
Dry Cleaning
Hair & Beauty Salon
Meeting amenities
Multi-line phone
Meeting rooms
Fully equipped business center
Meeting center
Activities nearby
Park and square or garden

1,695 yd

Ibirapuera Park:

Building and administration

1,087 yd

Maison de la France:

2 mi

St. Maarten Tourist Office:

Monument

3.2 mi

Monument to Latin America:

Spa and swimming pools

1.1 mi

SESC Vila Mariana:

1.8 mi

4Fit - Itaim swimming pool:

2.4 mi

Associacao Brasileira «A Hebraica»:

Golf and other sports

3.6 mi

Dive Tech :

602 yd

Amigos do Joe :

1.5 mi

KokaSub :

Stadium

3.6 mi

Conde Rodolfo Crespi:

812 yd

Ginásio do Ibirapuera:

1.6 mi

Pacaembu Stadium:

School and university

1.9 mi

São Paulo State University:

2.4 mi

Pontifical Catholic University of São Paulo:

1.7 mi

Mackenzie Presbyterian University:

2 mi

Federal University of São Paulo:

2.3 mi

Anhembi Morumbi University:

2.4 mi

Paulista University:

3.3 mi

São Marcos University:

2.7 mi

Ibirapuera University:

Museum

3.2 mi

Museu do Paulista do Ipiranga:

1,237 yd

Museu Arte São Paulo (MASP):

1.1 mi

Museu da Imagen e do Som:

3.3 mi

Museu de Arte Sacra:

3 mi

Pinacoteca do Estado:

3.3 mi

Museu do Imigrante:

1 mi

Museu Afro Brazil:

2.9 mi

Museu da Lingua Portuguesa: