« Back
Sevilla Palace
Paseo de la Reforma Avenue 105, 06030 Santa María Nativitas, [The Federal District] Mexico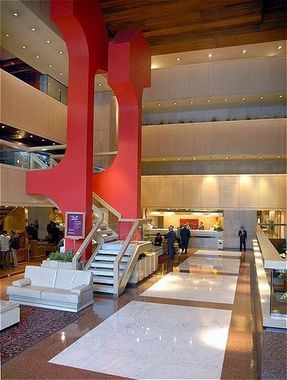 Sevilla Palace - Description
Sevilla Palace Hotel. "Sevilla Palace Hotel" is a 3-star hotel. It is an ideal base from which to explore Mexico. All of this accommodation's bedrooms are contemporary. The air conditioning keeps the hot weather outside, always ensuring a comfortable temperature. "Sevilla Palace Hotel" presents its visitors with both a covered and outdoor swimming pool. The pools are adapted to accomodate children. The facilities include a gym. You can relax in the onsite spa. The wellness center also features a sauna. You can treat yourself to, for instance, a relaxing massage. Dinner can be served in the comfort of the hotel as there is an onsite restaurant. For a drink before or after dinner, visitors will find the piano bar and lounge bar most welcoming. Breakfast is served each morning to offer visitors a good start to a new day. An additional amenity provided is access to the Internet.

The Sevilla Palace Hotel is located in Mexico City making it one of the best hotels to stay at while in town.All hotel's guestrooms have all the conveniences expected in a hotel in its class to suit guests' utmost comforts.Each of the hotel's guestrooms offers non smoking rooms, air conditioning,...
The Sevilla Palace is located on Reforma Avenue, approximately one mile from downtown and seven miles from Mexico City Airport. The hotel is also two miles from Chapultepec Park, three miles from Guadalupe Shrine, four miles from National Palace, and 20 miles from Xochimilco and Teotihuacan Pyram...
A few steps from Mexico City's popular Zona Rosa area, this centrally located hotel offers 2 different on-site dining options, contemporary guestrooms and a variety of modern amenities. Sevilla Palac
Read more on the website
Sevilla Palace type(s): Family ,Budget ,Luxury
This hotel belongs to: UI™
Sevilla Palace facilities and services
General
Family Rooms
Business services
Dataport
Non smoking
Luxury
Wheelchair accessible
Swimming pool
Activities
Fitness Center in the hotel
Whirlpool
Sport facilities
Services
Dry Cleaning
Meeting amenities
Meeting rooms
Meeting center
Car Rentals
Business Center