« Back
Neptuno Calella Hotel
Sant Josep, 84, 08370 Sant Cebrià dels Alls, Spain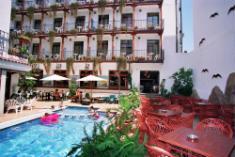 Neptuno Calella Hotel - Description
Apartamentos Neptuno. "Apartamentos Neptuno" is a hotel that has acquired 3 stars. This hotel is an ideal place to stay when visiting Calella. The residence has a total capacity of 23 bedrooms. Inside, you will always find a comfortable room temperature thanks to the air conditioning. This hotel presents its visitors with a private garden. Feel free to take a swim in the outdoor pool. Choose from any of the sports that are offered, like bowling, waterskiing, horse riding, pool, surfing, snorkeling, diving, volleyball, rafting, squash, sailing or tennis. The sports facilities include a gym, a pool table, motorboats and a walking trail as well as a bicycle rental service. Visit the onsite spa to recover from your physical activities. Go bathing in the whirlpool bath. This residence includes a restaurant. A bar is open for visitors to enjoy a drink before or after dinner. To add to your stay, there is breakfast in the morning. Internet access is offered free of charge and there is a shuttle bus service which can bring you to and from the airport.

With its central location, Neptuno Calella Hotel is within easy reach of most tourist attractions and business addresses in Calella.All hotel's guestrooms have all the conveniences expected in a hotel in its class to suit guests' utmost comforts.Each of the hotel's guestrooms offers in room safe,...
The Hotel Neptuno is located in the lively Costa Brava resort of Calella, Spain, 50 metres from a pedestrianised shopping area, 200 metres from the beach, and 49 kilometres from Barcelona. Hotel Features. The Neptuno Calella is a quiet, family run hotel with attractive, planted balconies overl...
The Neptuno Calella Hotel is located in Costa Brava y Maresme making it one of the best hotels to stay at while in town. The Neptuno Calella Hotel boasts a convenient location with modern amenities in every guestroom and superb service. The hotel provides a warm and welcoming service of internati...
Situated in the heart of Calella, Hotel Neptuno offers guests comfortable accommodation supplied with modern services. Large dinning room with a complete and exquisite buffet, combined to the professional staff, assures you a pleasant and funny stay. Among services, guests can avail of the Intern...
A family run hotel situated in the heart of Calella and close to the beach, the three-star Hotel Neptuno offers comfortable rooms, fully equiped with all comforts. The hotel provides a cosy dining room with buffet and showcooking. You can enjoy yourselves in the outdoor swimming pool or relax at ...
Neptuno Calella Hotel type(s): Family ,Beach ,Budget ,Luxury
This hotel belongs to: T2™
Neptuno Calella Hotel facilities and services
Parking:
Pay Parking , Private parking , Parking(find others hotels with Parking in Sant Cebrià dels Alls)
Dog / Cat friendly:
Pets Welcomed(find others hotels with Dog / Cat friendly in Sant Cebrià dels Alls)
Internet Access:
Internet Access , Wireless internet access(find others hotels with Internet Access in Sant Cebrià dels Alls)
General
Minibar
Shower
Bathtub
Television
Telephone
Fax
Balcony
Garden
Terrace
Satellite Television
Additional beds
Credit card accepted
Activities
Near Golf Course
Children mountainbikes
City tour
Mountainbikes
Pool bar
Private beach
Games Rooms
Hiking trail
Billiards
Tanning booth
Solarium
City tours
Playground
Snooker Table
Karaoke
Windsurfing
Library
Cycling
Canoeing
Walking
Bowling
Diving
Snorkeling
Outdoor Pool
Jacuzzi
Spa & Health Center
Services
Tea and Coffee facilities
Hairdryer
Kitchenette
Microwave
City guide
City maps
Concierge
Child Minding Services
Laundry services
Dry Cleaning
VIP Amenities
Ironing Services
Location
Old Town
Beach umbrellas and deck loungers
Beach
Downtown
Shopping mall
Near Highway
Near Train Station
Park
Mountains
Outstanding views
Activities nearby
Harbor and marina

5.6 mi

Port of Arenys De Mar Marina:

8.7 mi

Port Balis Marina:

8.9 mi

Blanes Marina:

Museum

380 yd

Museu-Arxiu Municipal De Calella:

6.2 mi

Museu D'Arenys De Mar:

Other maritime landscape

Golf and other sports

8.1 mi

Escola De Golf Handicap 1:

8.5 mi

Sant Vicenc de Montalt Golf Club:

Beach and coastal area

5 mi

Malgrat de Mar :

6.9 mi

Blanes :

Hospital

7.8 mi

Hospital de sant jaume:

6.3 mi

CAP 24h Arenys de Mar :

302 yd

CAP 24h Calella :

248 yd

Hospital de sant jaume:

6.6 mi

CAP 24h Tordera :

4.6 mi

CAP 24h Dr. J. Torner i Flors:

4.9 mi

CAP Canet de Mar:

8.9 mi

Hospital comarcal de blanes:

1.5 mi

CAP 24h Pineda de Mar :

Library

4.3 mi

Biblioteca Pere Gual:

Railroad station

9 mi

Viabrea:

3.2 mi

Santa susanna:

7.6 mi

Caldes d'estrac:

9.1 mi

Sant andreu de llavaneres:

4.5 mi

Canet de mar:

613 yd

Calella:

6.9 mi

Blanes:

7 mi

Tordera:

1.8 mi

Pineda de mar:

2.1 mi

Sant pol de mar: