« Back
Residenza San Giovanni
Via Mannozzi 26-26/A, 52027 San Giovanni Valdarno, Italy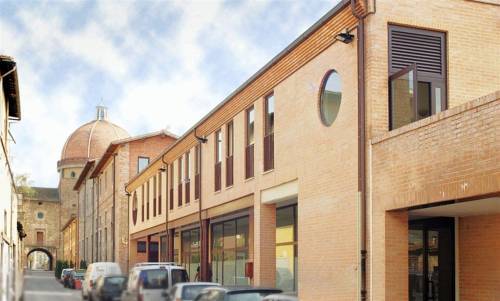 Residenza San Giovanni - Description
Residenza San Giovanni. "Residenza San Giovanni" is an apart-hotel. "Residenza San Giovanni" is located in San Giovanni Valdarno. High temperatures are kept outside the rooms thanks to the air conditioning. Staying connected with your friends and family is made easy with the free Internet access that is provided.

Discover all that San Giovanni Valdarno has to offer with Residenza San Giovanni Hotel as a base.All hotel's guestrooms have all the conveniences expected in a hotel in its class to suit guests' utmost comforts.The guestrooms are equipped with non smoking rooms, air conditioning, desk, television...
This residence is set in San Giovanni Valdarno's historic centre, just a 5-minute walk from the city's railway station. Air-conditioned apartments, free Wi-Fi and free parking are offered here.
Read more on the website
Residenza San Giovanni type(s): Budget
Residenza San Giovanni facilities and services
Parking:
Private parking , Free Parking(find others hotels with Parking in San Giovanni Valdarno)
Dog / Cat friendly:
Pets Welcomed(find others hotels with Dog / Cat friendly in San Giovanni Valdarno)
Internet Access:
Wireless internet access(find others hotels with Internet Access in San Giovanni Valdarno)
General
Family Rooms
Disabled rooms
Elevator
Non smoking
Heating
Baggage Storage
Gay Friendly
On-site parking
Activities nearby
Monument

18.8 mi

Basilica di San Miniato al Monte:

Stadium

1,068 yd

Stadio Virgilio Fedini:

Cemetery

18.8 mi

Cimitero delle Porte Sante:

Golf and other sports

14.7 mi

Circolo Del Golf Dell Ugolino:

Religious site

18.9 mi

San Miniato al Monte:

nightlife

Railroad station

7.4 mi

Stazione di Incisa:

7.4 mi

Stazione di Bucine:

4.8 mi

Stazione di Figline Valdarno:

15.2 mi

Stazione di Pontassieve:

Market and shopping area

10 mi

The Mall:

9.6 mi

D&G Outlet:

5.6 mi

Space Prada:

Museum

10.8 mi

Museum Arte Sacra S. Francesco Greve in Chianti :

13.8 mi

Museum Del Chianti Senese Castellina in Chianti :

18.8 mi

Museum Medievale E Moderno Arezzo :

18.3 mi

Museum di Arte Sacra S. San Casciano in Val di Pesa :

4.2 mi

Museum Statale Castelfranco di Sopra :

2.6 mi

Museum Ernesto Galeffi Montevarchi :

16.7 mi

Museum Ornitologico Poppi :

9.1 mi

Museum Arte Sacra Reggello :

17.1 mi

Museum del Ciclismo Bartali Firenze :

18.8 mi

Museum Casa Vasari Arezzo :

18.3 mi

Museum del Calcio Firenze :

Spa and swimming pools

17.9 mi

Piscina Il Melograno:

11.6 mi

Piscina di Rignano sull'Arno:

15.2 mi

Piscina Comunale Pontassieve:

17.1 mi

La Piscina:

17.6 mi

Virgin Active - Firenze:

18.3 mi

Piscina Bellariva / Piscina Nannini: