« Back
Holiday Inn St. Louis-Southwest - Viking
Watson Rd, MO, USA, ,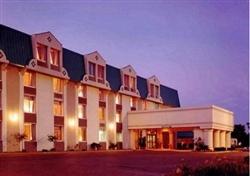 Holiday Inn St. Louis-Southwest - Viking - Description
The hotel isRead more located in the south-west section of Saint Louis, at Watson Rd, MO, USA, only 30 minutes by car from the city center.The Holiday Inn St. Louis-Southwest - Viking has all the services one would expect of a three star hotel in Saint Louis: Restaurant, Room Service, Bar, Business Center, Laundry. This establishment is more of a Business hotel .This hotel offers a unique service : conference facilities.It is part of the hotel chain Holiday Inn Hotels & Resorts.Relax yourself in the hotel's gym.High speed internet is available in this hotel.Other useful information:This hotel has a parking.

A perfect place in the city of St.Louis, the Holiday Inn offers excellent services and convenient facilities for a relaxing stay. Location Located conveniently on Interstate 44 and Highway 270, the Holiday Inn is just 15 minutes from downtown St. Louis. The Forest Park, Zoo, Muny Opera and the ...
This hotel belongs to: Holiday Inn Hotels & Resorts™
Holiday Inn St. Louis-Southwest - Viking facilities and services
Parking:
Parking(find others hotels with Parking in St. Louis)
Internet Access:
Internet Access(find others hotels with Internet Access in St. Louis)
General
Conference Facilities
Accessible Facilities
Lounges and bars
Safe
Restaurant
Swimming pool
Bar
Services
Laundry services
Fax / Photocopying
Business Center
Room Service