« Back
Hotel Casbah
Avenida Musico Julio Ribelles, 13, 46540 Puig, Spain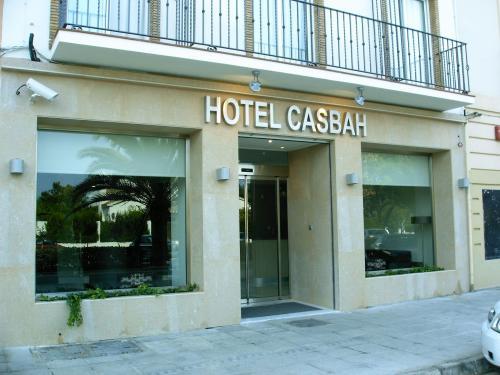 Hotel Casbah - Description
Hotel Casbah. The 3-star "Hotel Casbah" is an excellent pied-a-terre from which you can explore El Puig. There is a total of 53 rooms to choose from. The interior temperature is never uncomfortable thanks to the relieving air conditioning. There is no need to go out for dinner as there is an onsite restaurant. For a drink before or after dinner, feel free to visit the lounge bar. To add to your stay, there is a continental breakfast in the morning. Of course, visitors can go online free of charge.

With its central location, Hotel Casbah is within easy reach of most tourist attractions and business addresses in Puig.All hotel's guestrooms have all the conveniences expected in a hotel in its class to suit guests' utmost comforts.Each guestroom features amenities such as air conditioning, des...
The hotel Casbah is found in a peaceful area of El Puig, a typical Mediterranean village between the mountain and the sea. The village has 4km of beaches. The hotel offer services such as a cafeteria, dining room and reading area.
Read more on the website
Hotel Casbah type(s): Beach ,Budget
Hotel Casbah facilities and services
Parking:
Pay Parking , Private parking(find others hotels with Parking in Puig)
Internet Access:
Internet Access(find others hotels with Internet Access in Puig)
General
Bathtub
Safe
Front Desk 24hr
Heating
Pets not allowed
Baggage Storage
Air conditioning
Cable television
Restaurant
On-site parking
Bar
Services
Desk
Laundry services
Dry Cleaning
Ironing Services
Fully equipped business center
Tourism Desk
Fax / Photocopying
Room Service
Activities nearby
Hospital

6.9 mi

Hospital de Sagunto:

School and university

5.1 mi

CEU Cardenal Herrera University:

Museum

6.1 mi

Museu De L'Horta D'Almàssera:

6.1 mi

Museo Arqueológico De Sagunto:

6 mi

Colección Museográfica Permanente Municipal De Moncada:

6.3 mi

Centro Arqueológico Saguntino:

Railroad station

7.2 mi

Palmaret:

1,290 yd

Puig:

1.7 mi

Rafelbunyol:

6.1 mi

Sagunto:

1.8 mi

La pobla de farnals:

2.2 mi

Puçol:

Metro station

7.1 mi

Palmaret :

4 mi

Albalat Dels Sorells :

6.1 mi

Almassera :

6.8 mi

Alboraya :

5.1 mi

Meliana :

4.6 mi

Foios:

1.8 mi

La Pobla De Farnals:

5.9 mi

Masies :

5.6 mi

Seminari-Ceu:

1.7 mi

Rafelbunyol :

5.7 mi

Moncada - Alfara :

2.2 mi

Masamagrell :

6.6 mi

Massarrojos :

2.9 mi

Museros :

Beach and coastal area

5.6 mi

Port Saplaya :

7 mi

La Patacona :

6.8 mi

El Port de Sagunt :

2.1 mi

Pobla de Farnals :