« Back
NM Suites
Avenida Onze Setembre, 70, 17250 Platja d'Aro, Spain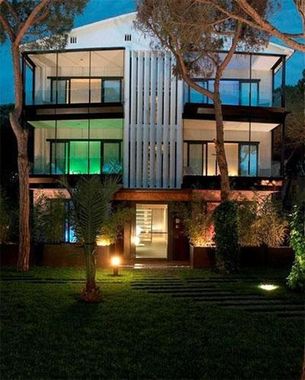 NM Suites - Description
NM Suites. Hotel "NM Suites" has 4 stars. The hotel is especially loved by families and it is an excellent base point from which visitors can explore Platja d'Aro. Visitors have the opportunity to take advantage of the nearby shore. The accommodation's shuttle bus will make your trip around the neighbourhood as comfortable as possible. 39 bedrooms are featured. The rooms have been described as modern. Hot temperatures are kept outside thanks to the relieving air conditioning. Enjoy the direct view of the swimming pool. You have the opportunity to observe nature in the intimacy of the garden. Feel free to take a dip in the outdoor swimming pool. At this hotel, you can practice multiple sporting activities, such as golf, horse riding, squash, sailing, diving and tennis. Furthermore, there is a gym, a walking trail and a running track as well as a bike rental service. The onsite restaurant is known for its Mediterranean specialty. A lounge bar is open for visitors to have a drink before or after dinner. Business people will appreciate the access to the Internet.

Discover all that Costa Brava y Maresme has to offer with Nm Suites Hotel as a base. All hotel's guestrooms have all the conveniences expected in a hotel in its class to suit guests' utmost comforts. The hotel provides a warm and welcoming service of international standard. Make your reservation ...
NM Suites is located in Platja de Aro, Spain. 100 metres from the beach 24 kilometres from Girona-Costa Brava Airport Hotel Features. Outdoor pool Patio and garden Restaurant and bar Satellite television
. HOTEL NM SUITES IS A 4 STAR HOTEL BUILT IN 2002 AND IS CENTRALLY LOCATED IN THE VILLAGE OF PLATJA D ARO IN THE HEARTH OF THE COSTA BRAVA. HOTEL IS JUST A FEW STEPS FROM THE BEACH SITUATED IN A PEACEFUL SETTING SURROUNDED BY GARDENS. HOTEL HAS 22 ROOMS 16 ARE JUNIOR SUITES AND 6 SUITES. ALL OF T...
Situated in a quiet residential area only steps away from the beach, NM Suites is a 4-star, pet-friendly hotel in Costa Brava. It is within easy reach from Girona and Barcelona, and an excellent destination to combine relax and culture in the Mediterranean. This suites hotel is surrounded by beau...
The stylish, air-conditioned NM Suites are located only 70 metres from Platja d'Aro Beach. The complex offers free Wi-Fi in all areas and an outdoor pool, surrounded by pine gardens.
Read more on the website
NM Suites type(s): Family ,Beach ,Budget ,Luxury
This hotel belongs to: HA™
NM Suites facilities and services
Parking:
Pay Parking(find others hotels with Parking in Platja d'Aro)
Internet Access:
Free WiFi , Internet Access , Wireless internet access(find others hotels with Internet Access in Platja d'Aro)
General
Breakfast Buffet
Minibar
Shower
Bathtub
Television
Telephone
Fax
Balcony
Garden
Terrace
Satellite Television
Additional beds
Activities
Near Golf Course
Whirlpool
City tours
Playground
Outdoor Pool
Salt water pool
Jacuzzi
Services
Tea and Coffee facilities
Hairdryer
Bathrobe
Desk
Banqueting service
City maps
Child Minding Services
Laundry services
Dry Cleaning
Breakfast Room Service
Ironing Services
Meeting amenities
Location
Beach umbrellas and deck loungers
Beach
Dining Area
Activities nearby
Casino

13.7 mi

Casino de Lloret:

Spa and swimming pools

1,020 yd

Complex Esportiu Riembau:

Railroad station

13.7 mi

Caldes de malavella:

Hospital

4.5 mi

Hospital de palamós:

13.5 mi

CAP Lloret de Mar :

13.3 mi

Hospital municipal lloret de mar:

Beach and coastal area

4 mi

Palamos :

500 yd

Platja D'Aro :

2.8 mi

Sant Antoni :

Other maritime landscape

9.4 mi

Cabo Tossa Lighthouse:

Museum

9.1 mi

Museu Del Suro De Palafrugell:

13.6 mi

Museu Del Mar. Lloret De Mar:

2.8 mi

Museu D'Història De La Ciutat:

9.4 mi

Museu Municipal De Tossa De Mar:

1.8 mi

Museo Municipal De Montoro:

Harbor and marina

4.4 mi

Palamos Marina:

11.9 mi

Puerto De Canyelles Marina:

2.5 mi

Sant Feliu De Guixols Marina:

8.9 mi

Puerto De Llafranc Marina:

1,159 yd

Port D'Aro Marina:

3.9 mi

Costa Brava Marina:

Golf and other sports

986 yd

Club De Golf D:

3.1 mi

Golf D Aro:

11.9 mi

Canyelles Diving Centre :

9.2 mi

Tossasub Diving Center :

3.8 mi

Osona Montanya:

9.3 mi

Cala Llevado Diving Centre :

12 mi

Golf Serres De Pals:

3.8 mi

Club De Golf Costa Brava:

8.4 mi

Triton Diving :