« Back
Logis de France Hotel Saint Claude
42 Place Louis Daudre, 80200 Péronne, France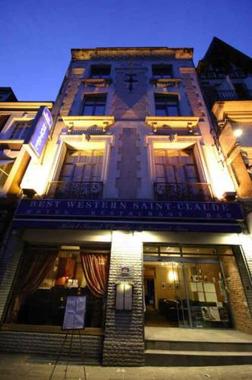 Logis de France Hotel Saint Claude - Description
Saint-Claude. Situated downtown, "Saint-Claude" is the place to stay when visiting Péronne. "Saint-Claude" has 0 bedroom. The bedroom has been described as comfortable. The interior temperature is never too high thanks to the relieving air conditioning. This hotel hosts a gym. The hotel includes a gastronomic restaurant. For a drink after dinner, you will appreciate the bar. Staying in touch with your family and friends is made possible with the free Internet access that is provided.

The Hotel Saint Claude is located in Peronne making it one of the best hotels to stay at while in town.All hotel's guestrooms have all the conveniences expected in a hotel in its class to suit guests' utmost comforts.In-room facilities include non smoking rooms, television, bathtub, shower, separ...
From: Motorway A1. (direction Paris Senlis, Compiegne), exit 13.1 (Albert, Peronne), follow road D938 via Clery Sur Somme, enter the city center of Peronne. From: D35. Crossing the villages of Nesle/Licourt, take on the left Highway N17 and enter in Peronne. From: N29. take on the left the r...
Hotel Saint Claude is located in the city centre of Péronne, between a 16th-century castle and the Great War museum. It offers 40 comfortable and soundproofed rooms that are all serviced by a lift.
Read more on the website
Logis de France Hotel Saint Claude type(s): Budget
This hotel belongs to: Logis International™
Logis de France Hotel Saint Claude facilities and services
Dog / Cat friendly:
Pets Welcomed(find others hotels with Dog / Cat friendly in Péronne)
Parking:
Pay Parking , Parking(find others hotels with Parking in Péronne)
Internet Access:
Internet Access(find others hotels with Internet Access in Péronne)
General
Breakfast Buffet
Shower
Bathtub
Television
Disabled rooms
Elevator
Non smoking
Pets allowed
Front Desk 24hr
Non-refundable surcharge for pets
Heating
Non Smoking Rooms
Services
Laundry services
Breakfast Room Service
Ironing Services
Bridal Suite
Fully equipped business center
Fax / Photocopying
Room Service
Customer reviews
Anonymous
+ The location, ease of parking and the staff were helpful.
- The breakfast was very poor. Poor choice, poor quality of food (especially when there was a boulangerie virtually next door) and only one ladyRead more looking after the restaurant. We did not even have fresh baguettes but ones from a supermarket that were not baked.Hide
Traveler's rating :
Kenneth
+ Ideal location with friendly staff.
- At breakfast left very much to just get on with it.
Traveler's rating :
Anonymous
+ room comfortable
- the access to the room was very long: lift, corridors, stairs + we can hear the noise from the corridor and the rooms next door.
Traveler's rating :
John
+ Friendly staff & convenient location.
- We were told within 30 mins of booking in that it was not possible to eat at Hotel as restaurant was full. Told the following day thah it was a mistake ! Also info. on your web site says 2 restaurants - a bit misleading as far as we were concerned. Others in our party in another double room had cause to complain about functioning of shower taps, unclean pillows, lack of towels (only one small and one shower size for 2 people.
Traveler's rating :
Anonymous
+ the lady at reception was friendly (but did not speak/ understand english very well)
-
Traveler's rating :
Anonymous
+ breakfast
- parking
Traveler's rating :
Anonymous
+ convenient location.staff friendly.parking convenient.cleanliness of room
- food -.recommend to eat out. no shower curtain.room rather dingy although refurbished.dining room shabby and dusty
Traveler's rating :
Patrick
+ Very close to the main square, for local food and drinks. The museum is 30 feet away. You can buy private parking for 5 Euro, but the parking is free on the street.
-
Traveler's rating :
Anonymous
+ Very central location and cleanliness
- no shower curtain, no towels in the room on arrival, very 70's feel despite the recent renovation,
Traveler's rating :
Anonymous
+ Friendly helpful staff
- lack of car parking
Traveler's rating :
Activities nearby
Forest and natural reserve

5.6 mi

Bois de Saint-Pierre-Vaast:

8.8 mi

Bois Delville:

12.2 mi

Bois d'Havrincourt:

Airport

14.2 mi

Saint-Quentin - Roupy:

6 mi

Péronne - Saint-Quentin:

Museum

104 yd

Historial de la Grande Guerre:

Spa and swimming pools

1,098 yd

Piscine du SIVOM - Peronne:

13.6 mi

Aquari'Ham:

Hospital

16.4 mi

Centre médico-psychologique adultes Secteur C (Saint-Quentin):

1,718 yd

Psychiatrie Adultes Centre Henri Ey (Peronne):

15.7 mi

Centre hospitalier (Saint-Quentin):

1,370 yd

Centre Hospitalier de Péronne (Péronne):

14.6 mi

Centre hospitalier (Ham):

13.5 mi

Centre hospitalier (Albert):

Railroad station

14.4 mi

Gare de Ham:

10.3 mi

Gare de Chaulnes:

10.6 mi

Gare de Curchy-Dreslincourt:

15.3 mi

Gare de Wiencourt-l'Équipée:

6.6 mi

Gare de TGV Haute-Picardie:

11.5 mi

Gare de Nesle:

12.3 mi

Gare de Rosières:

14.5 mi

Gare de Guillaucourt:

14.5 mi

Gare de Miraumont:

16.2 mi

Gare de Méricourt-Ribémont:

13.9 mi

Gare d'Albert:

15.1 mi

Gare de Buire-sur-l'Ancre:

Convention and exhibition center

1,434 yd

Business center of Campanile Peronne Hotel:

2.2 mi

Business center of Mercure Assevillers Peronne:

14.4 mi

Business center of Hotel Ibis Albert: