« Back
Royal Saint Honore
221, Rue Saint Honore, 75001 Paris, France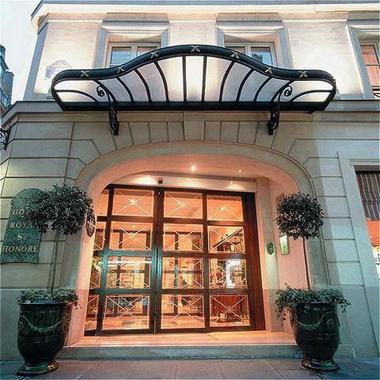 Royal Saint Honore - Description
Hotel Royal Saint-Honore. "Hotel Royal Saint-Honore" is a hotel that has obtained 4 stars. Located downtown, the residence makes a well-chosen base point for visiting Paris. This residence consists of a total of 72 rooms. The rooms are soundproof and equipped with air conditioning. Visitors have the option to observe nature in the private garden. After a long day, the sauna will help you feel refreshed. This residence has its own restaurant for your gustatory enjoyment. You can end your day with a drink at the hotel's lounge bar. Breakfast is served every morning and gives guests a good start to a new day. If you want to share your experiences online, there is Internet access available at no extra charge.

The 4-star Royal Saint Honore Hotel offers comfort and convinience whether you're on business or holiday in Paris. Both business travelers and tourists can enjoy the hotel's facilities and services. Service-minded staff will welcome and guide you at the Royal Saint Honore Hotel. Refrigerator, hai...
BOUTIQUE HOTELYEAR BUILT 1760 YEAR REMODELED 2008ADDITIONAL PROPERTY DESCRIPTION CHARMING BOUTIQUE HOTEL WITH IDEAL LOCATION FOR BUSINESS AND LEISURE TRAVELLERS/JUST A FEW STEPS AWAY FROM THE PLACE VENDOME AND THE OPERA GARNIER/ SURROUNDED BY LUXURY BOUT...
The Royal Saint Honore Hotel is located in Paris making it one of the best hotels to stay at while in town. All hotel's guestrooms have all the conveniences expected in a hotel in its class to suit guests' utmost comforts. Modern comfort and convenience are seamlessly combined to ensure the guest...
The Royal Saint-Honoré Hotel is conveniently situated in the very heart of historical Paris, next to the Tuileries gardens and within walking distance of some of the Paris' most interesting sites, such as the Louvre museum, Les Halles, Place de la Concorde and the Champs Elysées. The hotel, house...
Offering a warm welcome, Royal Saint Honore Hotel is a perfect venue for a pleasant as well as an unforgettable holiday.LocationLocated in the very heart of historical Paris, only a few steps from Place Vendome, Louvre and Opera, the Royal Saint Honore is a charming hotel offering personalised an...
Royal Saint Honore type(s): Family ,Luxury
This hotel belongs to: World Hotels™
Royal Saint Honore facilities and services
Parking:
Pay Parking , Private parking , Parking(find others hotels with Parking in Paris)
Dog / Cat friendly:
Pets Welcomed(find others hotels with Dog / Cat friendly in Paris)
Internet Access:
Internet Access , Wireless internet access(find others hotels with Internet Access in Paris)
General
Television
Satellite Television
Additional beds
Lift/elevator
Conference Facilities
Family Rooms
Lounges and bars
Childrens play
Business services
Disabled rooms
Elevator
Fast Check-in/out
Activities
Fitness Center in the hotel
Gym / Fitness center
Indoor Pool
Services
Banqueting service
Child Minding Services
Laundry services
Dry Cleaning
Breakfast Room Service
Ironing Services
Meeting amenities
Currency Exchange
Car Rentals
Fax / Photocopying
Ticket Sales
Business Center
Customer reviews
EV
excellent location - the best you can imagine in Paris. Nice and cozy rooms, although small - but this does not really matter since you only sleep there!
Traveler's rating :
Anonymous
Great location, reasonable in price, and extremely friendly staff
Traveler's rating :
RL
We had a wonderful stay at the hotel. The rooms were very clean and well appointed. The staff were very professional, helpful and friendly.
Traveler's rating :
Fergus Haverty
we stayed for 5 nights. Room was large and clean. Bathroom was clean and spacious but the shower was a minor disappointment. Hotel is central, Louvre is 5 minutes walk away, Notre Dame in walking distance,Read more 5 minute walk to Pyramides metro station on number 7 and 14 lines. Would go back to Royal Saint Honore without hesitation for the service we received, the value for money and the central location.Hide
Traveler's rating :
Anonymous
Excellent service, very average room, rather small, dark, overlooking an inner courtyard. Very small closet. To my opinion to expensive for what you get.
Traveler's rating :
Elisabeth
+ Location - conveniernt.
- Thought the breakfast was not good value.
Traveler's rating :
Helen
+ Proximity to tourist attractions, central location
- Ceiling height was too low for tall people in certain places in the room.
Traveler's rating :
Anonymous
+ Staff was wonderful-they left a half bottle of champagne and glasses for my husband's birthday. Room was lovely--3 windows, great bathroom for a European hotel. Hotel has great safety like the keyed elevator.
- The bed was very very hard but better than most hotels we have stayed at in Paris.
Traveler's rating :
Agnes
+ The locasion was exellent, clean rooms.
- Not good Concierge, poor selection of brochure (mostly on spanish), compeard to other 4stars hotels in Paris, not worth the cost.
Traveler's rating :
Gerald
+
- some lights did not work in room; bedside lights very poor, could not have fridge and tv on at same time, only 1 bathrobe in a double occupancy room.
Traveler's rating :
Activities nearby
Monument

nightlife

170 yd

Angelina:

247 yd

The Hemingway Bar:

Other landscape

91 yd

Colette:

135 yd

Causse:

Museum

232 yd

Musée du Louvre:

374 yd

Musée de la Publicité:

363 yd

Musée national de l'Orangerie des Tuileries.:

Metro station

342 yd

Pyramides:

162 yd

Tuileries:

Market and shopping area

Park and square or garden

342 yd

Jardins des Tuileries:

205 yd

Place Vendôme:

352 yd

Jardin des Tuileries:

363 yd

Tuileries Garden:

Building and administration

396 yd

Office Polonais du Tourisme:

313 yd

Paris Convention and Visitors Office:

405 yd

Office du Tourisme de la Martinique:

277 yd

Romanian National Tourist Office:

Convention and exhibition center

153 yd

Business center of NH Jolly Hotel Lotti:

134 yd

Business center of Prince Albert Louvre:

300 yd

Business center of Hotel Mayfair:

366 yd

Business center of Melia Vendome Boutique Hotel:

345 yd

Business center of Park Hyatt Paris-Vendome: