« Back
Marriott Orlando Airport
7499 Augusta National Drive, FL 32822 ,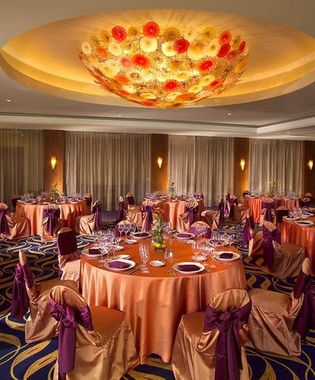 Marriott Orlando Airport - Description
Orlando Airport Marriott. The 3-star hotel "Orlando Airport Marriott" is a convenient base point from which you can discover Orlando. The nearby airport makes "Orlando Airport Marriott" easy to reach. 484 rooms are featured. In the hotel's soundproof rooms, no noise can awaken the guests. Hot temperatures are kept outside thanks to the relieving air conditioning. The hotel features a covered and outdoor pool. Choose from the several sports that are available, like waterskiing or golf. Furthermore, the residence boasts a gym where visitors have the opportunity to exercise. After your daily activities, you have the option to recover your strength in the onsite spa. Refresh yourself in the jacuzzi. The onsite restaurant serves visitors a tasty dinner. Before or after dinner, visitors can enjoy a drink at the lounge bar. After a good night's sleep, visitors have the option to enjoy the hotel's breakfast. This hotel provides guests with Internet access and an airport shuttle service.

With its central location, Marriott Orlando Airport Hotel is within easy reach of most tourist attractions and business addresses in Orlando (FL). Each of the 484 well-furnished guestrooms at the hotel ensures a comfortable stay with industry-standard room amenities. The hotel creates a balance o...
The Orlando Airport Marriott hotel is one mile from MCO Airport and boasts environmentally friendly facilities with unsurpassed amenities. Renovated in 2007, Marriott's Orlando, FL, airport hotel emerges as a contemporary masterpiece of luxury and modern delights with soundproof windows, flat-pan...
The Marriott Orlando Airport is located less than a mile from Orlando International Airport. Local attractions include Downtown Orlando, Walt Disney World® Resort, Universal Studios®, and SeaWorld Orlando. The hotel amenities include an indoor and outdoor pool, hot tub, sauna, steam room, LUXE Ba...
Located one mile from Orlando International Airport with free scheduled shuttle services, this hotel features indoor and outdoor pools. A full-service pool bar is available and rooms include cable TV.
Read more on the website
Rediscover this delightful Orlando, Florida hotel near the airport designed for the future with environmentally friendly facilities and unsurpassed amenities. Total rooms and suites: 485
Marriott Orlando Airport type(s): Family ,Modern ,Budget ,Business
This hotel belongs to: Marriott Hotels & Resorts™
Marriott Orlando Airport facilities and services
Parking:
Pay Parking(find others hotels with Parking in Orlando)
Internet Access:
Free WiFi , Wireless internet access(find others hotels with Internet Access in Orlando)
General
Television
Conference Facilities
Children welcome
Video game player
Disabled rooms
Elevator
Safe
Front Desk 24hr
Air conditioning
Cable television
Restaurant
Wheelchair accessible
Activities
Fitness Center in the hotel
Tennis Court
Sport facilities
Gym / Fitness center
Indoor Pool
Outdoor Pool
Jacuzzi
Services
Hairdryer
Dry Cleaning
Ironing Services
Meeting amenities
Room Service
Activities nearby
Stadium

8.2 mi

Florida Citrus Bowl:

8.3 mi

Tinker Field:

7.4 mi

Amway Center:

Market and shopping area

5.5 mi

The Florida Mall:

7.9 mi

The Mall at Millenia:

Spa and swimming pools

8 mi

J. Bauman Salon:

4.9 mi

Dover Shores Pool:

4.6 mi

Ft. Gatlin Recreation Complex:

7.4 mi

Freesia Beauty Spa:

7.8 mi

Hands On Healing Center:

7.3 mi

Orlando Downtown YMCA:

8 mi

John Long Pool:

7.4 mi

Serendipity Day Spa:

8.3 mi

Darian Darst LMT:

8.3 mi

In Style Hair Nail Spa:

5.6 mi

Wadeview Pool:

Museum

8.3 mi

Harry P. Leu Gardens:

7.4 mi

Orange County History Center:

Golf and other sports

8.5 mi

Ritz Carlton Golf Club Grande Lakes Orlando:

8.2 mi

Shingle Creek Golf Club:

6.3 mi

Meadow Woods Golf Club:

3.1 mi

Mccoy Annex Golf Course:

5.5 mi

Rio Pinar Country Club:

6.3 mi

North Shore Golf Club:

3.8 mi

Ventura Country Club:

8.6 mi

Winter Pines Golf Course:

7 mi

Disney S Lake Buena Vista Golf Course:

4.2 mi

Lake Nona Golf Country Club:

Amusement park

7.4 mi

Fun 'n Wheels:

7.2 mi

Disney Animal Kingdom :