« Back
Hawthorn Suites Orlando
6435 Westwood Boulevard, FL 32821 ,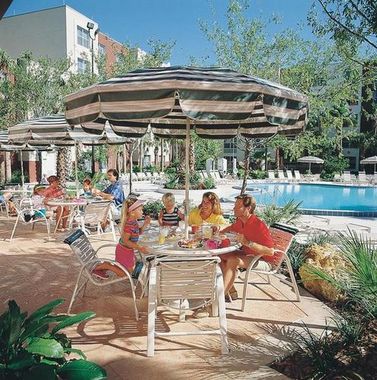 Hawthorn Suites Orlando - Description
Hawthorn Suites by Wyndham Orlando Convention Center. "Hawthorn Suites by Wyndham Orlando Convention Center" is a hotel that is family-friendly. It has been awarded 2 stars. It is an ideal place to stay when exploring Orlando. There is a shuttle bus available for your transport needs. A total of 120 bedrooms is featured. Every room is spacious and modern. Inside, you will always find a pleasant bedroom temperature thanks to the air conditioning. The patio brings lots of light right into the hotel. You will appreciate the outdoor pool. The pool is adapted to accomodate children. Participate in the various recreational activities this hotel offers, like mini-golf, parachuting or helicopter/airplane tours. There are also numerous sporting activities for visitors, such as golf, tennis, yoga, bungee jumping and aerobics. Furthermore, the hotel boasts a gymnasium, a walking trail, a running track, a water park and a golf course. Enjoy a visit to the whirlpool bath to recover from your physical activities. For a drink after dinner, guests can take a seat at the lounge bar. In the morning, guests can have breakfast, which is included in the price. Staying in touch with the rest of the world is made possible by the free Internet access that is provided.

With its central location, Hawthorn Suites Orlando Hotel is within easy reach of most tourist attractions and business addresses in Orlando (FL).The Hawthorn Suites Orlando Hotel boasts a convenient location with modern amenities in every guestroom and superb service.Each guestroom features ameni...
The Heart of The Magic begins at the Hawthorn Suites Orlando Convention Center Hotel near Sea World, Walt Disney World, Universal Studios and the Orange County Convention Center. The hotel is 100 Percent non-smoking and has a no pets policy. Located just a half a mile from Sea World, Aquatica, D...
Offering discounted rates and a great location and fully renovated in 2009, the Hawthorn Suites Orlando Seaworld Hotel is a good solution for cheap Orlando vacations as the prices are low enabling you to fulfil your kids' dreams without breaking the bank! Conveniently located near Seaworld Orland...
Hawthorn Suites by Wyndham Orlando Seaworld is located just off International Drive near SeaWorld Orlando, Discovery Cove and the Orlando Convention Center.The hotel is also approximately 5 miles from Walt Disney World Resort, 12 miles from the airport, 3 miles from Wet 'n' Wild, four miles from ...
Conveniently located less than 1.5 km from SeaWorld, this property offers a great Orlando location with proximity to Universal Studios, Walt Disney World and the Orange County Convention Center.
Read more on the website
Hawthorn Suites Orlando type(s): Family ,Design ,Aparthotel ,Budget
This hotel belongs to: Hawthorn Suites™
Hawthorn Suites Orlando facilities and services
Parking:
Free Parking(find others hotels with Parking in Orlando)
Internet Access:
Wireless internet access(find others hotels with Internet Access in Orlando)
General
Multilingual staff
Conference Facilities
Business services
Disabled rooms
Safe
Wireless internet connection
Heating
Shops in Hotel
Air conditioning
Cable television
Wheelchair accessible
Swimming pool
Activities
Sport facilities
Gym / Fitness center
Outdoor Pool
Jacuzzi
Services
Kitchenette
Laundry services
Dry Cleaning
Meeting amenities
Meeting rooms
Business Center
Activities nearby
Stadium

Market and shopping area

3.8 mi

Prime Outlets – Orlando:

4.6 mi

The Florida Mall:

3.5 mi

Festival Bay Mall:

5 mi

The Mall at Millenia:

Zoo

1,125 yd

SeaWorld Orlando:

Museum

2.5 mi

Ripley's Believe it or Not! Museum, Orlando:

Spa and swimming pools

2.3 mi

Reflections Spa - Salon:

2.5 mi

Shala Salon & Day Spa:

3.2 mi

Aesthetic Acupuncture Clinic:

4.1 mi

Mandara Spa at the Portofino Bay Hotel:

5.1 mi

Acqua Day Spa:

4.9 mi

Bally's Bay Hill:

Amusement park

1,129 yd

SeaWorld:

4 mi

Disney Epcot :

3 mi

Fun 'n Wheels:

2.9 mi

Wet 'n Wild:

3.8 mi

Universal Studios Islands of Adventure :

3.7 mi

Universal Studios Florida :

3.6 mi

Universal Studios:

Golf and other sports

5.1 mi

Hunters Creek Golf Club:

1.4 mi

Grande Pines Golf Club:

2.5 mi

Ritz Carlton Golf Club Grande Lakes Orlando:

5 mi

Cypress Creek Country Club:

4.9 mi

Hawk S Landing Golf Club:

4 mi

Grand Cypress Resort:

1.8 mi

Faldo Golf Institute By Marriot:

1.8 mi

Faldo Golf Institute:

1.8 mi

Shingle Creek Golf Club:

3.8 mi

Bay Hill Club Lodge: