« Back
Hôtel Ellington
25, boulevard Dubouchage, 06000 Nice, France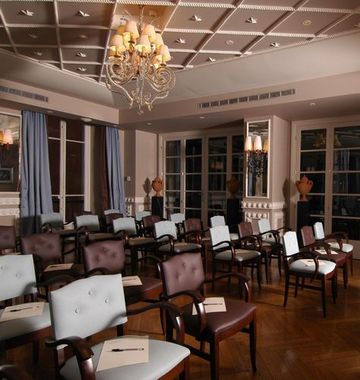 Hôtel Ellington - Description
Hôtel Ellington type(s): Family ,Design ,Romantic ,Luxury
This hotel belongs to: ON™
Hôtel Ellington facilities and services
Dog / Cat friendly:
Pets Welcomed(find others hotels with Dog / Cat friendly in Nice)
Parking:
Pay Parking , Private parking(find others hotels with Parking in Nice)
Internet Access:
Free WiFi , High speed Internet , Internet Access , Wireless internet access(find others hotels with Internet Access in Nice)
General
Minibar
Television
Balcony
Garden
Terrace
Satellite Television
Lift/elevator
Meals for groups
Bookstore
Conference Facilities
Family Rooms
Meal plan available
Activities
Casino
Library
Canoeing
Sauna
Services
Tea and Coffee facilities
Hairdryer
Washing Machine
Banqueting service
Laundry services
Dry Cleaning
Breakfast Room Service
Ironing Services
Meeting amenities
Currency Exchange
Meeting rooms
Souvenirs
Location
Old Town
Downtown
Shopping mall
Museum District
Near Highway
Near Airport
Near Train Station
Near Exhibition Center
Customer reviews
Anonymous
Fridge was not working...was not sure if air conditioning /heating was working properly...overall an excellent hotel and food was brilliant,,very professional staff...my second time to stay there and willRead more stay there again...brilliant location..Hide
Traveler's rating :
Anonymous
+ Comfortable, clean, good location, everything worked and the staff was - with one exception - polite and helpful. OK value for money
- Rude bartender, cleaners used too much cleaning detergents (roomRead more smelled of chemicals), no points for eco friendliness (e.g. there was no ready made note for the cleaning lady that we did not want our sheets changed everyday), room was quite small, bed did not have a real duvet but just a blanket.Hide
Traveler's rating :
Anonymous
+ The breakfast was very good. The location was excellent. The staff were very nice.
- Even though we asked for a room with a big bedWe were initially put into a room which was small, cramped and smelly.Read more We complained and they moved us the next day. If you are going to stay at this hotel ask for a room in the main building and not on the ground/lower floor outside.Hide
Traveler's rating :
William
+ situation was nice and staff friendly
- the breakfast choice was poor and the service erratic. Had to keep asking for food to be replenished
Traveler's rating :
Anonymous
+
- All the noise of showers of the near (neighbor) rooms are like in your room.
Traveler's rating :
GA
bathrooms should be modified because some of those are old and some other aren't so much equiped(es:hooks for bathing gown)
Traveler's rating :
BP
This place was elegant and well, just absolutely perfect.
Traveler's rating :
Themis
+ location
- poor staff behavior,old facilities at any way no 4 star hotel
Traveler's rating :
Jacqueline
+ tout
-
Traveler's rating :
Joergen Steffensen
Nice room but much noise from street, probable due to roadworks. Very nice garden for breakfast.
Traveler's rating :
Activities nearby
Other maritime landscape

Religious site

698 yd

Nice Cathedral:

499 yd

Notre-Dame:

School and university

468 yd

University of Nice-Sophia Antipolis:

Museum

935 yd

Musée national Message Biblique Marc Chagall de Nice:

637 yd

Musée d'Art moderne et d'Art Contemporain:

737 yd

Muséum d'histoire naturelle - Nice:

745 yd

Musée des Arts et Traditions Populaires du Pays Niçois de Nice:

926 yd

Musée National Marc-Chagall:

Theatre and opera

468 yd

Les Azuriales Opera Festival:

737 yd

Opéra de Nice:

Spa and swimming pools

728 yd

Piscine Saint François:

369 yd

Vital Body:

Railroad station

893 yd

Gare de Nice-Ville:

Hospital

239 yd

Hôpital Saint Roch (Nice):

813 yd

CMP pédopsychiatrie NICE-Costanzo chef de service: Dr SEVERINO Mireille:

376 yd

CHU Saint Roch:

239 yd

Hôpital Pasteur (Nice):

Convention and exhibition center

392 yd

Business center of Hotel Maseena:

956 yd

Hotel Ibis Nice Centre Gare:

670 yd

Business center of Mercure Nice Grimaldi:

777 yd

Business center of Boscolo Nice-Park: