« Back
Hotel Nazos
Near The School Of Fine Arts, 84600 Mykonos, Greece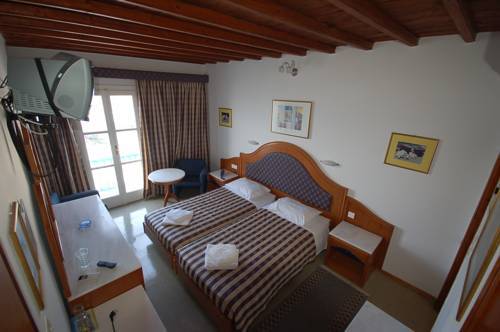 Hotel Nazos - Description
Hotel Nazos. The 1-star "Hotel Nazos" is an ideal pied-a-terre from which to discover Mykonos. The interior of the residence boasts its traditional decoration. The air conditioning makes sure that the bedrooms always have a pleasant temperature. Children can play safely in the private garden. For a drink in the evening, you will appreciate the lounge bar. Internet access is available free of charge.

With its central location, Hotel Nazos is within easy reach of most tourist attractions and business addresses in Mykonos.The Hotel Nazos boasts a convenient location with modern amenities in every guestroom and superb service.Each guestroom has non smoking rooms, air conditioning, hair dryer, ir...
Beautifully located in Mykonos town, this hotel overlooks the bright blue Aegean Sea and stunning Cycladic landscapes, warmly welcoming you with a friendly Greek atmosphere and hospitality.
Read more on the website
Hotel Nazos type(s): Budget
Hotel Nazos facilities and services
Internet Access:
Internet Access(find others hotels with Internet Access in Mykonos)
General
Minibar
Shower
Television
Business services
Front Desk 24hr
Gay Friendly
Air conditioning
Non Smoking Rooms
Bar
Services
Hairdryer
Fully equipped business center
Airport Connection
Room Service
Activities nearby
Religious site

73 mi

Temple of Poseidon:

Landmark

Golf and other sports

UNESCO World Heritage site

4.6 mi

Delos:

67.7 mi

Historic Centre (Chorá) with the Monastery of Saint John \"the Theologian\" and the Cave of the Apocalypse on the Island of Pátmos:

Beach and coastal area

32.1 mi

Naxos / Alyko :

76.6 mi

Pirlanta Beach :

32.2 mi

Naxos / Pyrgaki :

2.5 mi

Mykonos / Ftelia Bay :

80.2 mi

Vravrona Bay :

21.8 mi

Paros / Santa Maria :

33.1 mi

Naxos / Agiassos :

72.9 mi

Lavrio :

31.4 mi

Naxos / Glyfada or Kastraki :

71.1 mi

Milos / Axivadolimni or Xivadolimni :

71.8 mi

Santorini / Monolithos :

28.6 mi

Naxos / Mikri Vigla (North Beach) :

27.2 mi

Naxos / Agios Prokopis :

30 mi

Naxos / Kastraki :

69 mi

Evvoia / Golden Beach :

21.9 mi

Naxos / Amiti :

78.5 mi

Anavissos :

80.3 mi

Alacati :

4.9 mi

Mykonos / Kalafatis :

1 mi

Mykonos / Korfos Bay :

28.2 mi

Naxos / Azalas :

29.5 mi

Paros / New Golden Beach :

30.3 mi

Paros / Golden Beach or Chrissi Akti :

31.2 mi

Paros / Pounda :

25.3 mi

Paros / Tsoukalia :