« Back
Ramada Hotel Montreal Mirabel
1136 Boulevard Cure Labelle Highway 15 Exit 25 Cure Labelle Blainville QC J7C 3J4, ,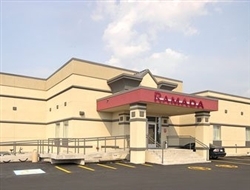 Ramada Hotel Montreal Mirabel - Description
This Montreal hotelRead more is of a Family category and is a three star . You will find several amenities such as : n.a..This hotel offers high speed internet.For those going to the airport, Pierre Elliott Trudeau is 6 miles from the hotel which is about 18 minutes by car.Relax yourself in the hotel's gym.This hotel offers a unique service : conference facilities.It is part of the hotel chain Ramada.Note:This hotel has a parking.

Experience the comfortable accommodation blended with a warm hospitality and unsurpassed service at the Ramada Hotel Montreal Mirabel. Location Located off highway 15 at exit 25, the Ramada Hotel is 20 minutes drive from the Montreal Dorval Airport and 30 minutes drive from the city centre. The ...
This hotel belongs to: Ramada™
Ramada Hotel Montreal Mirabel facilities and services
Parking:
Parking(find others hotels with Parking in null)
Internet Access:
Internet Access(find others hotels with Internet Access in null)
General
Conference Facilities
Swimming pool
Activities nearby
Landmark

Museum

2 mi

Centre commémoratif de l'Holocauste à Montréal:

Other landscape

2.3 mi

Archipel d'Hochelaga:

Spa and swimming pools

2 mi

Adam Le Spa:

2.4 mi

Ovarium:

leisure

1.6 mi

Cyber Parc:

1.4 mi

Café Internet Jean Talon:

Stadium

1.5 mi

Uniprix Stadium:

1.8 mi

Winter Stadium - Montreal:

1.9 mi

CEPSUM Stadium:

Golf and other sports

1,140 yd

Lethbridge Country Club:

2.5 mi

Montreal Roller Derby:

2.4 mi

St Zotique:

1.3 mi

Kart O Mania:

1,276 yd

Montpellier:

2.1 mi

Royal Montreal:

Park and square or garden

1.6 mi

Parc Albert-Malouf:

2.1 mi

Parc Gérard-Lalonde:

2.3 mi

Parc Marcelin-Wilson:

6 yd

Parc Godfroy-Langlois:

6 yd

Parc Guglielmo-Marconi:

6 yd

Parc Marcel-Léger:

School and university

Religious site

2.1 mi

L'Oratoire Saint-Joseph du Mont-Royal:

Market and shopping area

2.2 mi

Marché Jean-Talon:

2.6 mi

Avenue Laurier Ouest et Avenue Bernard:

2.4 mi

Chocolats Geneviève Grandbois: