« Back
IFA Hotel Alpenrose
WalserstraBe 56, 6993 Mittelberg, [Vorarlberg] Austria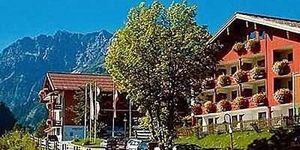 IFA Hotel Alpenrose - Description
It is situatedRead more at WalserstraBe 56 in the north-east section of Mittelberg, at only 15 minutes by car distance from the center.More of a Budget establishment, this three star hotel is located in Mittelberg. Several amenities, notably Restaurant, Bar, Tennis Court, Non Smoking Rooms, Laundry services, Free Parking, Television are available at the hotel.This hotel offers high speed internet.It is part of the hotel chain Lopesan Hotels & Resorts.This hotel offers a unique service : terrace.Take advantage of the sauna which is available at the hotel.Other useful information:This hotel has a pay parking.

With its central location, IFA Alpenrose Hotel is within easy reach of most tourist attractions and business addresses in Mittelberg.All hotel's guestrooms have all the conveniences expected in a hotel in its class to suit guests' utmost comforts.Each guestroom features amenities such as non smok...
THE AUSTRIAN VALLEY OF KLEINWALSERTAL, AT ANALTITUDE OF BETWEEN 1,100 AND 1,250 METRES, ISSURROUNDED BY THIRTY PEAKS, WHICH MAKE IT ANIDEAL PLACE FOR SKIING AND ONCE THE WINTERSEASON IS OVER FOR TREKKING, CLIMBING ORMOUNTAIN BIKING. MITTELBERG IS THE HIGHEST TOWNIN KLEINWALSERTAL CONSTITUTING...
This comfortable and child-friendly hotel is centrally located at the entrance to Mittelberg in the Kleinwalsertal valley, only a few hundred metres away from the chair lift and the Walmendinger Hornbahn cable car.
The IFA Hotel Alpenrose is the guarantee for relaxing and fulfilled holidays. Nothing is lacking.||Cosy public rooms, the Hundertwasser Bar, a beautiful indoor pool, sauna, fitness, massage and cosmetic treatment, underground garage, varied programme of activities - all surrounded by high peaks w...
Business hours of reception: 24 hours The IFA Hotel Alpenrose guarantees you a perfect and relaxing stay where you will not miss anything. Spend some pleasant hours here with us, enjoy the Hundertwasser bar, the wonderful indoor swimming pool, the sauna, the fitness room, pamper yourself with a m...
Alpenrose hotel is a family ambience hotel offers 100 rooms of various sizes according to guestsA' needs, as well as several family rooms, all giving splendid views over the valley or the mountains. All rooms have the following amenities: direct phone, satellite TV, fitted carpet, background musi...
IFA Hotel Alpenrose type(s): Budget
This hotel belongs to: Lopesan Hotels & Resorts™
IFA Hotel Alpenrose facilities and services
Parking:
Pay Parking , Free Parking(find others hotels with Parking in Mittelberg)
Internet Access:
Internet Access , Wireless internet access(find others hotels with Internet Access in Mittelberg)
General
Minibar
Shower
Television
Balcony
Terrace
Garage
Childrens play
Business services
Disabled rooms
Elevator
Safe
Non smoking
Activities
Skiing
Games Rooms
Casino
Fitness Center in the hotel
Hiking trail
Solarium
Massage
Playground
Table Tennis
Cycling
Walking
Tennis Court
Sport facilities
Sauna
Mini-Golf
Ski School
Gym / Fitness center
Indoor Pool
Turkish/Steam Bath
Services
Child Minding Services
Laundry services
Fully equipped business center
Bicycle Rental
Shoe Shine
Packed Lunches
Location
Downtown
Countryside
Mountains
Activities nearby
Spa and swimming pools

8.4 mi

Erlebniswelt Wonnemar:

Casino

2.6 mi

Casino Kleinwalsertal:

Railroad station

3 mi

Oberstdorf Bahnhof:

4.5 mi

Langenwang (Schwab) Bahnhof:

5.5 mi

Fischen Bahnhof:

7.6 mi

Altstädten (Allgäu) Bahnhof:

10.8 mi

Blaichach (Allgäu) Bahnhof:

8.8 mi

Sonthofen Bahnhof:

Golf and other sports

5.3 mi

Grasgehrenlifte:

1.3 mi

Oberstdorf/ Söllereck - Höllwies:

2.7 mi

Oberstdorf:

5.2 mi

Bolsterlang / Hörnergruppe:

2.5 mi

Stixner Skilifte:

2.7 mi

Oberstdorf/ Nebelhorn:

5.4 mi

Hörnergruppe/Fischen:

3.9 mi

Hirschegg Kleinwalsertal:

11.8 mi

Schetteregg:

9.3 mi

Bizau - Hirschberg:

11.6 mi

Schrocken:

10.3 mi

Diedamskopf:

9.8 mi

Geisskopf:

5.5 mi

Mittelberg Kleinwalsertal:

7.6 mi

Ofterschwang:

8.3 mi

Balderschwang:

9 mi

Warth:

9.7 mi

Schauinslandbahn:

8.6 mi

Asmas :

2.7 mi

Riezlern Kleinwalsertal:

9.1 mi

Schwäbeleholz / Sonthofen:

10.3 mi

Holzgau: