« Back
Knights Inn Midland
1003 S MIDKIFF RD, 79701 ,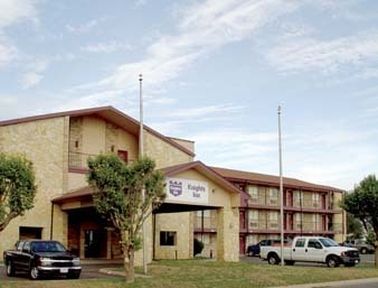 Knights Inn Midland - Description
Studio 6 Midland. Feel free to take a swim in the pool. For dinner there is no need to leave the residence as there is an onsite restaurant.

Free High Speed Wireless Internet/Complimentary Continental Breakfast/Cable TV with HBO/Free Parking
Read more on the website
The all-suites Studio 6 Midland is located approximately five miles from Midland International Airport. Guests have access to an outdoor pool with lounging area and hot tub. Every morning, a complimentary continental breakfast is served. The inn also offers express checkout, free parking, free l...
The Days Inn in Midland, Texas, is two miles from downtown, eight miles from Midland International Airport and 16 miles from The University of Texas at Midland. Days Inn caters to the needs of busy travelers with a complimentary continental breakfast and ample parking. Leisure time is spent rela...
Read more on the website
Knights Inn Midland type(s): Budget
This hotel belongs to: KG™
Knights Inn Midland facilities and services
Parking:
Free Parking(find others hotels with Parking in null)
General
Meals for groups
Children welcome
Non smoking
Pets allowed
Free breakfast
Swimming pool
Services
Washing Machine
Car Rentals
Activities nearby
Stadium

15.4 mi

Ratliff Stadium:

2.4 mi

Grande Communications Stadium:

2.6 mi

Citibank Ballpark:

Spa and swimming pools

16 mi

YMCA of Odessa:

13.7 mi

Getaway Spa & Salon:

2.6 mi

YMCA of Midland - Midland, Texas:

Golf and other sports

14.9 mi

Ratliff Ranch Golf Links:

11.9 mi

Odessa Country Club:

5.1 mi

Hogan Park Golf Course:

11.1 mi

Club At Mission Dorado:

4.6 mi

Ranchland Hills Country Club:

4.4 mi

Stratford Oaks Golf Club:

2.9 mi

High Melton Golf Club:

3.8 mi

Nueva Vista Golf Club:

10.9 mi

Odessa Country Club The Links Course:

17.7 mi

Sunset Country Club:

5.7 mi

Midland Country Club:

4.2 mi

West Bradford Golf Club:

3.8 mi

Jackson Heights Golf Course:

4.2 mi

Bradford Golf Club:

4.2 mi

Keswick Golf Club:

10.6 mi

Fairplay Golf Club:

2.3 mi

Douglas Golf Club:

Museum

17.6 mi

White-Pool House:

16.7 mi

Parker House Museum:

14 mi

Presidential Museum:

14.1 mi

Ellen Noel Art Museum:

1.4 mi

Museum of The Southwest:

9.4 mi

Commemorative Air Force Museum:

21.4 mi

Martin County Museum: