« Back
Hampton Inn & Suites Mexico City - Centro Historico
Calle 5 de Febrero No 24 Centro Historico, DF 06060 Mexico City, [The Federal District] Mexico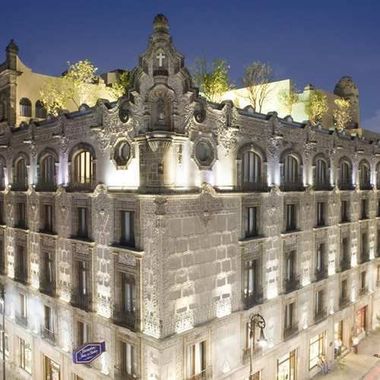 Hampton Inn & Suites Mexico City - Centro Historico - Description
Hampton Inn Mexico City Centro Historico. "Hampton Inn Mexico City Centro Historico" is a 3-star hotel. It is located in Mexico. The architecture of the edifice lends a remarkable charm to the hotel. This accommodation has a total capacity of 107 bedrooms. Warm weather is kept outside thanks to the air conditioning. Children can play safely in the intimacy of the patio. There's no time to get bored as the hotel offers several recreational activities, like helicopter/airplane tours and Eco Tours, as well as pilates, yoga and aerobics. The sports facilities include a walking trail and a gym as well as a bike rental service. The onsite restaurant serves you an appetizing dinner. End a busy day with a drink at the hotel's lounge bar. To add to your stay, breakfast is included. Of course, you can go online at no extra charge.

With its central location, Hampton Inn & Suites Mexico City Centro Historico is within easy reach of most tourist attractions and business addresses in Mexico City. The hotel features a wide range of modern facilities and services in its 108 well-appointed guestrooms and throughout the premises. ...
Hampton Inn & Suites Ciudad de Mexico - Centro Historico is located in Mexico City, Distrito Federal, Mexico. Two blocks from the Zocalo plaza Two blocks from the National Palace Hotel Features. Complimentary breakfasts Business center and meeting rooms Fisher's and Garabatos restaurants ...
Situated two blocks from the Zocalo of Mexico City the Hampton Inn - Suites Mexico City - Centro hotel is a registered historic building where you can admire architectural styling dating back to the 1800*s. However our 108 comfortable rooms and spacious suites of the Hampton Inn and Suites offer...
SITUATED 2 BLOCKS FROM THE ZOCALO OF MEXICO CITY THE HAMPTON INN AND SUITES MEXICO CITY CENTRO HISTORICO IS A REGISTERED HISTORIC BUILDING WHERE YOU CAN ADMIRE ARCHITECTURAL STYLINGS DATING TO THE 1800S. HOWEVER OUR 108 COMFORTABLE ROOMS AND SPACIOUS SUITES OFFER ALL OF THE MODERN CON...
The Hampton Inn and Suites Mexico City - Centro Historic is centrally located in Mexico City, this property is near Plaza de la Constitucion, Zocalo, and Ayuntamiento. Another attraction in the area is Palacio National.The hotel amenities offers complimentary breakfast each morning. Business-rela...
Hampton Inn & Suites Mexico City - Centro Historico type(s): Family ,Budget ,Luxury
This hotel belongs to: Hilton Hotels™
Hampton Inn & Suites Mexico City - Centro Historico facilities and services
Internet Access:
High speed Internet , Wireless internet access(find others hotels with Internet Access in Mexico City)
General
Meals for groups
Conference Facilities
Family Rooms
Disabled rooms
Interior corridors
Non smoking
Front Desk 24hr
Pets not allowed
Free breakfast
Restaurant
Wheelchair accessible
Off-site parking
Activities
Whirlpool
Sport facilities
Jacuzzi
Services
Laundry services
Dry Cleaning
Meeting amenities
Meeting rooms
Car Rentals
Business Center
Room Service
Activities nearby
Theatre and opera

893 yd

Opera Nacional de México:

Museum

947 yd

Museo Nacional de Arte:

Convention and exhibition center

1.9 mi

Business center of Eurostars Suites Reforma:

School and university

1.4 mi

Universidad del Pacífico de Chiapas:

1.9 mi

Universidad de la Comunicacion:

553 yd

Claustro de Sor Juana University:

1.9 mi

Universidad Insurgentes:

1 mi

Universidad Autónoma de la Ciudad de México:

Railroad station

1.9 mi

Metro Insurgentes:

1.6 mi

Estación Buenavista:

Stadium

Building and administration

1.9 mi

Bolsa Mexicana de Valores - Piso de remates / Trading floor:

1.3 mi

Reforma 76:

2 mi

Bolsa Mexicana de Valores:

Golf and other sports

1.4 mi

Club De Golf Valle Escondido:

1.3 mi

Club De Golf M Xico:

1.4 mi

Club De Golf El Copal:

1.4 mi

Club Campestre Churubusco:

1.4 mi

Club De Golf Bosques:

UNESCO World Heritage site

1,436 yd

Historic Centre of Mexico City and Xochimilco:

Landmark

Library

1.6 mi

José Vasconcelos Bibliothek:

Religious site

Monument

1.3 mi

Glorieta de Cristobal Colón:

383 yd

Tenochtitlan - Templo Mayor:

513 yd

National Palace:

1,018 yd

Palacio de Bellas Artes:

826 yd

Torre Latinoamericana: