« Back
Novotel Melbourne On Collins
270 Collins Street, 3000 Melbourne, [Victoria] Australia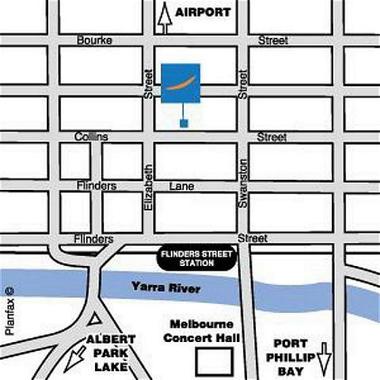 Novotel Melbourne On Collins - Description
Novotel Melbourne On Collins. "Novotel Melbourne On Collins" is a hotel that has acquired f star. This residence is located in Melbourne. This luxurious property consists of 380 bedrooms in total. The air conditioning keeps the heat outside. Take advantage of the covered pool. For guests who like sporting activities, the accommodation offers tennis. The sports facilities also include a gym where guests have the option to exercise by themselves. After all your activities of the day, a visit to the whirlpool bath will help you feel reborn. Recharge your batteries with, for instance, a relaxing massage treatment. For dinner there is no need to leave the comfort of the residence as there is an onsite restaurant. End a busy day with a drink at the lounge bar. To add to your stay, there is breakfast available. For those who like to keep track of business, there is Internet access available.

Located in the heart of Melbourne, Novotel Melbourne on Collins is positioned on stylish Collins Street. A diverse range of restaurants, theatres & department stores are easily accessible by foot. The hotel offers 380 rooms & suites designed for naturalliving. Offering versatile conference and ev...
Read more on the website
Novotel Melbourne On Collins type(s): Family ,Luxury
This hotel belongs to: NOVOTEL™
Novotel Melbourne On Collins facilities and services
Parking:
Valet Parking(find others hotels with Parking in Melbourne)
Internet Access:
Free WiFi , Internet Access(find others hotels with Internet Access in Melbourne)
General
Minibar
Television
Satellite Television
LCD flat screen TV
Climate control
Family Rooms
Newspaper in Lobby
Children welcome
Ironing board
Dataport
Disabled rooms
Private Bath or Shower
Activities
Fitness Center in the hotel
City tours
Massage
Sport facilities
Gym / Fitness center
Indoor Pool
Services
Tea and Coffee facilities
Hairdryer
Wake-Up
Concierge
Hairdresser
Laundry services
Dry Cleaning
Pay Movies
Voicemail
Hair & Beauty Salon
Ironing Services
Meeting amenities
Customer reviews
Anonymous
Hotel is in excellent location - close to Swanston Street and within easy walk of Bourke Street Mall, Flinders Street Station and Melbourne Park. We keep wanting to stay here and keep coming back evenRead more though room rates can be above average.Hide
Traveler's rating :
Anonymous
We had a sensational stay at Novotel on Cllins in Melbourne recently. Would definately stay there again. Staff were excellent
Traveler's rating :
Anonymous
Very nice location. The hotel and facilities are in excellent condition. There should be somewhere a corner where one can have a quiet puff.
Traveler's rating :
Anonymous
These days one would expect a small safe in 4 star hotel rooms. This is one area where things could be improved.
Traveler's rating :
Anonymous
The mini bar did not have any pricing details in the room. When I checked out the prices were a bit of a shock. Plus some food items in the room had past their use by date.
Traveler's rating :
Anonymous
Well located hotel on Collins Street only 50 metres from Swanston Street and very close to all Central Melbourne shopping and attractions. Trams outside the door and in Swanston Street enable travellersRead more to connect easily in most directions. Nice quiet hotel despite its central location. Staff were friendly and attentive. I will stay here again when next in Melbourne.Hide
Traveler's rating :
Anonymous
Great central location, room servicing was let down by having to ask for face clothes, this was a contiual problem. Also lack of tea towel to dry dishes etc.
Traveler's rating :
Anonymous
I like this hotel but think it may have dropped a star! Grout around bath very cracked and I could not get anyone to answer room service at night for a while and the woman who eventually answered was aRead more bit arrogant. Staff at reception great.Hide
Traveler's rating :
Anonymous
This hotel is in a fantastic position right on Collins Street in the middle of the city. Our room was large and had all the mod cons you would expect from a Novotel. However this was better than all otherRead more Novotels I have stayed in previously, more luxurious and stylish. Hide
Traveler's rating :
Anonymous
Must have been a bad maintenance week - elevators down, took 48hrs for someone to look at the room fridge (defrosting). Smoking allowed in the enclosed bar area.
Traveler's rating :
Activities nearby
Building and administration

Landmark

326 yd

Federation Square:

Monument

998 yd

Old Melbourne Gaol:

UNESCO World Heritage site

1,305 yd

Royal Exhibition Building and Carlton Gardens:

Casino

836 yd

Crown Entertainment Complex:

Theatre and opera

684 yd

Melbourne Recital Centre:

874 yd

Her Majesty's Theatre:

255 yd

Melbourne Opera Company:

684 yd

Regent Theatre:

684 yd

State Theatre :

874 yd

Comedy Theatre:

153 yd

Melbourne International Arts Festival:

1 mi

Malthouse Theatre:

874 yd

Princess Theatre:

1.1 mi

La Mama Theatre :

1,072 yd

Victorian Opera:

684 yd

Forum Theatre:

Spa and swimming pools

1,105 yd

Melbourne City Baths, Sports and Leisure Centre:

235 yd

The Westin Melbourne on Regent Place:

School and university

1,733 yd

The University of Melbourne:

336 yd

Royal Melbourne Institute of Technology:

Stadium

1.1 mi

Festival Hall:

1,682 yd

Docklands Stadium:

1,700 yd

Punk Boi 8/Sandbox/Ethiad Stadium:

1 mi

Melbourne Cricket Ground:

1.1 mi

Olympic Park Stadium:

1,454 yd

Rod Laver Arena:

1,352 yd

Margaret Court Arena:

1 mi

Hisense Arena:

1,272 yd

Sidney Myer Music Bowl: