« Back
The Chimney House Hotel
CONGLETON ROAD, W11 4ST ,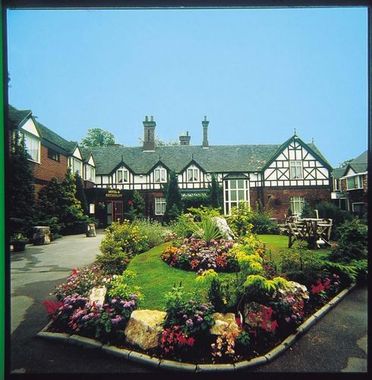 The Chimney House Hotel - Description
It is situatedRead more at CONGLETON ROAD in the south section of Manchester, at only 8 minutes by car distance from the center.Of a Budget category, the The Chimney House Hotel has all the comforts such as : n.a..The The Chimney House Hotel has 48 offering a wide range from the Room to the Room rooms, and is available starting from 93 US Dollars.You can reach Manchester in 22 minutes by car (the airport is 7 miles from the hotel).This hotel offers a unique service : near golf course.This hotel is part of the HO chain.

A half-timbered Tudor style building in eight acres of woodland in the heart of the Cheshire countryside. The hotel is just half a mile from the M6 motorway. Utell Value Selection - Takes pride in creating a friendly and informal atmosphere, providing excellent value for money for both business a...
The Chimney House Hotel type(s): Family ,Budget
This hotel belongs to: HO™
The Chimney House Hotel facilities and services
General
Family Rooms
Dataport
Interior corridors
Pets allowed
Services
Dry Cleaning
Meeting rooms
Activities nearby
Business center

1.6 mi

Manchester Apollo:

Spa and swimming pools

1.3 mi

Withington Pools:

1.2 mi

Virgin Active - Manchester Didsbury:

1,223 yd

Moss Side Leisure Centre:

Railroad station

1.8 mi

Levenshulme Railway Station:

1.5 mi

Mauldeth Road Railway Station:

1.8 mi

Manchester Oxford Road Railway Station:

Convention and exhibition center

1.7 mi

Premier Inn - Manchester City Centre (Deansgate Locks):

Theatre and opera

1.4 mi

Royal Northern College of Music (RNCM):

1,529 yd

Contact Theatre:

1.7 mi

Manchester Apollo:

Landmark

1.4 mi

Chorlton cum Hardy:

1 mi

Chorlton upon Medlock:

1.3 mi

Ladybarn:

1.3 mi

Hulme:

1 mi

Fallowfield:

1,153 yd

Rusholme:

1,652 yd

Withington:

1.6 mi

Longsight:

Library

1.7 mi

Chorlton Library:

1.1 mi

Rylands John University Library:

School and university

1.2 mi

The University of Manchester:

1.5 mi

Manchester Metropolitan University:

Hospital

1.3 mi

Christies Hospital NHS Trust:

1.6 mi

Rodney House Assessment Centre:

1.1 mi

Manchester Royal Infirmary:

1 mi

Manchester Royal Eye Hospital: