« Back
Ramada Plaza Hotel Macon
108 1st St, 31201 ,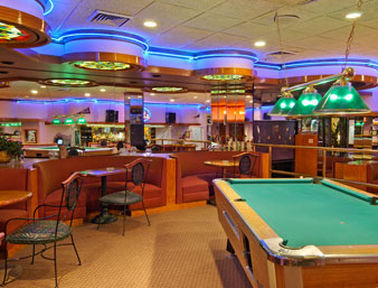 Ramada Plaza Hotel Macon - Description
The Ramada PlazaRead more Hotel Macon has all the services one would expect of a three star hotel in Macon: n.a.. This establishment is more of a Budget hotel .Located east, 6 minutes walking distance from the city center, this hotel at 108 1st St is the ideal pied-à-terre to take advantage of all the wonders of Macon, whether for a few days or for a longer stay.

The Crowne Plaza Macon is a first class hotel located in the heart of historic Macon. It is the only upscale hotel in the area and it is 65 miles from Atlanta/Hartsfield International Airport. The Crowne Plaza Macon has an extremely gracious and accommodating staff with all the amenities the one...
Ramada Plaza Hotel Macon type(s): Budget
Ramada Plaza Hotel Macon facilities and services
General
Children welcome
Dataport
Services
Meeting rooms
Car Rentals
Activities nearby
Museum

15.4 mi

Museum of Aviation - Robins AFB:

651 yd

Hay House Historic Mansion:

687 yd

Tubman African American Museum:

836 yd

Georgia Sports Hall of fame:

4.2 mi

Museum of Arts and Sciences in Macon:

535 yd

Cannonball House:

31.2 mi

Uncle Remus Museum:

835 yd

Georgia Music Hall of Fame:

Spa and swimming pools

15.9 mi

Memorial Park Pool - Warner Robins:

7.1 mi

Northside Swim Club:

1,290 yd

Macon Health Club:

2.1 mi

Fusion Back and Body Center:

5.5 mi

The Wellness Center:

Golf and other sports

18.8 mi

Landings Golf Club The:

26.2 mi

Perry Country Club:

23.5 mi

Forsyth Golf Club:

15.9 mi

Pine Oaks Golf Club:

25.9 mi

Silver Lake Golf Club:

22.3 mi

Pine Needles Country Club:

19.4 mi

Holiday Hills Golf Course:

17.8 mi

Woodland Hills Golf Course:

12.7 mi

Lake Jonesco Golf Course:

3.8 mi

Bowden Links Golf:

11.2 mi

Fox Run Country Club:

5.2 mi

Idle Hour Golf Country Club:

7.1 mi

Healy Point Country Club:

5.6 mi

Macon Family Golf Course:

Stadium

26.4 mi

Wildcat Stadium:

1.1 mi

Luther Williams Field:

770 yd

Macon Centreplex Coliseum: