« Back
The Victoria Hotel Macau
Estrada do Arco, no.118, Macao, Macao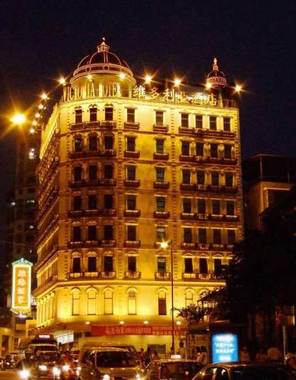 The Victoria Hotel Macau - Description
Of a BudgetRead more category, the The Victoria Hotel Macau has all the comforts such as : Laundry services, Television.Located north-west, 10 minutes by car distance from the city center, this hotel at Estrada do Arco, no.118 is the ideal pied-à-terre to take advantage of all the wonders of Macao, whether for a few days or for a longer stay.High speed internet is available in this hotel.This hotel offers a unique service : currency exchange.

The Victoria Hotel Macau is located near the Triangular da Areia Preta Garden, a 5-minute walk to Barrier Gate. The hotel offers free Wi-Fi, free parking and a restaurant.
Victoria Hotel is near the Triangular da Areia Preta Garden, is a new hotel which has the international three-star plane. After the Barrer Gate, you only need to walk about 5 minutes. The hotel is near the shopping center, and the traffic is very expediently. It is the dream tenement for travel a...
The Victoria Hotel Macau type(s): Budget
The Victoria Hotel Macau facilities and services
Internet Access:
Internet Access(find others hotels with Internet Access in Macao)
Services
Laundry services
Currency Exchange
Activities nearby
Museum

UNESCO World Heritage site

394 yd

Historic Centre of Macao:

Theatre and opera

2.3 mi

Instituto Cultural Macau:

Golf and other sports

1.5 mi

Zhuhai International Golf Club:

Street

868 yd

Macao - Centre-Ville:

School and university

1.3 mi

Macao Polytechnic Institute:

1.5 mi

Institute for Tourism Studies:

1.3 mi

Inter-Universitarium Institutum Macaonense:

Monument

Religious site

1.3 mi

Statue de Kun Iam:

586 yd

Temple A-Ma:

Spa and swimming pools

1.3 mi

Complexo Desportivo (Canidrome) de Macau:

589 yd

Spa Philosophy:

Casino

1.3 mi

Casa Real Casino:

1,253 yd

Mona Lisa Palace:

1.3 mi

Venetian Casino Resort:

1.3 mi

Casino Crystal Palace:

2.3 mi

Casino Babylon:

946 yd

Ponte 16:

1 mi

MGM Grand Macau:

938 yd

Grand Emperor Hotel & Casino:

1,059 yd

Mocha Hotel Sintra:

1,253 yd

Casino Lisboa:

1.3 mi

Diamond Casino:

1.4 mi

President Casino:

2.3 mi

Flamingo Slot Club at the Miami Hotel:

1.3 mi

Mocha Kingsway Hotel & Casino:

1.3 mi

Mandarin Oriental Casino:

1.3 mi

StarWorld Galaxy Casino:

2.1 mi

Crown Macau: