« Back
Colorado
Via Clemente Maraini 19, angolo Via Adamini 20, 6907 Lugano, Switzerland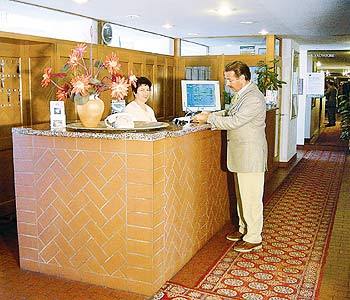 Colorado - Description
It is situatedRead more at Via Clemente Maraini 19, angolo Via Adamini 20 in the north-west section of Lugano, at only 12 minutes walking distance from the center.This Lugano hotel is of a Family category and is a three star . You will find several amenities such as : Restaurant, Room Service, Non Smoking Rooms, Television.This hotel offers a unique service : garden.This hotel offers high speed internet.For those going to the airport, Agno is 2 miles from the hotel which is about 8 minutes by car.Other useful information:This hotel has a private parking.

The family-run hotel Colorado in Lugano enjoys a quiet and sunny, yet central location, and is the ideal starting point to explore Lugano and its surroundings. The individual and first-class service offered by the friendly staff will ensure a truly enjoyable and relaxing stay. The many amenities ...
- full service - hotel year built - 1989 year remodeled - 2000 additional property description - last chance for a stay at this hotel until october 31st, 2008. For arrivals from november 1st, 2008 onwards choose the best western hotel bellevue au lac, lugano. Stay...
Colorado facilities and services
Parking:
Private parking(find others hotels with Parking in Lugano)
Internet Access:
Wireless internet access(find others hotels with Internet Access in Lugano)
General
Minibar
Television
Telephone
Garden
Credit card accepted
Garage
Lift/elevator
Tourist information
Safe
Non Smoking Rooms
Restaurant
Services
Hairdryer
Meeting amenities
Web access
Airport Connection
Room Service
Activities nearby
Railroad station

11.7 mi

Stazione di Colonna Galleria:

School and university

888 yd

University of Lugano:

2.3 mi

University of Human Sciences and Technology:

Museum

10.7 mi

Museum Parisi Valle Maccagno :

9.3 mi

Museum Civico Dei Fossili Besano :

10.4 mi

Museum Butti Viggiu' :

12.7 mi

Museum Civico Comunale Induno Olona :

12.7 mi

Museum Cuveglio :

UNESCO World Heritage site

12.6 mi

Three Castles, Defensive Wall and Ramparts of the Market-Town of Bellinzona:

7 mi

Monte San Giorgio:

10.8 mi

Sacri Monti of Piedmont and Lombardy:

Golf and other sports

607 yd

Dive Center Bolle Blu :

1,707 yd

Pianosub Diving Center :

2.4 mi

Planet Sea :

4.3 mi

Golf Club Lugano:

4.9 mi

Club Nautico Sassalto :

12.2 mi

Golf Club Patriziale Ascona:

Casino

1,615 yd

Casino Lugano:

3.3 mi

Casino Municipale di Campione d'Italia:

12.9 mi

Casino di Locarno:

9.9 mi

Grand Casino Admiral Mendrisio:

Stadium

999 yd

Cornaredo Stadium:

12.9 mi

Stadio Comunale Bellinzona:

12.4 mi

Stadio del Lido:

1,351 yd

Piste della Resega:

Spa and swimming pools

1,576 yd

Piscina Coperta Comunale - Lugano:

1,147 yd

Piscina Coperta da «Pallone»:

12.1 mi

Albergo Castello del Sole:

12.3 mi

Piscina Lido:

12.6 mi

Swim Planet Induno Olona: