« Back
Eastside Cannery
5255 South Boulder Highway, NV 89122 ,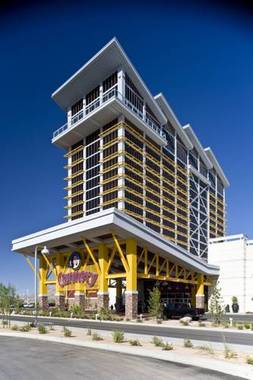 Eastside Cannery - Description
Eastside Cannery. Hotel "Eastside Cannery" has 4 stars. This hotel can be found in Las Vegas. The decor of the edifice adds a modern and a warm feeling to the hotel. The rooms are roomy. You can take a swim as this accommodation has an outdoor swimming pool. Guests are offered various sports, such as soccer and golf. After your day's busy activities, the whirlpool bath is the perfect place to restore your strength. You can dine at the onsite restaurant. Maybe it'll be your lucky night at the onsite casino. If you like to keep an eye on work, there is free of charge Internet access available.

Stop at Eastside Cannery Casino Hotel to discover the wonders of Las Vegas (NV). The hotel offers a wide range of amenities and perks to ensure you have a great time. Service-minded staff will welcome and guide you at the Eastside Cannery Casino Hotel. Jacuzzi bathtub, television LCD/plasma scree...
Located in Nevada 7 miles from the Las Vegas Strip, this hotel offers an on-site casino and restaurants. Boasting an outdoor pool and hot tub, this modern hotel offers comfortably furnished accommodat
Read more on the website
Eastside Cannery type(s): Family ,Luxury
Eastside Cannery facilities and services
Parking:
Free Parking(find others hotels with Parking in Las Vegas)
Internet Access:
High speed Internet(find others hotels with Internet Access in Las Vegas)
General
Family Rooms
Interior corridors
Non smoking
Turistic type
Resort
Wheelchair accessible
Swimming pool
Services
Dry Cleaning
Meeting rooms
Meeting center
Business Center
Activities nearby
Religious site

2.2 mi

Central Christian Church:

Stadium

Market and shopping area

3 mi

The Galleria at Sunset:

Museum

2.5 mi

Ethel M Chocolates:

leisure

2.5 mi

Moros y Cristianos:

Spa and swimming pools

2.4 mi

Green Valley Massage:

3.1 mi

Desert Wind Therapeutics:

2.7 mi

ClubSport - Green Valley:

2.3 mi

Whitney Ranch Indoor Pool:

3.7 mi

Massage Heights- Adobe Plaza:

Golf and other sports

1,426 yd

Stallion Mountain Country Club:

1,484 yd

Royal Links Golf Club:

2.6 mi

Desert Rose Golf Course:

3.8 mi

Las Vegas National Golf Course:

3.8 mi

Wildhorse Golf Club:

2.4 mi

Desert Rose Golf Club:

Casino

62 yd

Nevada Palace Hotel & Casino:

2.1 mi

Danny's Slot Country:

274 yd

Longhorn Hotel Casino:

1.5 mi

Arizona Charlie's Boulder:

1,406 yd

Sportsman Royal Manor:

1,729 yd

Two Dog's Tavern:

817 yd

Sam's Town Hotel & Gambling Hall:

3.8 mi

Klondike Sunset Casino:

3.6 mi

Sahara Avenue Saloon & Liquor Store:

2.7 mi

Barley's Casino & Brewing Company:

3.4 mi

Sunset Station Hotel and Casino:

2.4 mi

Boulder Station Hotel & Casino:

2.9 mi

Dotty's #5:

2.9 mi

Thirstbusters Casino: