« Back
La Jolla Inn
1110 PROSPECT STREET, 92037 ,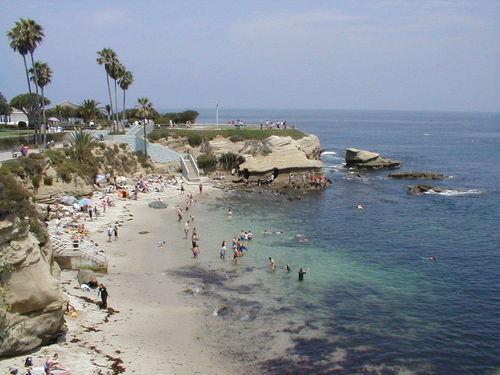 La Jolla Inn - Description
La Jolla Inn. "La Jolla Inn" has 2 stars. The residence has a total of 23 rooms. High temperatures are kept outside thanks to the relieving air conditioning. Birdwatching and Eco Tours are some of the activities that this accommodation offers. There are also various sports for visitors to practice, such as sailing, yoga, golf, volleyball, surfing and kayaking. You can also take a cycling tour with a rented bike. A bar is open for you to have a drink after dinner. For those who like to share their experiences instantly, there is free of charge Internet access available.

Being an oasis of tranquillity, the La Jolla Inn makes your stay at San Diego a memorable one. Location Ideally located at San Diego, this property is close to the La Jolla Cove, Pacific Beach as well as the Wind and Sea Beach. Rooms This property features immaculate accommodation units that a...
Located in the heart of the quaint village of La Jolla all rooms include complimentarycontinental breakfast served in your room or on the sundeck overlooking the deep blue Pacific Ocean, daily newspaper and offsite underground parking. Step outside the hotels front door and unique shops, exclusiv...
BUSINESS CENTER AVAILABLE AT NO ADDITIONAL CHARGE. BUSINESS FACILITIES AVAILABLE AT NO ADDITIONAL CHARGE. CONFERENCE SUITE GUARANTEED..FOR AN ADDITIONAL CHARGE PRICES AVAILABLE UPON REQUEST. FAX SERVICES GUARANTEED..FOR AN ADDITIONAL CHARGE OF 3.00 F...
This hotel belongs to: LM™
La Jolla Inn facilities and services
Parking:
Parking , Free Parking(find others hotels with Parking in La Jolla)
Internet Access:
High speed Internet , Wireless internet access(find others hotels with Internet Access in La Jolla)
General
Room Service- Limited hours
Complimentay breakfast
Safe
Crib
Free newspaper
Free breakfast
Luxury
Services
Concierge
Laundry services
Dry Cleaning
Fax / Photocopying
Business Center
Room Service
Activities nearby
Park and square or garden

5.1 mi

Torrey Pines State Reserve:

Museum

563 yd

Museum of Contemporary Art San Diego La Jolla:

Zoo

1.9 mi

Birch Aquarium at Scripps:

1.9 mi

Birch Aquarium:

Library

189 yd

Athenaeum Music & Arts Library:

Amusement park

Beach and coastal area

4.7 mi

Mission Beach:

5.1 mi

Sail Bay :

3.4 mi

Tourmaline Beach (Turmo) :

Harbor and marina

5.2 mi

Mission Bay Yacht Club:

4.8 mi

Campland on the Bay Marina:

Spa and swimming pools

5.4 mi

Paradise Island Resort:

4.7 mi

XO Day Spa:

4.1 mi

Hilton La Jolla Torrey Pines:

2.9 mi

University of California at San Diego - Canyonview Pool East:

4.2 mi

Brazilia Skin Care:

2 mi

La Jolla YMCA:

3.2 mi

Spa at the Sporting Club, The:

1.1 mi

Coggan Family Aquatic Center at La Jolla High School:

3.8 mi

Lawrence Family Jewish Community Center of San Diego County:

5.3 mi

Body Mind Massage Clinic:

4.2 mi

The Lodge at Torrey Pines:

3.4 mi

Beauty Kliniek:

4 mi

Shiley Sports and Health Center of Scripps Clinic:

Other maritime landscape

5.2 mi

Santa Barbara Cove Inlet:

Golf and other sports

4.7 mi

Mission Bay Golf Course:

1.1 mi

La Jolla Beach And Tennis Club:

1,649 yd

Spindrift Pitch Putt:

4.9 mi

University City Village:

4.3 mi

Torrey Pines: