« Back
Pollera
ul. Szpitalna 30, 31-024 Kraków, Poland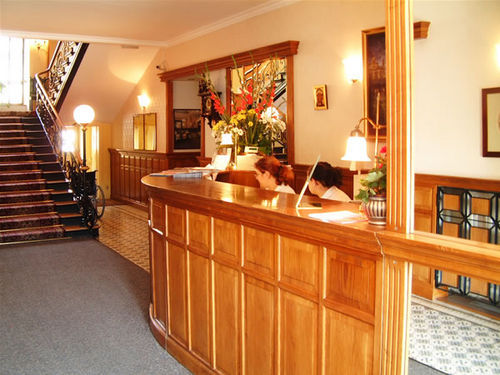 Pollera - Description
POLLERA HOTEL. "POLLERA HOTEL" is a castle that has acquired 3 stars. The residence is excellent for visiting Cracovie. Dinner can be served without leaving the comfort of the castle as there is an onsite restaurant. After a good night's rest, breakfast is available. If you want to share your experiences online, there is Internet access available at no extra charge.

Discover all that Krakow (Cracow) has to offer with Pollera Hotel as a base.The Pollera Hotel boasts a convenient location with modern amenities in every guestroom and superb service.In-room facilities include air conditioning, television, bathtub, shower, separate shower and tub, mini bar, satel...
Just in the City Centre opposite the Slovacki Theatre
The 3 star hotel Pollera is situated in the heart of the Old Town opposite the Juliusz Slowacki and only a five minute walk from the Main Market Square; the railway and coach stations. Established in 1830 by Kasper Pollera; it ranks as one of the Krakows oldest hotels and successfully combines a ...
SITUATED IN THE HEART OF THE OLD TOWN OPPOSITE THE JULIUSZS OWACKI THEATRE HOTEL POLLERA IS ONLY A FIVE MINUTES WALKFROM THE MAIN MARKET SQUARE THE RAILWAY AND COACH STATIONS.ESTABLISHED IN 1830 BY KASPER POLLERA EVEN THOUGH IT RANKSAS ONE OF THE KRAKOWS OLDEST HOTELS THE HOTEL POLLERASUCCE...
Pollera Hotel is housed in an impressive, Art Nouveau-style building, in the heart of the historical Kraków, just one minute's walk from the Main Market Square. There is free Wi-Fi.
Read more on the website
Pollera type(s): Family ,Design ,Budget
Pollera facilities and services
Dog / Cat friendly:
Pets Welcomed(find others hotels with Dog / Cat friendly in Kraków)
Internet Access:
High speed Internet , Wireless internet access(find others hotels with Internet Access in Kraków)
General
Television
Telephone
Fax
Conference Facilities
Security
Business services
Ironing board
Toilet
Connecting Rooms
Elevator
Safe
Pets allowed
Services
Hairdryer
Wake-Up
Ironing Facilities
Laundry services
Breakfast Room Service
Ironing Services
Bridal Suite
Meeting amenities
Fax / Photocopying
Airport Connection
Activities nearby
Religious site

321 yd

St. Mary's Cathedral:

Spa and swimming pools

568 yd

Basen YMCA Kraków:

Library

294 yd

polskiej akademii nauk:

183 yd

książąt czartoryskich:

552 yd

biblioteka międzynarodowego centrum kultury:

Museum

450 yd

Muzeum Stanisława Wyspiańskiego w Kamienicy Szołayskich:

83 yd

Dom Jana Matejki:

227 yd

Kamienica Hipolitów:

489 yd

Muzeum Historii Medycyny:

635 yd

Celestat:

496 yd

Muzeum Starego Teatru:

103 yd

Muzeum Farmacji Collegium Medicum UJ:

200 yd

Muzeum Książąt Czartoryskich:

211 yd

Czartoryski Museum:

401 yd

Galeria Sztuki Polskiej XIX wieku w Sukiennicach:

666 yd

Zamek Królewski na Wawelu:

22 yd

Dom pod Krzyżem:

500 yd

Wieża Ratuszowa:

631 yd

Muzeum Ubezpieczeń:

225 yd

Barbakan:

650 yd

Muzeum Uniwersytetu Jagiellońskiego - Collegium Maius:

301 yd

Bazylika Mariacka w Krakowie:

784 yd

Muzeum Geologiczne Instytutu Nauk Geologicznych PAN:

185 yd

Mury Obronne:

399 yd

Muzeum Historyczne Miasta Krakowa - Pałac Krzysztofory:

School and university

723 yd

The Jagiellonian University:

236 yd

Academy of Music in Kraków:

852 yd

The Ludwik Solski State Drama School in Cracow:

569 yd

School of Economics and Computer Science in Krakow:

336 yd

Academy of Fine Art in Krakow: