« Back
Krabi Tipa Resort
121/1 Moo.2 T.Ao Nang A.Muang, Krabi, 81000 Krabi, Thailand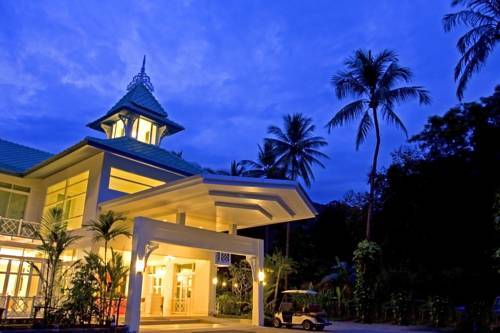 Krabi Tipa Resort - Description
Krabi Tipa Resort. Hotel "Krabi Tipa Resort" has acquired 3 stars. It is an excellent base from which to explore Aonang Beach. Sea lovers can spend some time at the nearby coast. The hotel boasts a total of 120 rooms. Thanks to the relieving air conditioning, the room temperature is never uncomfortable. Visitors can breathe some fresh air in the intimacy of the garden and go for a swim in the outdoor swimming pool. The pool is child-friendly. Participate in the activities this hotel offers, such as fishing or Eco Tours. For visitors who like participating in some sports, the hotel also offers golf, kayaking, bungee jumping and snorkeling. The residence hosts a walking trail as well as a bicycle rental service. The spa will help you feel reborn. In the wellness center, you have the opportunity to offer yourself a relaxing massage treatment. Meanwhile, children will be taken good care of at the child care center. Taste the international and Thai specialties of the onsite restaurant. For a drink after dinner, you can take a seat at the lounge bar. Internet access is available free of charge and there is a shuttle bus service which can pick you up and drop you off at the airport.

Krabi Tipa Resort is conveniently located in the popular Ao Nang area. The hotel has everything you need for a comfortable stay. Service-minded staff will welcome and guide you at the Krabi Tipa Resort. Non smoking rooms, satellite/cable TV, complimentary bottled water, television, hair dryer can...
Discover all that Krabi has to offer with Tipa Resort as a base. The hotel features a wide range of modern facilities and services in its 52 well-appointed guestrooms and throughout the premises. This hotel is characterized by a combination of modern comfort and traditional element of Krabi, maki...
Enjoy a beach getaway at Krabi Tipa Resort. Nestled amidst lush greenery, it offers comfortable accommodation, friendly service and is just a stroll away from Ao Nang Beach. Rooms are decorated with
Read more on the website
Krabi Tipa Resort type(s): Resort ,Budget ,Luxury
Krabi Tipa Resort facilities and services
Parking:
Parking , Valet Parking(find others hotels with Parking in Krabi)
Internet Access:
Wireless internet access(find others hotels with Internet Access in Krabi)
General
Shower
Bathtub
Television
Balcony
Garden
Children welcome
Disabled rooms
Safe
Water bottle
Refrigerator
Wireless internet connection
Shops in Hotel
Activities
Pool bar
City tours
Massage
Outdoor Pool
Children pool
Services
Tea and Coffee facilities
Hairdryer
Bathrobe
Desk
Coffee shop
Laundry services
Meeting amenities
Bicycle Rental
Airport Connection
Room Service
Activities nearby
School and university

81.6 mi

Walailak University:

Stadium

32.5 mi

Surakul Stadium:

84.1 mi

Surat Thani Stadium:

Beach and coastal area

38.8 mi

Phuket / Karon Beach :

38.9 mi

Phuket / Rawai Beach :

36.5 mi

Phuket / Bang Tao Beach :

33.7 mi

Phuket / Chalong Bay :

36 mi

Phuket / Nai Yang Beach :

36.8 mi

Phuket / Friendship Beach :

Spa and swimming pools

61.6 mi

Absolute Sanctuary (Koh Samui):

30.7 mi

Pearl Village Phuket:

83.2 mi

Health Oasis Resort and Day Spa:

Golf and other sports

31.7 mi

Royal Thai Air Force Golf Course:

37 mi

MV Pawara :

31.4 mi

Banyan Tree:

31.7 mi

Natural Park Ramindra Golf Club:

31.7 mi

Krisda General Golf Club:

31.7 mi

Ait Golf Club:

30 mi

The Dive Zone :

34.2 mi

Phuket Country Club:

34.2 mi

Blue Canyon Country Club:

36.2 mi

Go-Pro :

82.5 mi

Sriracha International Golf Club:

31.8 mi

The Royal Gems:

33.9 mi

Loch Palm Phuket:

393 yd

One Stop Dive Centre :

31.3 mi

MS Marmin :

31.7 mi

The Unico Golf Course:

31.7 mi

Muang Ake Vista: