« Back
Les Ottomans
Muallim Naci Caddesi No:68 Kurucesme, 34345 Istanbul, Turkey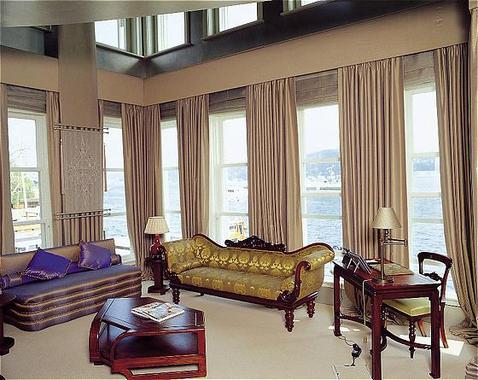 Les Ottomans - Description
Hotel Les Ottomans. "Hotel Les Ottomans" is a perfect base from which to explore Istanbul. The interior of the hotel boasts its luxurious style. Each room in the accommodation is luxurious. Inside, it is never too warm thanks to the air conditioning. There is a covered swimming pool available. In this hotel, you can find a spa, an excellent service to unwind from your daily activities. Refresh yourself in the whirlpool bath or the real Turkish bath or reap the benefits of a visit to the sauna. For dinner there is no need to leave the comfort of the residence as there is a traditional onsite restaurant. In the evening, you can enjoy a drink at the lounge bar. Of course, there is free of charge Internet access available.

- BOUTIQUE YEAR BUILT - 2006 ADDITIONAL PROPERTY DESCRIPTION - HOTEL LES OTTOMANS IS LOCATED IN ISTANBUL, ONE OF THE WORLD BIGGEST CITIES FAMOUS FOR ITS HISTORICAL MONUMENTS AND MAGNIFICENT SCENIC BEAUTIES. LAND AND SEA HAVE BEAUTIFULLY CRAFTED THE GEOGRAPHICAL LANDSCAPE OF ISTANBUL LIKE A WORK O...
- BOUTIQUE YEAR BUILT - 2006 ADDITIONAL PROPERTY DESCRIPTION - LOCATED ON THE MOST MAGNIFICENT SECTION OF THE BOSPHORUS, HOTEL LES OTTOMANS IS AN OASIS OF TRANQUILITY AND HARMONY AMID STUNNING TURKISH SURROUNDINGS. THE FIRST AND ONLY HOTEL IN TURKEY FULLY ...
Directly on the Bosphorus and facing Asia, Les Ottomans offers luxury accommodation set in a renovated pasha palace. It features a spa with hammam and hot tub, 2 pools and attentive service. Opulent
Read more on the website
Directly on the Bosphorus and facing Asia, Les Ottomans offers luxury accommodation set in a renovated pasha palace. It features a spa with hammam and hot tub, 2 pools and attentive service. Opulent
Read more on the website
Les Ottomans type(s): Family ,Budget ,Luxury
This hotel belongs to: 000194™
Les Ottomans facilities and services
Parking:
Parking , Free Parking(find others hotels with Parking in Istanbul)
Internet Access:
High speed Internet(find others hotels with Internet Access in Istanbul)
General
Telephone
Family Rooms
Non smoking
Free newspaper
Only suites
Resort
Luxury
Restaurant
Swimming pool
Activities
Whirlpool
Sport facilities
Services
Kitchenette
Concierge
Meeting rooms
Car Rentals
Room Service
Activities nearby
Building and administration

3.5 mi

Romanian National Tourist Office:

3.2 mi

Hello Tourism Travel Agency Inc.:

1,465 yd

Trade Representative Office:

Monument

4.5 mi

The Theodosian Sea Walls:

4.6 mi

Yerebatan Sarnici:

School and university

3.2 mi

Mimar Sinan Fine Arts University:

1.1 mi

Galatasaray University:

4.8 mi

Istanbul Technical University:

3.6 mi

Yildiz Technical University:

1.4 mi

Bogaziçi University:

4.2 mi

Dogus University:

4.6 mi

Istanbul Commerce University:

3.2 mi

Isik University:

Market and shopping area

2 mi

Profilo Shopping Center:

3.3 mi

Galatasaray Beyoğlu Hasnun Galip Club Administrative Center:

2.3 mi

Cevahir Mall:

Religious site

4.8 mi

Blue Mosque :

4.6 mi

Ayasofya:

4.5 mi

Rüstem Pasa Külliyesi:

UNESCO World Heritage site

4.6 mi

Historic Areas of Istanbul:

Museum

Landmark

Theatre and opera

4.5 mi

Istanbul State Opera:

4.8 mi

Süreyya Opera House:

3.4 mi

Istanbul Foundation for Culture and Arts:

Stadium

4.3 mi

Haldun Alagaş Sports Hall:

2 mi

BJK Akatlar Arena:

3.8 mi

Recep Tayyip Erdoğan Stadium:

2.6 mi

Beşiktaş İnönü Stadium:

3.9 mi

Türk Telekom Arena: