« Back
Ali Pasha Hotel
Abu Tig Marina, ,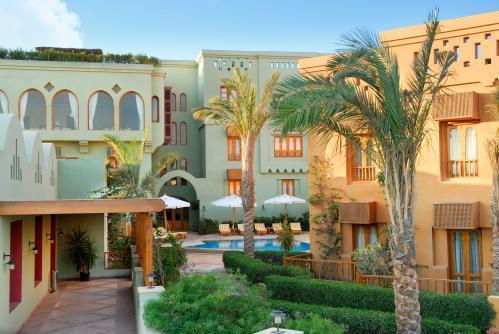 Ali Pasha Hotel - Description
Ali Pasha Hotel. 3-star "Ali Pasha Hotel" is an ideal place to stay when visiting Hurghada. There is a total of 68 rooms to choose from. Thanks to the air conditioning, you will always find a comfortable room temperature inside. The private garden and patio are ideal for a little walk in the morning. There is an outdoor swimming pool available. At this residence, you can take part in numerous activities, such as golf, horse riding and diving. The sports facilities include a golf course. The onsite spa offers relaxing massage treatments. The wellness area also features a sauna. Dinner can be enjoyed at the onsite restaurant which proudly serves its Indian specialty. For a drink after dinner, feel free to take a seat at the bar. Breakfast is included in the price to give you a good start to the day. Of course, visitors can go online and make use of the airport shuttle.

Discover all that El Gouna has to offer with Ali Pasha Hotel as a base.All hotel's guestrooms have all the conveniences expected in a hotel in its class to suit guests' utmost comforts.Each guestroom features amenities such as mini bar, bathtub, television.The basic amenities provided at this El ...
The Ali Pasha Hotel El Gouna is located at the Abu Tig Marina in El Gouna, Egypt, two kilometres from the Aladdin Casino and three kilometres from the Bedouin Oasis. The golf course is situated three kilometres from the hotel. Hotel Features. This hotel offers an outdoor pool and there is a m...
This hotel overlooks the Abu Tig Marina, and with a relaxed upmarket atmosphere, it offers easy access to the best shopping, dining and nightlife opportunities in El Gouna.
Read more on the website
Ali Pasha Hotel type(s): Family ,Design ,Beach ,Budget
This hotel belongs to: Orascom Hotels and Development™
Ali Pasha Hotel facilities and services
General
Minibar
Balcony
Satellite Television
Multilingual staff
Sea view
Private Bath or Shower
Safe
Cot
Air conditioning
Swimming pool
Services
Hairdryer
Laundry services
Activities nearby
UNESCO World Heritage site

81.5 mi

Saint Catherine Area:

Beach and coastal area

737 yd

El Gouna / Mangroovy Beach :

11.8 mi

Sultana Beach Resort :

45.2 mi

Safaga Hotel Shams :

41.9 mi

Soma Bay / North :

64.6 mi

Nabq or Regency :

43.1 mi

Soma Bay / Robinson Club :

57 mi

El Tur :

60.4 mi

Al Montaza Bay or Kite Beach :

32 mi

Makadi Bay :

1.5 mi

El Gouna / Moevenpick :

42.7 mi

Soma Bay / Interconti :

31.6 mi

Makadi Palace :

44.7 mi

Tobia Island :

11.3 mi

Tawila :

20.8 mi

Magawish Hotel or Colona Watersports :

22.6 mi

Jasmin Village :

39.8 mi

El Jankie :

89.7 mi

Dahab Lagoon :

Golf and other sports

56.1 mi

Golf Resort Jolie Ville:

68.2 mi

Extra Divers Abu Soma :

42.6 mi

The Cascades At Soma Bay:

46.7 mi

Extra Divers Ras Nasrani :