« Back
Simba Run Vail Condominiums
1100 North Frontage Road, CO 81657 ,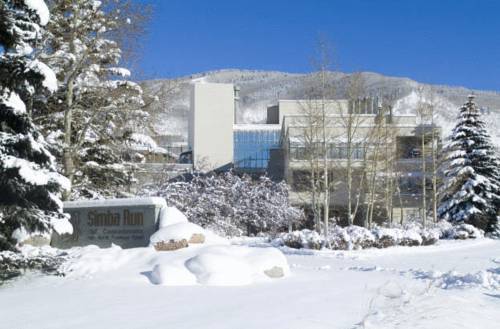 Simba Run Vail Condominiums - Description
Simba Run Vail Condominiums. "Simba Run Vail Condominiums" is an apart-hotel that has obtained 3 stars. Situated downtown, this apart-hotel is the perfect place to stay when visiting Vail. To make you more mobile in the area there is a shuttle bus service available. Visitors can take a swim as this hotel has a covered, heated swimming pool. At this accommodation, you can take part in multiple sporting activities, such as tennis and skiing. The facilities include a tennis court and gymnasium where you have the option to work out on your own.
Evergreen Lodge. Hotel "Evergreen Lodge" has 3 stars. This hotel is a perfect pied-a-terre from which you can discover Vail. Just one step out the door and visitors will find themselves in the moutain. From the accommodation it is possible to take advantage of the ski runs nearby. The edifice has benefited from a recent renovation. The hotel boasts 128 bedrooms in total. The air conditioning keeps the heat outside. This hotel presents its guests with a garden as well as an outdoor pool. There are several activities to make your stay more active, like fishing and birdwatching. There are also many sporting activities for you to practice, like ice skating, golf, skiing, moutain biking, snowmobiling, horse riding, yoga, snowboarding, rafting, kayaking, pool, pilates, cross-country skiing, aerobics, snowshoeing and alpine skiing. Furthermore, the accommodation hosts a gymnasium, boats, a pool table and a walking trail as well as a bike rental service. For visitors' well-being, there is a whirlpool bath and a sauna available. Dinner can be served without leaving the hotel as there is an onsite restaurant. For a drink before or after dinner, visitors will find the bar-restaurant and lounge bar most welcoming. Breakfast is served each morning and offers you a good start to a new day. If you would like to share your experiences instantly, there is free Internet access available.

Located in Vail (CO), Evergreen Lodge at Vail is a perfect starting point from which to explore Vail (CO). The hotel offers a high standard of service and amenities to suit the individual needs of all travelers. Service-minded staff will welcome and guide you at the Evergreen Lodge at Vail. Guest...
THE SPACIOUS LOBBY AT EVERGREEN LODGE WELCOMES GUESTS WITH COMFORTABLE SEATING AREAS, A STONE FIREPLACE, ACCESS TO THE ALTITUDE CAFE AND SPORTS CLUB. HOTEL ROOMS ARE OVERSIZE AND WELL APPOINTED WITH REFRIGERATORS AND COFFEE MAKERS LETTING GUESTS FEEL RIGHT AT HOME. THE POPULAR ALTI...
Simba Run Vail Condominiums host one or two bedroom condominiums located one mile from the town of Vail and the ski slopes of Vail Mountain. Simba Run features beautiful, spacious accommodations with amenities to include a 60 foot indoor pool, indoor and outdoor hot tubs, steamroom, dry sauna, f...
Whether you are planning a well-deserved getaway, travelling for business or pleasure, the Simba Run Vail Condos can meet all your needs with an impressive range of guest facilities. Location Centrally located, this property is only minutes away from shopping, world class dining, nightclubs, pla...
Simba Run Vail Condominiums type(s): Family ,Budget
Simba Run Vail Condominiums facilities and services
Parking:
Pay Parking , Parking , Free Parking(find others hotels with Parking in Vail)
Internet Access:
High speed Internet , Internet Access , Wireless internet access(find others hotels with Internet Access in Vail)
General
Shower
Bathtub
Television
Telephone
Radio
Bathroom
King Size Bed
Satellite Television
Garage
Lift/elevator
ATM
Conference Facilities
Activities
Near Golf Course
Games Rooms
Casino
Whirlpool
Canoeing
Tennis Court
Sport facilities
Sauna
Gym / Fitness center
Outdoor Pool
Heated pool
Jacuzzi
Services
Tea and Coffee facilities
Hairdryer
Ironing
Kitchenette
Fridge
Banqueting service
Concierge
Laundry services
Dry Cleaning
Meeting rooms
Fully equipped business center
Business Center