« Back
Pousada Sin Nombre
Rua dos Polvos, 58-A, 880580000 ,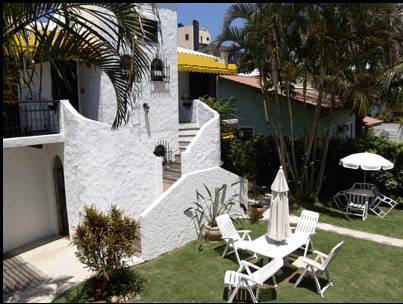 Pousada Sin Nombre - Description
Pousada Sin Nombre. "Pousada Sin Nombre" can be found in Florianópolis. In the evening, visitors can enjoy a drink at the bar. After a good night's sleep, breakfast is available. Staying in touch with the rest of the world is made possible by the free of charge Internet access that is provided.

Discover all that Florianopolis has to offer with Pousada Sin Nombre Hotel as a base.All hotel's guestrooms have all the conveniences expected in a hotel in its class to suit guests' utmost comforts.Each of the hotel's guestrooms offers non smoking rooms, air conditioning, shower, mini bar, satel...
Situated in scenic Florianopolis, Sin Nombre is a Mediterranean-style beach hotel 50 metres from trendy Jurere Beach. It offers a rooftop terrace with panoramic ocean views, free Wi-Fi and parking.
Read more on the website
Pousada Sin Nombre type(s): Budget
Pousada Sin Nombre facilities and services