« Back
Quality Inn South Kendall
14501 SOUTH DIXIE HWY, 33176-7925 ,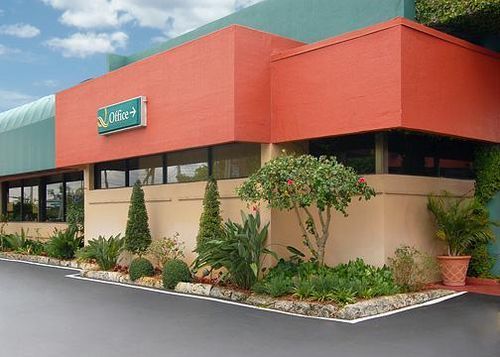 Quality Inn South Kendall - Description
Of a BudgetRead more category, the Quality Inn South Kendall has all the comforts such as : Tennis Court, Business Center, Free Parking.17 minutes walking distance from the center, this hotel is located at 14501 SOUTH DIXIE HWY, in the south section of Howard, which is ideal to discover the city.It is part of the hotel chain QI.High speed internet is available in this hotel.This hotel offers a unique service : near golf course.Relax yourself in the hotel's swimming pool .Other useful information:This hotel has a free parking.

The Quality Inn South Kendall is located in Miami, Fla. Four miles from the Fairchild Tropical Botanic Garden Six miles from the Monkey Jungle Seven miles from the Miami Metrozoo Hotel Features. Complimentary continental breakfasts Complimentary high-speed Internet access Outdoor pool Cable tel...
The Quality Inn South at the Falls is conveniently located to major attractions like Parrot Jungle, Fairchild Tropical Garden, the world-famous Coral Castle and the Miami Metro Zoo. This Miami hotel is close to area beaches, including Matheson Hammock Park Marina and Beach and South Beach. The ho...
AN OASIS CLOSE TO EVERYTHING, JUST MINUTES FROM MAJOR SHOPPINGCENTERS BLOOMING DALES, MACYS MIAMIS WORLD FAMOUSATTRACTIONS MIAMI METRO ZOO, SEA AQUARIUM, BEACHES, ETC.
Quality Inn South at the Falls is located three miles from Parrot Jungle, 16 miles from downtown Miami, and approximately 15 miles from Miami International Airport. This location is also two miles from Dade County Zoo, five miles from the Fairchild Tropical Gardens, eight miles from Matheson Hamm...
AN OASIS CLOSE TO EVERYTHING, JUST MINUTES FROM MAJOR SHOPPING
CENTERS BLOOMING DALE*S, MACY*S * MIAMI*S WORLD FAMOUS
ATTRACTIONS MIAMI METRO ZOO, SEA AQUARIUM, BEACHES, ETC.

Quality Inn South Kendall type(s): Family ,Budget
This hotel belongs to: QI™
Quality Inn South Kendall facilities and services
Parking:
Free Parking(find others hotels with Parking in Howard)
Internet Access:
High speed Internet(find others hotels with Internet Access in Howard)
General
Meals for groups
Family Rooms
Non smoking
Pets allowed
Free breakfast
Swimming pool
Activities
Near Golf Course
Tennis Court
Services
Dry Cleaning
Local free calls
Meeting rooms
Car Rentals
Business Center
Activities nearby
Theatre and opera

4.8 mi

Hispanic-American Lyric Theatre:

Religious site

4.7 mi

Temple Beth Am:

1.8 mi

New Testament Church of God:

Market and shopping area

4.6 mi

Southland Mall:

4.2 mi

Dadeland Mall:

1,114 yd

The Falls:

4.1 mi

Dadeland Mall:

1,134 yd

The Falls :

Museum

4.3 mi

The Gold Coast Railroad Museum:

5 mi

Fairchild Tropical Garden:

3.5 mi

Gold Coast Railroad Museum:

3.4 mi

Miami Metrozoo:

Park and square or garden

Golf and other sports

2.8 mi

Killian Greens Golf Club:

3.7 mi

Divers Den Miami :

5.3 mi

Calusa Country Club:

2.9 mi

Deering Bay Yacht Country Club:

Spa and swimming pools

3.6 mi

Sky and Sea Spa:

5.4 mi

Lyons Salon and Spa, A Wellness Retreat:

1,387 yd

Karen Taylor Day Spa:

5.3 mi

Mayra's Art & Spa:

3 mi

Dave and Mary Alper Jewish Community Center:

1.6 mi

My Derma Clinic Day Spa:

4.6 mi

Aqua Day Spa:

3.4 mi

Body Mind Spirit Natural Health Care:

1.1 mi

LA Fitness - Kendall West:

Zoo

4.3 mi

Zoo Miami:

3.5 mi

Miami Metrozoo:

4.1 mi

Miami Zoo:

Harbor and marina

4.2 mi

Snapper Creek Marina: