« Back
Microtel Inn Houston Clear Lake
1620 NASA RD 1, 77058 ,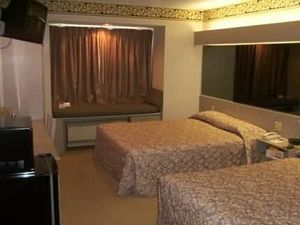 Microtel Inn Houston Clear Lake - Description
More of aRead more Budget establishment, this two star hotel is located in Houston. Several amenities, notably n.a. are available at the hotel.The hotel is located in the south-east section of Houston, at 1620 NASA RD 1, only 71 minutes by car from the city center.With a 54 room capacity with categories ranging from the Room to the Room) rooms, the Microtel Inn Houston Clear Lake is accessible starting at 93 US Dollars.This hotel is part of the MT chain.You can reach Ellington Field in 18 minutes by car (the airport is 5 miles from the hotel).

The Microtel Inn Houston Clear Lake is located directly across the street from the NASA Johnson Space Center, only two miles to Seabrook Waterfront and Clear Lake Recreational Area and just five miles from the Kemah Boardwalk.: : The property amenities include elevators, meeting and convention fa...
Microtel Inn Houston Clear Lake type(s): Budget
This hotel belongs to: MT™
Microtel Inn Houston Clear Lake facilities and services
General
Meals for groups
Dataport
Non smoking
Free breakfast
Turistic type
Services
Meeting rooms
Car Rentals
Activities nearby
Monument

34 yd

Space Center Houston:

Other maritime landscape

Golf and other sports

1.9 mi

Clear Lake Golf Course:

3.6 mi

Bay Oaks Country Club:

5.9 mi

Magnolia Creek Golf Links:

2.5 mi

South Shore Harbour Country Club:

Market and shopping area

Museum

2.5 mi

West Bay Common School Museum:

240 yd

Space Center Houston:

Harbor and marina

2 mi

Parkside Marina:

1.4 mi

Nassau Bay Hilton Marina:

2.7 mi

Clear Lake Marine Center:

1.4 mi

Bal Harbor Marina:

1.8 mi

South Shore Harbour Marina:

3.5 mi

Watergate Yachting Center:

3.5 mi

Legend Point Marina:

4.3 mi

Portofino Harbour Marina & Yacht Club:

2.8 mi

Marina Del Sol:

3.1 mi

Waterford Harbor Yacht Club:

3.3 mi

South Texas Yacht Services:

2.7 mi

El Lago Marina:

4.4 mi

Seabrook Shipyard:

4.5 mi

Kemah Boardwalk Marina:

3.9 mi

Lakewood Yacht Club:

4.1 mi

Clear Lake:

Spa and swimming pools

1.4 mi

Herbana Natural Concepts Spa:

2.2 mi

The Fitness Center at South Shore Harbour:

3 mi

Faces, Etc. Day Spa:

1.8 mi

Edgar A. Smith Branch YMCA:

2.4 mi

Bally's President and First Lady: