« Back
Holiday Inn Express Hotel & Suites Grand Forks
4051 32nd Avenue South, ND 58201 ,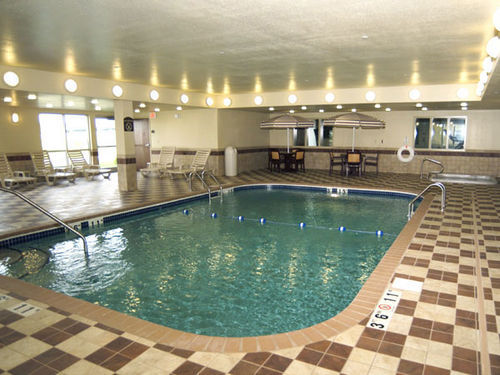 Holiday Inn Express Hotel & Suites Grand Forks - Description
Holiday Inn Express Grand Forks. "Holiday Inn Express Grand Forks" has 2 stars. This residence can be found in Grand Forks. This residence has a total of 84 rooms. Each bedroom is large. Thanks to the relieving air conditioning, you will always find a comfortable temperature inside. Visitors can take a swim as this residence offers its guests the luxury of a covered pool. There are sporting activities offered to make your stay more active. Practice golf or tennis, for instance. Furthermore, the accommodation hosts a gymnasium. The onsite restaurant serves you an appetizing dinner. A bar is available for you to have a drink in company. To add to your stay, there is breakfast available. Of course, Internet access is offered at no extra charge.
Lakeview Inn Grand Forks. "Lakeview Inn Grand Forks" is a convenient base point from which guests can explore Grand Forks. The air conditioning ensures that the temperature of the rooms is kept pleasant. Feel free to take a dip in the covered swimming pool. By taking part in golf you have the option to make your stay a more active one. Furthermore, the accommodation boasts a gymnasium where visitors can work out by themselves. The jacuzzi will help you feel refreshed. You also have access to the sauna. This residence has its own restaurant. A bar is available for you to enjoy a drink after a long day.

AT THE LAKEVIEW INNS AND SUITES IN GRAND FORKS, NORTHDAKOTA, USA YOU WILL BE TREATED TO OUR GENUINE PERSONALFRIENDLY CUSTOMER SERVICE STARTING THE MOMENT YOU STEPINTO OUR WELCOMING LOBBY. WHETHER YOURE VISITING GRANDFORKS TO SHOP OR DO BUSINESS YOU WILL ENJOY THE COMFORTAND VALUE OF OUR FREE DEL...
4051 32nd Ave South, Grand Forks, ND, 58201, US
At the Lakeview Inns and Suites in Grand Forks, North Dakota, USA you will be treated to our genuine personal friendly customer service starting the moment you step into our welcoming lobby. Whether you*re visiting Grand Forks to shop or do business you will enjoy the comfort and value of our fr...
The Holiday Inn Express Hotel & Suites is located just minutes from the Alerus Center, Columbia Mall Shopping Center, and the Ralph Englestad Arena, and is a perfect stop for your next visit to the Greater Grand Forks area. Our hotel is located just off Exit 138 on 32nd Ave South. Target, Lowe's,...
Holiday Inn Express Hotel & Suites Grand Forks type(s): Family ,Budget
This hotel belongs to: Holiday Inn Express™
Holiday Inn Express Hotel & Suites Grand Forks facilities and services
Parking:
Parking , Free Parking(find others hotels with Parking in Grand Forks)
Internet Access:
High speed Internet , Internet Access(find others hotels with Internet Access in Grand Forks)
General
Breakfast Buffet
Minibar
Shower
Bathtub
Telephone
Fax
Radio
Meals for groups
Continental Breakfast
Adjoining rooms
ATM
Conference Facilities
Activities
Near Golf Course
Games Rooms
Whirlpool
Tennis Court
Sport facilities
Sauna
Gym / Fitness center
Indoor Pool
Heated pool
Jacuzzi
Services
Tea and Coffee facilities
Hairdryer
Ironing Facilities
Microwave
Kitchen
Laundry services
Dry Cleaning
Local free calls
Currency Exchange
Meeting rooms
Overhead projector
Meeting center
Activities nearby
Market and shopping area

Museum

2.6 mi

Grand Forks County Historical Society:

31 mi

Walsh County Historical Museum:

2.2 mi

North Dakota Museum of Art:

24.1 mi

Polk County Pioneer Museum:

Spa and swimming pools

3.1 mi

Grand Forks Y Family Center:

23.6 mi

Crookston Community Pool:

Stadium

2.7 mi

Ralph Engelstad Arena:

1.9 mi

Alerus Center:

2.7 mi

Betty Engelstad Sioux Center:

Casino

2.9 mi

Holiday Inn Casino Lounge - Grand Forks:

1.1 mi

Borrowed Buck's- Grand Fork:

3.3 mi

El Roco Bar and Casino:

3.4 mi

Charlie Brown's Casino:

1.8 mi

Southgate Casino:

Golf and other sports

26.5 mi

Warren Riverside Golf Club:

12.3 mi

Manvel Golf Course:

39.5 mi

Fair Oaks Golf Course:

1.9 mi

Kings Walk Golf Course:

32.9 mi

Goose River Golf Club:

2.8 mi

Lincoln Park Municipal Golf Course:

25.3 mi

Riverside Golf Club:

22.8 mi

Bentwood Municipal Golf Course:

37.4 mi

Oak Knolls Golf Club:

2.3 mi

Dartmouth Golf Country Club:

29.6 mi

Mayville Golf Club:

14.1 mi

Plainsview Golf Course:

4.3 mi

Valley Country Club:

39.4 mi

Oaks Golf Course:

22.7 mi

Bentwood Climax Municipal Golf Course: