« Back
Atlas Posthotel
Marienplatz 12, 82467 Garmisch-Partenkirchen, Germany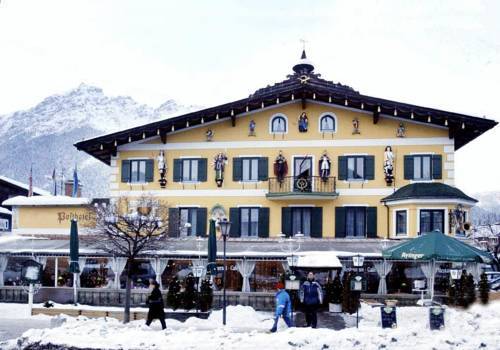 Atlas Posthotel - Description
Atlas Posthotel. "Atlas Posthotel" is an apart-hotel. It has obtained 3 stars. Aptly located downtown, this accommodation is an excellent base from which to discover Garmisch-Partenkirchen and its surrounding area. The apart-hotel can be accessed easily as it is located a small distance from the train station. The interior of "Atlas Posthotel" boasts its traditional decor. "Atlas Posthotel" has a total of 44 elegant and modern rooms. Thanks to the relieving air conditioning, you will always find a comfortable temperature inside. By practicing skiing you have the opportunity to make your stay a more active one. There are also bikes for rent. After all your daily busy activities, the sauna is the excellent place to recover your strength. The onsite restaurant serves visitors a tasty dinner. For a drink in the evening, feel free to take a seat at the lounge bar. Breakfast is served every morning and gives guests a good start to a new day. Staying connected with your friends and family is made possible by the free Internet access that is provided.

Set in a prime location of Garmisch-Partenkirchen, Atlas Posthotel puts everything the city has to offer just outside your doorstep. The hotel offers a wide range of amenities and perks to ensure you have a great time. Service-minded staff will welcome and guide you at the Atlas Posthotel. Televi...
This traditional hotel offers elegant rooms and apartments, free Wi-Fi internet and free use of the sauna. It lies in the heart of Garmisch-Partenkirchen, a 10-minute walk from the train station. Dat
Read more on the website
The 3-star-hotel Atlas Posthotel - an oasis of peace and recreation in a superb landscape, right in the middle of the old part of Garmisch, with a view of the impressive massif of the Zugspitze. In our Poststüberl or bar, on the busy terrace on Marienplatz square, or our cosy beer garden: we offe...
Atlas Posthotel type(s): Budget
Atlas Posthotel facilities and services
Parking:
Pay Parking , Free Parking(find others hotels with Parking in Garmisch-Partenkirchen)
Dog / Cat friendly:
Pets Welcomed(find others hotels with Dog / Cat friendly in Garmisch-Partenkirchen)
Internet Access:
Free WiFi , Internet Access , Wireless internet access(find others hotels with Internet Access in Garmisch-Partenkirchen)
General
Terrace
Business services
Elevator
Safe
Bath/shower combined
Non smoking
Pets allowed
Non-refundable surcharge for pets
Heating
Baggage Storage
Ski Room
Non Smoking Rooms
Activities
Skiing
Casino
Hiking trail
City tours
Cycling
Walking
Sauna
Ski School
Services
Hairdryer
Meeting amenities
Fully equipped business center
Bicycle Rental
Packed Lunches
Car Rentals
Tourism Desk
Fax / Photocopying
Ticket Sales
Room Service
Location
Old Town
Downtown
Near Highway
Mountains
Outstanding views
Activities nearby
Railroad station

7.2 mi

Klais Bahnhof:

7.6 mi

Oberammergau Bahnhof:

5.3 mi

Oberau Bahnhof:

1,154 yd

Garmisch-Partenkirchen Bahnhof:

2.3 mi

Untergrainau Bahnhof:

6.4 mi

Griesen (Oberbay) Bahnhof:

11.3 mi

Altenau (Bay) Bahnhof:

9.2 mi

Unterammergau Bahnhof:

9.3 mi

Mittenwald Bahnhof:

8.9 mi

Eschenlohe Bahnhof:

11.4 mi

Ohlstadt Bahnhof:

Spa and swimming pools

3 mi

Zugspitzbad Grainau:

888 yd

Alpspitz Wellenbad:

10.1 mi

Familienbad Ehrwald:

8.9 mi

Alpenbad Leutasch:

7.4 mi

Der WellenBerg Oberammergau:

Golf and other sports

8.8 mi

Mittenwald/Kranzberg:

1.6 mi

Land Und Golf Club Werdenfels:

8.8 mi

Leutasch:

6.5 mi

Ehrwalder-almbahn:

5.3 mi

Golfclub Garmisch Partenkirchen:

10.1 mi

Ehrwald:

7.4 mi

Oberammergau Kolben:

11.6 mi

Lermoos:

137 yd

Garmisch Partenkirchen:

8.9 mi

Unterammergau:

9.3 mi

Karwendel/Mittenwald:

10 mi

Golf Und Landclub Karwendel:

Theatre and opera

1,673 yd

Richard Strauss Festival:

Casino

400 yd

Spielbank Garmisch-Partenkirchen: