« Back
Hesperia Bristol Playa
LAGO DE BRISTOL S/N, 35660 Fuerteventura, Spain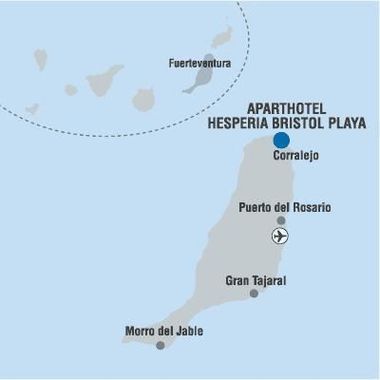 Hesperia Bristol Playa - Description
Located north-east, 82Read more minutes by car distance from the city center, this hotel at LAGO DE BRISTOL S/N is the ideal pied-à-terre to take advantage of all the wonders of Fuerteventura, whether for a few days or for a longer stay.The Hesperia Bristol Playa has all the services one would expect of a three star hotel in Fuerteventura: Restaurant, Room Service, Bar, Tennis Court, Newspapers, Non Smoking Rooms, Laundry services, Satellite Television. This establishment is more of a Budget hotel .This hotel offers high speed internet.Take advantage of the massage which is available at the hotel.This hotel offers a unique service : garden.This hotel is part of the KY chain.Note:This hotel has a parking.

PLACED IN CORRALEJO, ONLY 5 MINUTES BY CAR FROM THE DUNE.S NATIONAL PARK, WITH ITS LONG BEACHES AND DUNES OF WHITE AND FINE SAND, THE APARTHOTEL HESPERIA BRISTOL PLAYA OFFERS YOU SPACIOUS APARTMENTS FACING THE SEA TO ENJOY THE BEAUTY OF LANDSCAPE AND THE TROPICAL WEATHER OF FUERTEVEN...
The beachfront Hesperia Bristol Playa is located approximately two miles from Las Dunas National Park and 30 miles from Fuerteventura Airport. This location is also 15 miles from Corralero Cotillo and Casa de los Coronoles and 27 miles from Playa Blanca and Puerto del Rosario. Hotel amenities in...
The apartment complex was built in 1987, renovated in 2002 and consists of 186 apartments on 3 floors with combined kitchen/living room with a sofa and separate bedrooms and separate bathroom with bath. All apartments have balcony or terrace. There is a lobby and a 24 h reception desk as well as ...
Hesperia Bristol Playa type(s): Family ,Budget
This hotel belongs to: KY™
Hesperia Bristol Playa facilities and services
Parking:
Parking(find others hotels with Parking in Fuerteventura)
Internet Access:
Wireless internet access(find others hotels with Internet Access in Fuerteventura)
General
Breakfast Buffet
Bathtub
Balcony
Garden
Terrace
Bathroom
Satellite Television
Family Rooms
Direct Dial Telephone
Lounges and bars
Safe
Non smoking
Activities
Pool bar
Tanning booth
Massage
Tennis Court
Outdoor Pool
Salt water pool
Services
Tea and Coffee facilities
Hairdryer
Fridge
Microwave
Kitchen
Hairdresser
Laundry services
Currency Exchange
Cell phone available
Bicycle Rental
Car Rentals
Room Service
Activities nearby
Golf and other sports

24.5 mi

Fuerteventura Golf Club:

28.4 mi

Club De Golf Costa Teguise:

25.1 mi

Golf Club Salinas De Antigua:

Stadium

24.5 mi

Ciudad Deportiva Lanzarote:

1.5 mi

Vicente Carreño Alonso:

Harbor and marina

Beach and coastal area

17.6 mi

Lanzarote / Los Pocillos :

21.7 mi

Lanzarote / Playa Honda or Airport :

18.9 mi

Lanzarote / Matagorda :

3.7 mi

Fuerteventura / Majanicho :

2.4 mi

Fuerteventura / Flag Beach :

32.8 mi

Lanzarote / Playa Famara :

9.9 mi

Fuerteventura / Cotillo :

768 yd

Fuerteventura / Shooting Gallery :

1.9 mi

Fuerteventura / Mejillones :

29 mi

Lanzarote / Las Cucharas :

33.1 mi

Fuerteventura / Playa del Garcey :

8.6 mi

Lanzarote / Playa Dorada :

29.5 mi

Lanzarote / Los Charcos :

6.8 mi

Fuerteventura / Punta Blanca :

Casino

17.1 mi

Casino de Lanzarote:

Museum

23.6 mi

Museo Etnográfico Tanit:

24 mi

Museo De La Fundación César Manrique:

23.8 mi

Centro De Interpretación Del Yacimiento Arqueológico Del Poblado De Atalayita:

24.1 mi

Molino De Antigua:

16.9 mi

Ecomuseo De La Alcogida:

16.9 mi

Casa Museo Unamuno - Las Palmas:

24.9 mi

Museo Arqueológico De Betancuria:

28.8 mi

Centro De Interpretación De Los Molinos De Tiscamanita:

23.7 mi

Museo De La Sal - Salinas Del Carmen: