« Back
Days Inn Fremont (OH)
3701 North Street Route 53 Turnpike Exit 91/6 Fremont OH 43420, ,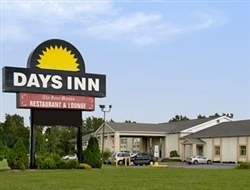 Days Inn Fremont (OH) - Description
The DaysRead more Inn Fremont (OH) is a one star Business establishment has all the comforts such as : Restaurant, Business Center.High speed internet is available in this hotel.Relax yourself in the hotel's pool.Other useful information:This hotel has a parking.

Offering comfortable accommodation and convenient services, the Days Inn Fremont is an ideal place for you to reside. Location The Days Inn Fremont is located off the Ohio Turnpike at Exit 91, on SR 53 North. This property is only a 15-minute drive from Port Clinton and 30 minutes from Cedar Poi...
Days Inn Fremont (OH) facilities and services
Parking:
Parking(find others hotels with Parking in Fremont)
Internet Access:
Internet Access(find others hotels with Internet Access in Fremont)
Activities nearby
Spa and swimming pools

1,424 yd

Sandusky County YMCA:

Museum

1,396 yd

Rutherford B. Hayes Presidential Center:

Harbor and marina

14.3 mi

Vacationland Marina & RV Park:

14 mi

Portage River Marina Camp:

13.3 mi

Edgewater Estates:

14.2 mi

Lakefront Marina:

13.8 mi

Clinton:

12.8 mi

Portage Cove Marina:

14.1 mi

Jacknife Marina Inc:

13.9 mi

White Caps Motel:

1.8 mi

Fremont Yacht Club:

12.5 mi

Johnny's Resort Marina:

5.8 mi

Memory Marina:

12.7 mi

The Cove Inn:

12.8 mi

Nugent's Canal Yacht Club:

5.1 mi

Riverfront Marina & Campground:

14.3 mi

Angel Bay Marina:

11.9 mi

Erie islands Resort and Marina:

11.9 mi

Portage View:

12.7 mi

Bay Harbor Marina:

Golf and other sports

1.3 mi

River Cliff Golf Course:

1.4 mi

Fremont Country Club:

12 mi

Sugar Creek Golf Course:

10.9 mi

Nature Trails Golf Course:

11.4 mi

Sleepy Hollow Golf Course:

10.3 mi

Oak Harbor Golf Club:

9.5 mi

Fremont Golf Club:

10 mi

Oak Harbor Golf Club:

1.5 mi

Thornwood Golf Course:

3.6 mi

Sycamore Hills Golf Club: