« Back
Hotel An der Galluswarte
Hufnagelstr. 4, 60326 Frankfurt am Main, Germany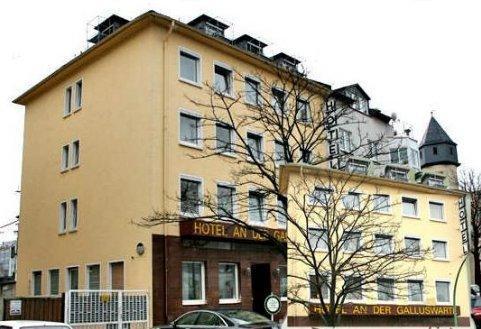 Hotel An der Galluswarte - Description
Hotel an der Galluswarte. 2-star "Hotel an der Galluswarte" is a perfect base from which guests can explore Francfort-sur-le-Main. Only one step out the door and you will find yourself right in the downtown district. The hotel can be reached easily from the train station nearby. The rooms are comfortable. The air conditioning keeps the hot weather outside. Dinner can be enjoyed in the comfort of the residence as there is an onsite restaurant. For a drink after dinner, visitors will find the lounge bar most welcoming. To add to your stay, there is breakfast available. You can go online at no extra charge.

With its central location, An der Galluswarte Hotel is within easy reach of most tourist attractions and business addresses in Frankfurt am Main.The hotel provides all the amenities that today's travelers desire in all of its 30 rooms.In-room facilities include separate shower and tub, shower, no...
The An der Galluswarte Hotel Frankfurt lies only 15 km (9 miles) away from the airport. The hotel features a wide range of modern facilities and services in its 30 well-appointed guestrooms and throughout the premises. Along with its convenient location in Frankfurt, the hotel also offers a wide ...
Hotel an der Galluswarte is a modern 2 star Hotel, located in the heart of Frankfurt City. The international fair ground as well as the city centre are only 5 minutes from the Hotel. The tram and subway stop is 30 meters from our Hotel. Hotel an der Galluswarte offers a family fair and defines it...
-THE 2 STARS HOTEL AN DER GALLUSWARTE IS LOCATED DIRECTLY BY THE CITY CENTER OF FRANKFURT. WITH ITS 30 NICE AND COMFORTABLE FURNISHED ROOMS- WITH ITS PERSONAL AND INDIVIDUAL SERVICE- THEY WOULD LIKE TO MAKE YOUR STAY AS ENJOYING THAT YOU WILL LOVE TO COME AGAIN. IN THE MORNING- A&...
Conveniently located in Frankfurt city centre, this 2-star hotel boasts excellent public transport connections, and is just a 10-minute walk away from the main railway station and the trade fair.
Hotel An der Galluswarte type(s): Budget
Hotel An der Galluswarte facilities and services
Parking:
Private parking , Parking , Free Parking(find others hotels with Parking in Frankfurt am Main)
Internet Access:
Internet Access , Wireless internet access(find others hotels with Internet Access in Frankfurt am Main)
General
Shower
Television
Business services
Fast Check-in/out
Safe
Bath/shower combined
Non smoking
Front Desk 24hr
Heating
Pets not allowed
Newspapers
Non Smoking Rooms
Services
Laundry services
Fully equipped business center
Fax / Photocopying
Room Service
Location
Downtown
Museum District
Near Highway
Near Train Station
Near Exhibition Center
Near Subway
Customer reviews
Anonymous
+
- Yes, It's a one star hotel and I expect something a lot better.
Traveler's rating :
Charles
+ location
- No lift, poor facilities
Traveler's rating :
Activities nearby
Theatre and opera

Stadium

1,165 yd

Festhalle Frankfurt:

Golf and other sports

1.4 mi

Paragon Golf Club Frankfurt:

Spa and swimming pools

1.5 mi

Palace Day Spa & Cosmetics:

School and university

1.2 mi

Johann Wolfgang Goethe University Frankfurt am Main:

1.4 mi

College of Fine Arts, Frankfurt am Main:

Railroad station

1.5 mi

Frankfurt (Main) Stresemannallee Bahnhof:

880 yd

Frankfurt am Main Messe Bahnhof:

1.6 mi

Frankfurt-Frankfurter Berg Bahnhof:

1.3 mi

Frankfurt (Main) Taunusanlage Bahnhof:

492 yd

Frankfurt (Main) Galluswarte Bahnhof:

1,148 yd

Frankfurt-Nied Bahnhof:

1.2 mi

Frankfurt (Main) West Bahnhof:

Building and administration

1.4 mi

Finnischen Zentrale für Tourismus:

1 mi

Dutch Caribbean Travel Center:

1.4 mi

Bahamas Ministry of Tourism:

1,502 yd

Taipeh Tourismusbüro / Taipei Tourism Office:

1.4 mi

Barbados Tourism Authority:

1.3 mi

Irland Information / Tourism Ireland:

1.4 mi

Spanisches Fremdenverkehrsamt:

1.4 mi

Government of Dubai, Department of Tourism and Commerce Marketing:

1.5 mi

GRIECHISCHE ZENTRALE FÜR FREMDENVERKEHR:

1.3 mi

Fremdenverkehrsamt Von Tahiti:

1,691 yd

Generalkonsulat der Republik Türkei, Kultur - und Informationsabteilung:

1.5 mi

Thailandiches Fremdenverkehrsamt:

1.4 mi

Mexico Government Tourist Office:

1.1 mi

Frankreich-Information:

1.4 mi

GRIECHISCHE ZENTRALE FÜR FREMDENVERKEHR:

1.6 mi

Fremdenverkehrsamt Tunesien:

1.2 mi

German National Tourist Board: